Due to the quantity of automated equipment I have in my house as a smart home geek, there are far too many cords for the multitude of gadgets I possess. In addition, I was dreading the notion that I would have to seek a new doorbell since it would entail even more wiring.
I first learned about PoE doorbells at that time. Compared to the typical smart doorbell, these devices are distinguished because they only need a single ethernet cable for both power and Internet connection, rather than two.
I find this to be extremely handy since it reduces the number of wires that I have to deal with. It also made perfect sense since my WiFi coverage is poor in the area where I needed to put a doorbell.
I went around online for the finest doorbells that supported PoE (Power over Ethernet), and I recorded what I discovered in the process. As a result, the study that follows will be as thorough as possible since I believe that the more specific market of PoE doorbells has to be investigated more thoroughly in order to assist you in selecting the one that best meets your requirements.
Image quality, installation convenience, power over Ethernet performance, and motion detection were all factors I examined while writing this evaluation.
The Ring Video Doorbell Elite is my top overall pick because of its excellent camera performance, simple setup procedure, and high-capacity PoE connection, among other factors.
Overview of 3 Best PoE Doorbells:
Image
OverAll Best
Premium Choice
Best Weatherproof
Product
Ring Video Doorbell Elite
DoorBird WiFi Video Doorbell D101S
GBF Upgraded WiFi Video Doorbell
Subscription
$3/month (Ring Protect Basic) $10/month (Protect Plus)
OverAll Best
Image
Product
Ring Video Doorbell Elite
Subscription
$3/month (Ring Protect Basic) $10/month (Protect Plus)
Premium Choice
Image
Product
DoorBird WiFi Video Doorbell D101S
Best Weatherproof
Image
Product
GBF Upgraded WiFi Video Doorbell
1. Ring Video Doorbell Elite – Overall Best PoE Doorbell
When it comes to smart doorbells, Ring is the undisputed leader in the business, and the Ring Video Doorbell Elite helps them to maintain that position. The PoE function improves the experience you get from a conventional Ring doorbell, which ensures that your connection with the Ring doorbell is quick and free of latency and delays.
Because the doorbell is capable of connecting through WiFi as well, you are not restricted in your connectivity options and may switch between them as you see appropriate. However, this convenience comes at a cost, since PoE doorbells are intrinsically more complex to install due to the additional wiring needs compared to a conventional wireless doorbell.
The doorbell itself has a very wide mounting surface, but because of its flush-mount style, it blends in seamlessly with my front door frame. The doorbell also comes with a variety of different faceplates, allowing for a small amount of personalization right out of the package.
All of the faceplates have a simple design and are available in four different finishes: Satin Black, Satin Nickel, Venetian (dark bronze), and Pearl White. Pearl White was the color I picked for my doorbell since it complemented the white paint on the walls.
The camera is a capable performer, capable of recording in 1080p and offering a broad 160° horizontal and 90° vertical field of view. It is also equipped with color night vision capabilities. During my tests, I did not notice any stuttering or deterioration in video quality.
The camera's performance is not affected by this since it is only a comparison of how well a PoE connection performs when compared to WiFi. Because of WiFi, it is possible for important alerts from your doorbell to be delayed in their transmission to your phone; however, PoE avoids this problem.
I discovered that the doorbell is also effective at detecting motion since it was able to overlook the neighboring cat, who came by twice daily but picked up on the Amazon delivery that I had been anticipating. Because of the PoE connection, the alarms were also sent on time.
If you choose to subscribe to the Ring Protect Basic subscription (which I strongly advise you to do) for $3 a month, you will be able to keep the video from the previous 60 days in the cloud. If you want additional services like as expert monitoring around the clock or extended warranties, you may subscribe to the Protect Plus membership, which costs $10 each month.
These are not subject to any kind of contract, so you have the option to cancel them anytime you wish.
Overall, the Ring Video Doorbell Elite is my top pick for a PoE doorbell camera because it gets the fundamentals of a video doorbell right while also taking use of the PoE system to give timely and accurate alerts to your phone.
Pros:
With Ring Protect Plus, you can conduct professional surveillance.
Design with a flush-mount installation
Connectivity options include WiFi and wired connections.
It is compatible with Alexa.
The well-designed app
Cons:
Installation by a professional is highly recommended.
There will be no artificial intelligence-powered face recognition.
Bottom Lines:
With the Ring Doorbell Elite, you get an incredibly competent PoE doorbell that also happens to look excellent on your door and provides you with assured guarantees of safety at the same time. The app's high PoE performance, as well as its well-designed and user-friendly interface, ensure that alerts are sent on time.
Ring Video Doorbell Elite
Connect your Ring doorbell with Alexa to hear announcements on your compatible Echo device when your doorbell is pressed and see a live view of your camera if you have an Echo device with a screen. Talk to visitors by saying "Alexa, talk to the front door"
Lets you see, hear and speak to visitors from your phone, tablet and PC
Sends alerts as soon as motion is detected or when visitors press the Doorbell
Connects to ethernet cables for power and internet connection
Monitors your home in 1080HD video with infrared night vision
2. DoorBird WiFi Video Doorbell D101S – Best Premium PoE Doorbell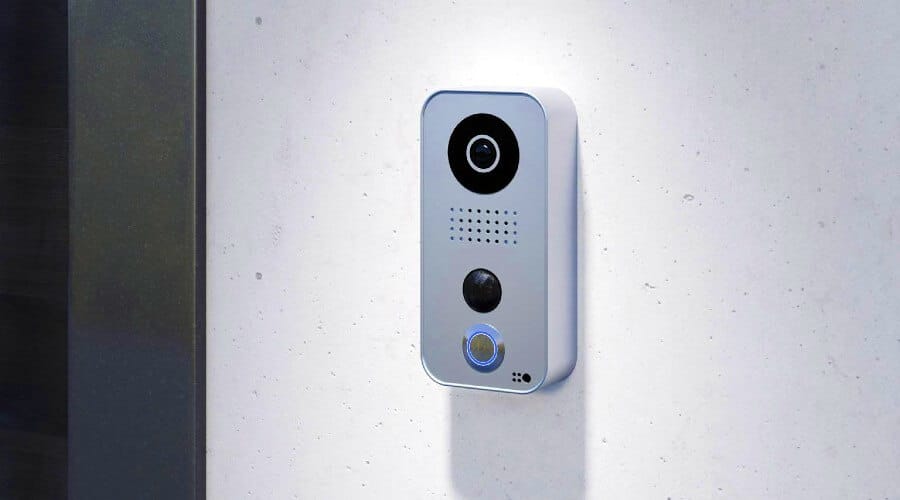 Almost everything I post on my site is in response to requests from my readers. Get my most popular smart home ideas, which you can apply at home, sent directly to your email every weekday morning.
The German-made Doorbird D101S video doorbell is at the top of the market for video doorbells. In fact, DoorBird promotes it as a "video intercom station" rather than a traditional video doorbell. But this isn't just marketing talk; with simple interfaces with automated door and garage openers, among other things, this isn't just marketing bluster.
DoorBird also offers integrations with smart home appliances from companies like as Chamberlain, Volkswagen, and Control4, to name a few. The company also has a powerful API that allows other manufacturers to become compatible with DoorBird doorbells in the future.
The doorbell itself has that German-engineered feel to it, with a well-designed polycarbonate casing and a stainless steel faceplate to complement the overall design. Also made of stainless steel, the doorbell button has an illuminated LED ring around its circumference.
This surface-mounted doorbell operates on 15V DC power, which is also known as Power over Ethernet, and will be the primary focus of this study. It is also capable of connecting over WiFi, providing an additional backup alternative in case of an emergency.
As with a wireless doorbell, the DoorBird does not scream "plug and play" like a wireless doorbell when it comes to installation. Even for experienced users, it might be difficult at first, but the fast start guide explains each step in great detail to assist you along the way. For those who do not believe they are up to the work, DoorBird may provide recommendations for reputable specialists that can assist you.
The camera is only capable of 720p resolution, which I find to be a little insufficient considering the high price this doorbell commands. The camera was able to identify the Doordash delivery man who flung my order against my front door and then fled away because of the 180° field of detection of the built-in motion sensor on the camera.
I cried out to the person, remembering that there was also an intercom system, but he didn't appear to notice or care. Regardless, the point I was trying to make was that the whole intercom-style package that the DoorBird gave broadened my options for what I could do with a video doorbell.
You can see your front porch or anywhere you place this doorbell in an almost fisheye lens perspective thanks to the camera's 180-degree horizontal and 90-degree vertical fields of vision. Because the doorbell's light sensor automatically activates the night vision feature in the dark, you won't have to worry about forgetting to switch on the night vision feature as you would otherwise.
The PoE connection performed the best throughout the tests. When I had several of my friends around, I asked them to perform their best impersonation of a dancing legend in front of the camera as a stress test on my own. Besides being able to capture their "amazing" abilities on camera, it was also able to transfer the clip to my phone and PC without any perceptible stuttering or latency.
The DoorBird app is well-designed, with a simple procedure for setting up a new device on the app. Once you've finished configuring the camera, the live feed from the device appears in the app. In addition, you may snap screenshots of the live broadcast at any moment by pressing a dedicated button.
The interface is not just restricted to the application. You may browse a website that allows you to do all of the functions of the app but from a computer or laptop. All of these high-quality-of-life characteristics combine to make the DoorBird an excellent option for a high-end consumer.
Pros:
Superb construction quality
There is no monthly price for the basic features.
Excellent detection of motion
Excellent performance on the PoE
Simple access to replacement parts as well as customization options
Cons:
Overpriced in comparison to the feature set
Installation requires a degree of technical expertise.
Bottom Lines:
Featuring a high-quality camera and motion detection, as well as excellent PoE performance, the premium DoorBird D101S checks all of the boxes for a premium video' intercom,' according to the manufacturer. With simple access to replacement parts and customization choices, this doorbell will allow you to keep chugging along for a very long time.
Sale
DoorBird WiFi Video Doorbell D101S, Strato Silver Edition
KNOCK KNOCK - No more Who is it... Answer your door from anywhere in the World from a Phone or Tablet ( IOS and Android)
EASY WIRING - Comes with everything you need. Use WiFi or Power Over Ethernet (POE)
CONNECT TO YOUR SMART LOCK - DoorBird integrates with August Locks, Kevo, Chamberlain, LiftMaster, Lockstate and more. Unlock your door from anywhere
QUALITY BUILD - German made out of high quality materials. Excellent 720P High Definition Camera Video
SECURITY AND FUNCTIONALITY - Built in Motion Sensor lets you always know whats going on at your house
3. GBF Upgraded WiFi Video Doorbell – Best Weatherproof PoE Doorbell
Regardless of its name, the GBF Upgraded Video Doorbell is also capable of Power over Ethernet (PoE), and it may be used to see, hear, and talk to the person who is at the door using your smart devices. The Controlcam2 software makes it simple to record the camera stream or take a screenshot, and it does it in a straightforward manner.
I discovered that you may engage the 2-way video and audio monitoring at any time without pressing the bell button, which is a convenient function. The doorbell is integrated with two SPDT relays, which means that I could connect the doorbell to the remote door lock that I already had and have it unlocked when someone I recognized came to the front door.
You can do the same thing using gate openers. The doorbell is waterproof to IP55 standards, which means that when paired with its capacity to open gates, it makes for an excellent option for use with your front gate. It is not suggested, however, if you are using a Power over Ethernet connection.
Besides having a resolution of 1080p, the IP camera also supports ONVIF and RTSP streaming, which allows it to be integrated with my Hikvision NVR camera system, which I installed a few months ago. The 150° field of view is sufficient for most front doors or gates, and the smaller field of view allows for more detail to be captured of objects that are farther away from the camera.
It's possible to turn on motion detection manually, or you can do what I did and set it up such that a small clip was sent to my email and phone before and during motion detection.
In contrast to the previous GBF doorbell model, the PoE capability is built-in, eliminating the need to purchase an additional adapter in order to connect the doorbell to a network through an ethernet wire. The video feed worked nicely in PoE mode, and I was able to see farther away than I could with ordinary video doorbells without experiencing significant lens distortion.
In addition to the bell button, the doorbell is equipped with a keypad. You may generate temporary access codes whenever you need them for when a visitor wants to get in, or you can establish a permanent code for your own usage. You may even use your phone to manage the relays on an individual basis if you choose.
The GBF Upgraded WiFi Video Doorbell is oriented towards a use case that especially takes use of its weatherproof construction and compatibility with door and gate locks when considering all of the capabilities it offers. This doorbell is the perfect option if you are searching for a weatherproof doorbell for your front gate or if your front door is exposed to the elements on a regular basis.
Pros:
Control 2-way live video and audio from a distance.
There are two lock control relays.
Certified to IP55 standards
There is no monthly or annual membership cost for any feature.
Code creation is simple.
Cons:
There will be no face recognition.
GBF Upgraded Smart Video Doorbell/Door Phone Intercom System Night Vision Weatherproof- HD 1080P...
Convenient - Answer and view callers at your door remotely via your mobile iOS device, Android device, or Indoor Monitor, whether you are at home or abroad. The IP Doorbell sends a push-notification and directly connects with your smart mobile devices. Easy setup connects to your smart device in minutes.
Smart - Advanced Motion Detection can be easily programmed from the App with the ability to define the area of interest, sensitivity, and active time of day/days of week. Set your gate to open automatically during specified time periods and days of week, all done through your App.
Secure - Event log of one week can be retrieved through the App or Indoor Monitor, with timeline and video clips that track all events occurring at the outdoor station (Ring-in, App unlock, Keypad unlock, Motion Detection). Multiple clients can be connected to a single IP Doorbell, Multiple doorbells can be accessed together through our free App. Integrated dual-stream ONVIF 1080P IP camera offers a 160 degree wide viewing angle. Illumination LED's allow for clearer visitor video in low light.
Versatile - Two integrated SPDT relays can trigger two different remote door locks or gates, which can be activated directly from your mobile, and also with an optional push-to-exit button. Internal normally-open dry-contact relay activates with the press of the 'Bell' button, allowing for device connection to an existing chime in your premises. WiFi or Wired Ethernet connection. Integrates seamlessly with our GBF WiFi IP indoor monitor.
Dependable - Premium Brushed Aluminum faceplate for durability. All-metal Back Box, Weatherproof IP55 rated construction. Always-on blue backlight enables easy user operation in low light conditions. Requires 12VDC 1A Power (adapter included) or can be powered through a wired Ethernet connection using GBF's optional PoE adapter. 1-year manufacturers warranty. No Subscription Fees for Basic features, Subscription Fees required for optional features (Event Log and Timed Unlock).
5 Things to Consider Before Buy PoE Doorbells:
The following are some of the most significant qualities to look out for when shopping for a PoE-enabled doorbell. Make an educated guess about your use cases and base your selection on that assumption.
1. Image Quality
This is the most important element to consider when purchasing a video doorbell. When you go to check on who is at your door, the video feed, and, by extension, the camera itself will be the initial point of contact for you to make touch with.
A high-quality camera with a broad field of vision, ideally capable of 1080p, maybe the best solution. Still, there are other doorbell cameras that lose a little video quality but make up for it in other ways.
2. PoE Doorbell Performance
The performance of a PoE camera in PoE mode is unquestionably a significant consideration when purchasing a PoE camera. The performance of most video doorbells is dependent on the ethernet connection or your modem, but some video doorbells are specifically designed to connect via Power over Ethernet (PoE), and these perform significantly better than the ones that were designed to work with a variety of connection methods.
3. Motion detection
As an added bonus, motion detection is a critical function, with some doorbells depending on accurate motion detection to notify you when someone is at the door. Naturally, the doorbell that yields the fewest number of false positives while still being accurate when someone really comes to your door would be the ideal pick.
4. Subscription plans
Some doorbell manufacturers need a paid membership or comparable payment in order to access certain functions. The doorbell that can provide the most amount of value while not needing a significant investment in a subscription service would be an excellent option in this situation.
5. The PoE-tential Winners
While Power over Ethernet (PoE) video doorbells are few and far between, the ones that are available are good alternatives if you are in the market for one.
The Ring Video Doorbell Elite is my top pick overall because of its compatibility with a broad variety of home automation devices, its robust PoE performance, and the high quality of the camera it includes.
The DoorBird D101S is an excellent choice for anyone seeking a premium experience in terms of both style and performance. In the market for a customized and simple-to-maintain video doorbell? This is the one for you.
GBF Upgraded WiFi Video Doorbell is an excellent choice if you're looking for a smart video doorbell that can also be used to operate the electric locks on your front door. This doorbell does not need you to pay a monthly membership fee, which is an extra convenience.
Frequently Asked Questions (FAQs):
1. Can cat6 ethernet be used for a Doorbell?
It is possible to power doorbells that support Power over Ethernet with a cat6 ethernet connection using this method (PoE). Ordinary video doorbells will not function properly with this device.
2. How do I connect my ring doorbell to Ethernet?
The Ring Doorbell Elite is the only Ring doorbell that can be used with an ethernet connection, and it is the only one available. To connect the doorbell to a network, follow the instructions in the Ring Setup handbook.
3. How do I connect my nest camera to Ethernet?
Power over Ethernet is not supported by any of Nest's cameras or doorbells by default. It is possible to utilize a PoE adapter; however, the network connection that is used to transport data will continue to be WiFi.
4. Does the Ethernet cable have to be connected to the router?
The ethernet wire that connects your cable modem and the computer does not need the use of a router, as long as you do not want to share your internet connection with anybody else. During these instances, you'll want a router to perform the functions of both a wired switch and a wireless LAN.
Best Seller List of PoE Doorbells:
Bestseller No. 1
Blink Video Doorbell | Two-way audio, HD video, motion and chime app alerts and Alexa enabled —...
Answer your door no matter where you are from your smartphone with 1080p HD day and infrared night video and two-way audio.
Experience long-lasting battery life, custom alerts, privacy settings, and more.
Get alerts when motion is detected or someone presses Video Doorbell. Connect to existing doorbell wiring or pair with a Sync Module (sold separately) to engage live view and two-way audio on demand.
Choose to save and share clips in the cloud with a free 30-day trial of the Blink Subscription Plan or locally with the Sync Module 2 and USB drive (each sold separately).
Designed for every home, go wire-free or connect to doorbell wiring to also sound your existing in-home chime. Without wiring, you can use your Blink Mini camera (sold separately) as an indoor plug-in chime.
Bestseller No. 2
Ring Video Doorbell - 1080p HD video, improved motion detection, easy installation – Satin Nickel
1080p HD video doorbell with enhanced features that let you see, hear, and speak to anyone from your phone, tablet, or PC.
An update from the original Ring Video Doorbell, enjoy improved motion detection, privacy zones and audio privacy, and crisper night vision.
Receive mobile notifications when anyone presses your doorbell or triggers your built-in motion sensors.
Powered by the built-in rechargeable battery or connects to existing doorbell wires for constant power.
Easily setup by connecting your Ring Video Doorbell to wifi through the Ring app and mounting with the included tools.
Bestseller No. 3
Doorbell Camera Wireless,Intelligent Visual Doorbell Home Intercom HD Night Vision WiFi Rechargeable...
【1080P Full HD & Wide Angle】Take an eye on your home day and night with 1080P high-resolution video and the doorbell camera lets you see, hear and speak to people from your phone. Doorbell camera offers a 166 ° view angle so that the blind spots can be reduced as much as possible.
【Two-Way Audio】The doorbell camera has a built-in microphone and speaker system, which provides two-way high-fidelity conversation all the time. You can have a real-time video talk through the APP with whoever in front of the outdoor camera on any occasion and situation.
【Rechargeable Lithium Battery】The built-in rechargeable lithium battery of this video doorbell can be used for a long time after one charge. It has a low-power design, so battery life is greatly improved. You don't have to charge or replace the battery as often.
【2.4GHz Wi-Fi Compatible】The 2.4GHz Wi-Fi range of Video Doorbell is up to 20m (66ft), it easily connects to your home's Wi-Fi network, sending live video feed to your phone. You can see and talk to the visitor from the comforts of your bed, from work, or while on vacation.
【Intelligent and Portable】The doorbell can be controlled by APP, automatical work model, intelligent and portable.Portable in size and weight, convenient to install and remove.
Sale
Bestseller No. 4
EKEN Doorbell Camera Wireless, WiFi Video Doorbell with Chime, 2 Way Audio, Human and Motion...
HUMAN AND MOTION DETECTION - The wifi video doorbell camera help you keep an eye out for deliveries, watch for porch pirates, or just check on the weather, distinguish between people and other motion accurately, sensitivity is adjustable, real time alert will be send to your phone APP
2 WAY AUDIO - Designed with built-in microphone and speaker, you can talk to visitors through two-way audio feature of this smart video doorbell for home with phone app, no matter wherever you are
EASY INSTALLATION - This wire-free video door bell is battery powered, working for you around 4 month with a full charge, no wire needed, you can install EKEN doorbell camera beside your door with adhesive tape or screws easily
CLOUD STORAGE - No sd card needed, all video recorded by this wireless doorbell camera will be stored in cloud, which is safer and more convenient to check
MORE - This wireless video doorbell is compatible with iOS and Android phones, find the App in Google Play/App Store, only 2.4GHz Wifi internet supported
Bestseller No. 5
Ring Video Doorbell Wired – Convenient, essential features in a compact design, pair with Ring...
1080p HD wired video doorbell with two-way talk, advanced motion detection, standard 2.4 GHz connectivity and customizable privacy settings
Get real-time notifications sent straight to your phone. To hear audio notifications in your home, pair with a Ring Chime, compatible Alexa device, or select the Video Doorbell Wired + Chime bundle. Note: the doorbell will not sound your existing chime.
Advanced motion detection helps you know when someone's at your front door before they ring your doorbell
Night vision with sharp contrast ensures you'll never miss a detail – even in the dark
Hardwire Video Doorbell Wired using your existing doorbell wiring and the included tool kit for around-the-clock power and peace of mind
Sale
Bestseller No. 6
DG-Direct Anti-Theft Video Doorbell Door Mount, Stainless&Aluminum Video Camera Doorbell Mount for...
【Anti-Theft Design】We design this anti-theft doorbell door mount for blink video doorbells. The door mount provide a safe environment. The anti-theft doorbell door mount can protect your blink video doorbell for your family while keep your blink doorbell camera away from stealing.
【Upgraded Innovative】You don't worry about losing the Case Opening Tool, because DG-Direct anti-theft steel sheet can be used as your Case opening tool to open your Blink doorbell.
【Compatible Door】Blink doorbell fit perfectly inside!The door must be inward swinging.Iron Security Door Can Not Use.The door thick between 0.59 inches and 2.36 inches. The Spacing Between Door and Door Frame is Varies from different home,Door slit size needs to be greater than 0.06" or more to be used. Great for rental homes, Apartment, Office, Room, businesses building.
【Easy Installation】You can install the doorbell mount easy. Attaches securely in seconds and easily installs and uninstalls so that you can take it with you or move locations easily, Put your blink doorbell inside and fixed onto your front door!It Does not need drill door or wall, Much easy. The product coming with detailed Installation Instructions and other necessary accessories.
【World-class Customer Service】Your satisfaction is our #1 goal.We are focus on the after sale service for a long time, we can provide the 12-month warranty for our customer. If you are not satisfied for any reason at all, pls contact with us, you will get the full refund on the spot. Follow your heart, add to your cart!
Bestseller No. 7
EKEN Wireless Doorbell Camera with Chime Smart Video Doorbell Camera with Motion Detector | Cloud...
2-Way Audio & HD Live View:EKEN smart wireless doorbell camera sound is perfectly synched up with the video.It provides two-way talk and real-time video through noise reduction & rate adaptive technology,and comes with a free doorbell chime,you can put it in your dinning room,kitchen,or courtyard.When someone ring your doorbell camera,the chime will ring along,allowing you to see,hear,and talk with visitors at the door through a wide range anytime,anywhere
PIR Motion Detection & Night Vision:EKEN smart doorbell has built-in motion detector,infrared sensors and LED.It can respond quickly when someone passes by the front door bell camera,and capture the picture and push it to the mobile phone/tablet,and upload the short video to the cloud server.When the light decreases,the infrared light will automatically turn on to show you high-resolution video which can be seen clearly even in dim light.Make sure your home is safe day and night
2.4GHz Stable WIFI & Convenient Cloud Service: EKEN video doorbell only supports 2.4GHz WIFI (NOT SUPPORT 5GHz),please use high-speed stable Wi-Fi,then it can up and running in minutes. This wireless video doorbell offers cloud storage. Experience the convenience and added benefits of the subscription plan with your included 30-day free trial. With a subscription plan, record all your videos, review what you missed, and share videos.
100% Wire-Free & Rechargeable Batteries: EKEN video doorbell wireless with built-in battery, low power consumption, long-lasting power per charge. This wire free video doorbell works great with 2.4Ghz WiFi.100% wire-free design saves you from cable hassle and you can just mount it at any spot you like. The App is available in Google Play/App Store. Take only a few minutes, then you can easily set the door camera up in App and mount it up at door
IP65 Weather Resistance & Easy to Install:EKEN doorbell camera wireless is certified for IP65 dustproof and waterproof.Means totally protected against dust,and protected from low pressure jets of water from all directions.There are two fixing methods:1,Use double-sided tape(attached to the back plate bracket) to directly stick to the wall/door;2,Use matching screws to perforate and install.Before install,please check the material of your door/wall,then decide the most suitable way to install.
Bestseller No. 8
Smart Wireless Remote Video Doorbell Camera, Intelligent Visual Doorbell HD Night Vision WiFi...
【Internet smart doorbell camera】This wireless doorbell camera is perfect for smart home security. It features a mobile phone video call function, voice-changing intercom, and automatic capture. Plus, it has a long standby time.
【Rechargeable Lithium Battery】The built-in rechargeable lithium battery of this video doorbell can be used for a long time after one charge. It has a low-power design, so battery life is greatly improved. You don't have to charge or replace the battery as often.
【volume adjustable】This speaker has a volume control that can be adjusted to fit different settings; it also has two connection methods, WIFI and Bluetooth, so you can place it anywhere you like. Additionally, the volume can be adjusted in multiple gears, making it suitable for even noisy environments.
【Multi-functional intelligence】 This camera is mini size.Video intercom, photo recording,cloud storage(3 days free), group sharing, compatible with iOS and Android, make your home safer and life more convenient.Night vision function,make your home safe even at night.Notice it without the motion dection,If you need doorbell with motion dection,we have other design.
【Capture image and timely notice】Capture the picture when doorbell pressed and If no answer,will upload the photo to the history and send notice to your mobile phone , which can be viewed or downloaded to the mobile phone at any time.
Sale
Bestseller No. 9
Blink Whole Home Bundle | Video Doorbell System, Outdoor camera, and Mini camera | HD video, motion...
Help protect your home inside and out with the Blink Whole Home bundle featuring Video Doorbell, Outdoor, Mini, and Sync Module 2.
See, hear, and speak from your smartphone with HD live view and two-way audio from the Blink Home Monitor app.
Choose to save and share clips in the cloud with a free 30-day trial of the Blink Subscription Plan or locally with the included Sync Module 2.
Get up to two years of powerful battery life with Video Doorbell and Outdoor.
Receive customizable motion detection alerts so you're only notified when you need to be.
Sale
Bestseller No. 10
Kasa Smart Video Doorbell Camera Hardwired w/ Chime, 3MP 2K Resolution, 2-Way Audio, Real-Time...
【3MP 2K HD】See who's at your door with crystal clear 3MP/2K crisp high resolution video, capturing every detail even when you zoom in. Easily identify faces with no worries of grainy images, and enjoy a 160° diagonal field of view showing you everything you need to see outside your door.Controller Type:Android;Amazon Alexa;Google Assistant.Connectivity protocol:Wi-Fi.Power source type:Corded Electric
【Instant Notifications & Modular Chime】Get instant push notifications when the doorbell button is pressed or adjust the volume for select times. The modular Chime design allows you to conveniently place your chime where you want, choose from several different tones, and adjust the volume directly on the device. Never miss another delivery or wake your family with an unexpected guest.
【2-Way Audio】Kasa Smart home video doorbell gives you the ability to answer your door even when you're not home. Watch live from anywhere, anytime on your phone or favorite supported device, and carry on a crystal-clear 2-way conversation with a single tap on the Kasa app.
【Alexa & Google Assistant Compatible】Fully compatible with Amazon Alexa and Google Assistant, the KD110 can also play video on your favorite supported display with Amazon Echo Show or Google Chrome Cast. Easily get your home security footage up on a larger display such as your TV.
【Night or Day, Rain or Shine】With IP64 weatherproofing, the KD110 is ready for harsh particles and rain. Thanks to the built-in IR sensor, see what's there even in the dark up to 30 ft. away. Whether it's night or day, you'll clearly see the visitors, delivery personnel or possible intruders that come to your home.
Last update on 2023-01-11