Blu-Ray vs. 4K – people sometimes get confused about them. The reason is simple. Most people are used to listening to the battle between Blu-Ray vs. DVD. Besides, the fight between them was staggering once upon a time. But, the time has changed. Now, it shifts to Blu-Ray vs. 4K. Nevertheless, both of them are different aspects.
While Blu-Ray is a physical media, 4K is a type of video resolution. Blu-Ray films can be watched through the disc, while 4K is available on streaming services. So, it's assumable that there's a significant difference between them. We'll discuss the major difference between them. Hence, we'll also provide efficient ways to enjoy them most excellently.
Let's break down the lines and see the comparison between Blu-Ray vs. 4K –
Blu-Ray vs. 4K – An In-Detail Comparison
Before sorting out the in-detail comparison between Blu-ray vs. 4K, we should check out what are Blu-ray, 4K, and 4K UHD? Let's take a look –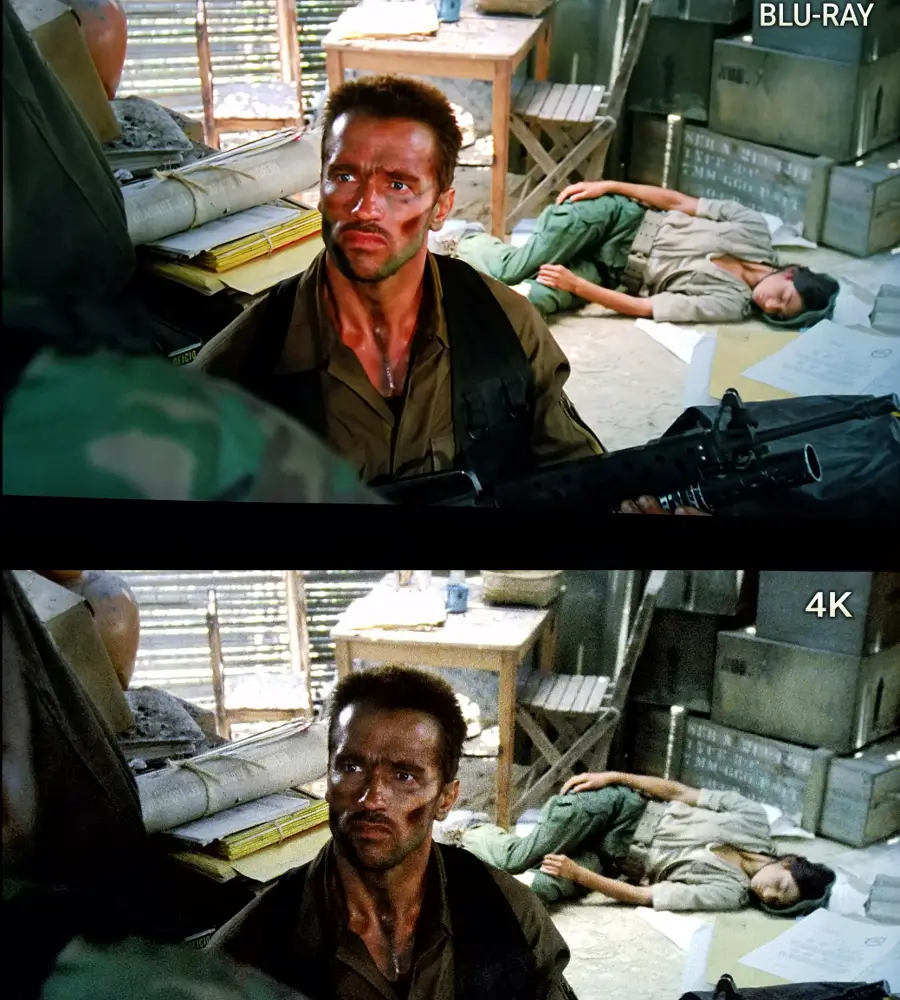 Blu-ray
Blu-ray is a digital disc format and an upgraded version of DVD. Unlike its predecessor, it can easily store a couple of hours of video. Moreover, the picture quality of Blu-Ray are also astonishing and enhanced than DVDs. It can hold several hours of video in Full-High-Definition (1920×1080) and Ultra-High-Definition (3840×2160).
Blu-ray discs can be damaged or get scratched severely. For this reason, you should make backup copies of Blu-ray discs.
DCI 4K
4K resolution, also known as 4K DCI (Digital Cinema Initiatives), means the screen display is horizontal and capable of delivering video in 4096 x 2160 pixels. Besides, 4K video recording is HD video and gives the audience a new experience in movie watching.
4K UHD
Before discussing the 4K UHD, we know what UHD is. UHD's full version is Ultra High-Definition. So, it's assumed that it is even upgraded to the highest level of HD mode. Henceforth, UHD and 4K UHD both are the same things. It refers to 3840*2160 pixels.
So, after the discussion, we can conclude that – DCI 4K and UHD are different in resolution. However, UHD isn't the real 4K but possesses many 4K characteristics. But, most TV manufacturing companies refer to 4K due to marketing reasons. Since we hear 4K more constantly, it is a more familiar word to us.
Blu-ray is an optical disc that is an upgraded version of its predecessor, DVD. There are two types of Blu-ray discs – 1080P Blu-ray and 4K Blu-ray. On the other side, 4K is a resolution. It can be in Blu-ray discs or MP4-type videos.
So, that's it. Hopefully, you've got enough idea about these three types of video formats.
Now, we'll discuss the Blu-ray Vs. 4K UHD – in-detail comparison. Let's take a look –
Blu-ray vs. 4K UHD Detail Comparison
The resolution is definitely the main battleground between Blu-ray vs. 4K UHD. Nevertheless, it isn't the only factor to be discussed. We've to consult on more things. Let's check it out –
Quality and Resolution
Let's begin with the main thing – quality and resolution. If we look at the definition, we can see that the general Blu-ray disc resolution is 1080p while the 4K is 3840 x 2160 pixels. Hence, if you count in vertical or horizontal ways, a 4K is almost twice the size of a 1080p Blu-ray.
In the resolution battle, Blu-ray is no match for 4K UHD. It's not a matter of surprise that 4K Ultra-HD will be the ultimate winner. Additionally, 4K UHD provides much more ascertaining solutions and superiority than others.
But, what does that mean? It indicates that it is capable of producing images with up to 3840 x 2160 (4K) or beyond that. That's why the resolution quality is astonishing with 4K UHD. On top of that, it's sharpness and clarity are superb. In addition, you can find out the charisma of 4K UHD by moving clips back and forth between them.
Capacity
What should be the perfect one for storage? Is it Blu-ray or 4K UHD? That's a critical question indeed! Blu-ray discs offer a much better storage capacity. It can store 25GB of data on one single-layer disc while possessing the capability to store 50GB of data on dual layers.
On the other hand, 4K UHD can store more than 100GB of data. 4K UHD contains additional and more modern technology. This is why it is much loftier than others. Therefore, you'll have much longer videos compared to others.
Another thing is Blu-ray discs can be affected by fingerprints or residues. Some Blu-ray videos are highly protected. As a result, smears or scratches can't do anything to it. For this reason, you'll need Blu-ray decrypters to use them.
Content
Blu-ray is the clear winner if we talk about availability and content. 4K was only introduced back in 2004. But, it takes a longer time to get today's popularity. Moreover, 4K UHD is still not that available at this moment worldwide.
4K UHD is a fantastic system that can perform to a consistent standard. There's no outside factors that can make an impact on it. Yes, you can enjoy so much 4K UHD content on various streaming sites. But, if you consider the legendary films and TV series, Blu-ray still has the upper hand over its counterpart.
For instance, you can enjoy The Godfather, Avatar, Mission: Impossible, etc., films that are fully available on Blu-ray. Yes, you can get tons of movies on live streaming sites like Netflix, Amazon Prime, Paramount Plus, etc., but most of those films we've watched on Blu-ray.
Yes, you can find 4K UHD on those streaming sites. However, they'll need more time to cope up with Blu-ray.
Compatibility
The battle between two giants is very sophisticated here. You can't run a 4K video on an ordinary Blu-ray player. That's impossible. However, what is the reason? The reason is simple. 4K videos are highly upgraded and an ordinary Blu-ray player can't run it.
To be honest, 4K UHD doesn't offer too much comfort when we watch entertainment. It will be best if we compare it to another high-quality format. However, since we compare it against Blu-ray, we must say that Blu-ray disc players are incapable of playing 4K UHD videos.
You can only watch 4K UHD videos on streaming sites. Blu-ray provides fantastic image quality while 4K UHD is literally eye-glossing.
Price
If you read the previous writings carefully, it's assumed that the price of 4K UHD is much higher than that of a Blu-ray player. You have to purchase Netflix or any other streaming site's monthly subscription. Moreover, you need to possess high-speed internet. Without these things, you can't enjoy 4K UHD videos.
But, you can conveniently purchase a Blu-ray player at a reasonable rate.
Conclusion
It's too difficult to decide on Blu-Ray vs. 4K. Both are different. Besides, it's difficult for us to make an in-detail comparison since both are from different eras. The whole thing will depend on you. The variety of aspects is too wide.
As a result, if you've got problems with Blu-Ray vs. 4K, just leave it in the box below. We think we should discuss it together to find a suitable solution. It will be the best for both parties.