Imagine going to a movie theater to watch a Tom Cruise starrer flick! Then, you discover that two types of movie formats are installed there. The two formats are – Dolby cinema and IMAX. What should you do? What will be your choice between Dolby Cinema vs. IMAX? You will be in a dilemma, Right?! According to worldwide moviegoers, critics, and top outlets – both of these formats are the most popular around the world.
So what do you think? Which one will be the best? Both are unique and superb in their own way. There's no direct answer of it. It depends on the choice of a user.
Cinema lovers often feel in doubt about which one they should select. Further, both formats deliver a premium taste of the movie, ultra-superior sound, and eye-popping visuals. Now, we'll discuss Dolby cinema vs. IMAX – Which one is better?
Keep reading to acknowledge both of them –
Dolby Cinema vs IMAX – Which One is Best for Cinematic Experience?
Dolby cinema is a kinda new format in comparison to IMAX. Dolby supplies the excellent theater experience by supplying Dolby's proprietary Atmos sound system. On the other side, IMAX provides the fans with a gigantic cinematic experience with mind-blowing visuals.
Now, let's have a bosom look at both of them –
Dolby Cinema
The fusion of various elements creates AMC Entertainment's Dolby cinema. Besides the first Dolby cinema was released in 2014 in Eindhoven, the Netherlands, followed by Cinesa La Maquinista in Barcelona, Spain. Since then, cinema halls have started to purchase this tech to stay updated in this industry.
The three-dimensional image is the key to this newly instigated technology. A total of 360° surround sound surrounds it. It also possesses a laser project with 4K resolution, four subwoofers, five in-screen speakers, and nearly 50 surround speakers.
Besides, the Dolby cinema has more than 2000 watts for every channel. For this reason, it can provide exquisite sound quality. The sound quality will mesmerize you in a way you will think you're in heaven and there are 70 virgins producing sounds for you! Yes, it is such a phenomenal level!
It also installed 4k lasers. For this reason, it is far richer in contrast. The color is fascinating and anybody can enjoy the crystal clear cinema experience. Additionally, the color reproduction system of Dolby's vision is simply extraordinary. Anybody can notice the massive distinction between it and general formats.
In a word, you just can't ignore it and will never find such an experience anywhere else in the movie world! Dolby cinema began its journey in the USA in 2015. The only problem with Dolby cinema is that it is less accessible and highly expensive tickets.
IMAX
It's pretty much inevitable that IMAX is the most popular and widely used movie format worldwide. Perhaps you heard it more often than Dolby cinema. Henceforth, the reason is that IMAX has reached more moviegoers than its counterpart. The IMAX theaters use high-quality cameras and projectors.
It contains large-sized movie screens. Immersiveness is the principal conductor behind it. Further, the IMAX has four essential features. They are – the camera, screen, projector, and speakers. The sound system of IMAX is also astounding. It uses 64 speakers for superior surround sound.
This is why spectators love this format much rather than standard ones. In addition, IMAX cameras have been used to create many blockbuster films such as The Dark Knight Rises, Avengers – Infinity War, Mission Impossible: Ghost Protocol, Interstellar, etc.
Dolby Cinema vs IMAX – Comparison
So, the question arises: Which one can give you a lovelier movie-watching experience? Is it Dolby Cinema or is it IMAX? Both are outstanding and treat the eyes. Now, let's check some quick side-by-side comparisons of both of them –
| | | |
| --- | --- | --- |
| Feature | Dolby Cinema | IMAX |
| Image Quality | 4 times higher resolution than the general format | 3 times higher resolution than widespread formats |
| Image Format | 2.40:1 aspect ratio | 1.90:1 aspect ratio |
| Comfortability | The chair is attached with transducers. Highly comfortable | A bit comfier than the normal ones |
| Age | Newer | Bit older than its counterpart |
| Audio Speaker | Audio from five in-screen speakers | Comparatively much larger speakers than general halls |
| Availability | Around cinemas released | Nearly 2000 IMAX films have already been released |
| Ticket Price | Much expensive | Lower priced than the Dolby |
Dolby Cinema Explained
The most eligible components of Dolby cinema are – Dolby Atmos and Dolby Vision. It is the blend of both of these portions.
Dolby Atmos
Besides, the Atmos is a surround sound system. The setup of this sound system is pretty critical. There are five in-screen speakers along with four subwoofers and 48 surround speakers.
Moreover, the overhead speakers allow viewers to get an immersive movie experience. The whole sound installation process lets viewers hear 128 separate audio tracks from 64 massive channels. Hence, the system is so sophisticated and you can even track a stealth drone from over the room!
Dolby Vision
Now, we are going to talk about the Dolby vision. Its first-class visual technology is helpful to see the superior image quality we see in general theaters. Additionally, the color reproduction is outstanding. The difference between it and regular theaters is so significant. Moreover, the theater supplies a comfy watching environment to its audience.
The dynamic range is clear. You could see the brighter things more shiner while seeing the darker images in highly dark mode. In addition, the contrast ratio between Dolby vision and regular halls is massive. The combination between Dolby Atmos and Dolby Vision is something to see and you can't ignore this fact!
Dolby Cinema Pros:
The image quality and contrast ratio is ahead by miles than any system
Dolby Laboratories' projectors are far superior to the standard projectors
The sound system possesses 64 audio channels
The recliner chair gives immense comfort
The picture quality is outstanding.
Dolby Cinema Cons:
Dolby theaters are only eligible for 2D films
The ticker price is sky-high
IMAX Cinema Explained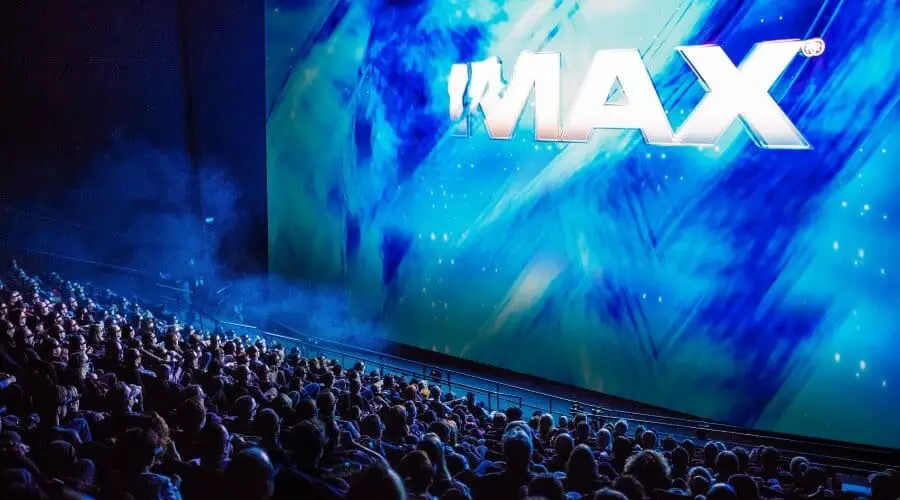 The main elements of IMAX cinemas are – the camera, screen, projectors, and speakers.
IMAX Cameras
We've already been told that many Hollywood blockbusters, including The Dark Knight, Transformers, etc., have been shot through IMAX cameras. The camera can take pictures with high resolution. Thus, the 70mm IMAX movie has a resolution of around 12,000x 7,000 pixels.
Moreover, an IMAX camera can produce 18,000 lines of horizontal resolution. Overall, the resolution and color of IMAX cameras are simply spanking. Even top directors like Nolan, Michael Bay, etc., praised these cameras. Many famous directors are also preparing to shoot the sequences with IMAX cameras.
The color, contrast, and quality of these cameras are simply outstanding.
IMAX Screen
The screen of the IMAX theater is much more significant. Hence, the average IMAX screen is around 80 feet. The screen possesses a curve at the center stage. For this reason, audiences can watch films with more comfy feelings. It also gives them an immersive movie taste. In addition, the seats of the theater are much closer to the main screen.
IMAX Projectors
Due to the highly configured projectors and the considerable screen size, IMAX movies are so fantastic. The double projectors are set in the near place of the screen. As a result, the audience gets closer to the film and feels the vibrant taste of cinema.
They can see the image more clearly and everything becomes so sophisticated for them.
IMAX Speaker
Here comes the last part of the IMAX. Yes, it is none other than the IMAX speaker. Without a sheer sound system, films are not films at all! IMAX can produce enhanced audio systems that could give the true taste of the cinematic experience. Hence, the bigger screen is surrounded by multiple speakers.
There's a central hub installed in the hall. This is how controlling the whole sound project becomes so convenient. There's no need for manual adjustment during show time. Furthermore, the sound quality level is magnificent and can give moviegoers a hell of a ride!
IMAX Pros:
You can watch both 2D and 3D films
Image quality is also nice
Available everywhere
Reasonable ticket price
IMAX Cons:
Contrast is not that superb like Dolby
Seats are also pretty much lower quality
Dolby Cinema and IMAX – Broader Comparison
Let's check some in-depth analysis of the comparison between Dolby Cinema vs. IMAX –
Image Quality
Is it even a question?! Dolby cinema just bears IMAX by miles! The image quality of Dolby cinema is awe-inspiring. The projection technology is far ahead. Dolby has almost four times higher resolution and a 500 times higher contrast ratio. As a result, it provides an excellent experience in both traditional and digital formats.
On the other hand, IMAX uses dual laser projection technology. It offers much less resolution than its counterpart. The brightness, color – everything is so superb for Dolby and is the ultimate winner in this department.
Image Format
We can safely say that IMAX is the winner in this department. Dolby is quite average and inexperienced in this field. Henceforth, Digital, AMC Prime, ETX standard, and Dolby cinema use a 2.40:1 aspect ratio. The format is almost the same for each film.
Nevertheless, IMAX uses a 2.40:1 aspect ratio to show its films. This is how moviegoers will have a taller and more tasteful movie experience. You must see the IMAX-camera shot films in IMAX theaters to have the best feelings in this format. We assure you that a taller IMAX screen will have a better immersive experience.
Sound Quality
When it comes to the sound quality, Dolby cinema is one and only! The Atmos technology is untouchable and is currently available for almost 5200 theaters worldwide. Besides, you could feel more enhanced sound by installing transducers inside the seats.
You can even hear the smallest object with this format. IMAX also has a high-quality audio system. Additionally, the IMAX halls possess much larger speakers and are capable of creating exclusive sounds. However, Dolby is in just another league and there is still no comparison against them in this field!
Comfort Zone
The Dolby chairs are premium-level. The space is too ample and you'll find utter comfort with these chairs. Hence, the broad and spacious chair will give you a fantastic feeling while enjoying the film. IMAX chairs are also good. But, they're not that big nor wide.
Therefore, you have to adjust a few times while watching the film. The space is also less in IMAX chairs.
Availability of the Theater
When it comes to the availability of the theater, IMAX is far ahead of the Dolby. Almost 2000 IMAX theaters are running around the globe. But, Dolby is only available in 197 theaters. From the discussion above, it's pretty much clear how enjoyable it is to watch a film in Dolby. However, they're not available in the end!
2D Vs. 3D
There's no point we'll discussing which one is better! We're here for a different reason related to this subject. Firstly, if you love to watch films in 3D, this format is not for you. You can only watch 2D through Dolby. But, things are different from its counterpart.
You can watch both 2D and 3D in this format. If you love to enjoy 3D formats, IMAX is only the option. However, one thing you should keep in mind. 2D films are much more enjoyable to watch in Dolby than in IMAX. So, if you pick 2D over 3D, Dolby is far ahead.
Cost
This is the last thing we will discuss. Before watching a film, many of us think about the price of a ticket. IMAX theaters provide more reasonable tickets than Dolby. The ticket price of Dolby is highly expensive. So, take the decision thoroughly before making the final move.
FAQs:
What is IMAX with laser vs. Dolby cinema?
Not much different. IMAX comes with a much larger screen and sound system. But, Dolby just outshines IMAX with its high resolution and eye-popping audio system.
Does IMAX use Dolby Atmos?
IMAX actually uses a regular channel-based system.
Wrap Up
Dolby Cinema vs. IMAX – Which one is better? There's no single answer to it. The whole thing depends on your wish. Thus, both formats come with their respective edges. Therefore, you have to decide which one will be the most suitable for you. Both are magnificent cinema technologies.
SO, which one do you want to visit for your next movie?! Let us know!