You should clean your iPhone just like you would any other item in your house because the slots get clogged with dust or dirt over time. Particularly prone to the accumulation of dust and dirt is the speaker slot. As a result, you hear a garbled voice coming from the speakers. The dirt may even find its way into the speakers themselves. As a result, to obtain cleaner sound from your iPhone, you must clean the speaker hole.
The speaker slots are located next to the charging port on the side of an iPhone. To keep your iPhone in good working order, you should clean the speaker slot regularly. You may experiment with a variety of cleaning procedures for the speaker slot. However, be delicate and meticulous in your cleaning of your iPhone. It would be best not to use sharp tools on your iPhone since they might cause harm.
The speaker slot on your iPhone might be difficult to clean, but not if you follow the instructions in this guide. We're going to recommend some really valuable techniques to you. To make things even easier, we'll show you exactly how to clean your iPhone's speaker slot at home.
Precautions:
Disconnect all of the cords from the computer.
Turn off your iPhone if you have one.
If you must clean it up, do not use any liquid.
Avoid the use of any sharp objects at all costs.
Do not exert any pressure.
Be kind to yourself.
1. Cleaning the iPhone Speaker Slot Using a Brush
Cleaning the speaker slot on your iPhone may be accomplished using a paintbrush, toothbrush, or cosmetics brush. However, be certain that the brush does not have harsh bristles since they might cause internal components to go misplaced.
Furthermore, avoid using a toothbrush with many soft bristles that can be shed readily. The brush's bristles might get trapped within the speaker slot, compounding your situation. As a result, go for a medium-soft brush.
If you are using a toothbrush, make sure it is clean and dry before you use it. It is recommended that you use a small-sized brush. Because it is simple to regulate and manage, use a paintbrush or beauty brush that is extremely tiny and has compact bristles if you are painting or applying makeup. Brush strands that are longer than half an inch should be cut short or trimmed away.
Using caution, slide the brush along with the speaker slot. Move the brush both vertically and horizontally to get the desired effect. Insert the bristles into the speaker slot and massage them gently in a circular manner to remove any debris. Gently shake the smartphone to allow the brushed dust to escape from the device.
2. Cleaning the iPhone Speaker Slot Using an Adhesive Tape
Even though a brush removes most of the dirt, there is still other junk. The microscopic dust particles collect in the little speaker holes, which are difficult to clean. They become firm or rigid as a result. As a result, your iPhone's speaker slot needs further cleaning.
You may use masking tape or painter's tape to do this. A little bit of the tape should be cut and rolled over. By folding the non-adhesive section in half, you may create a cylindrical form. Keep the sticky component on the exterior of the house. The diameter of the cylinder should be about the same as the width of your index finger.
Now, gently roll the tape cylinder on the speaker slot to get it to work. The dust particles will get entangled in the tape. If it becomes soiled, replace it with another piece. That should clean each speaker slot with a tape that is fresh.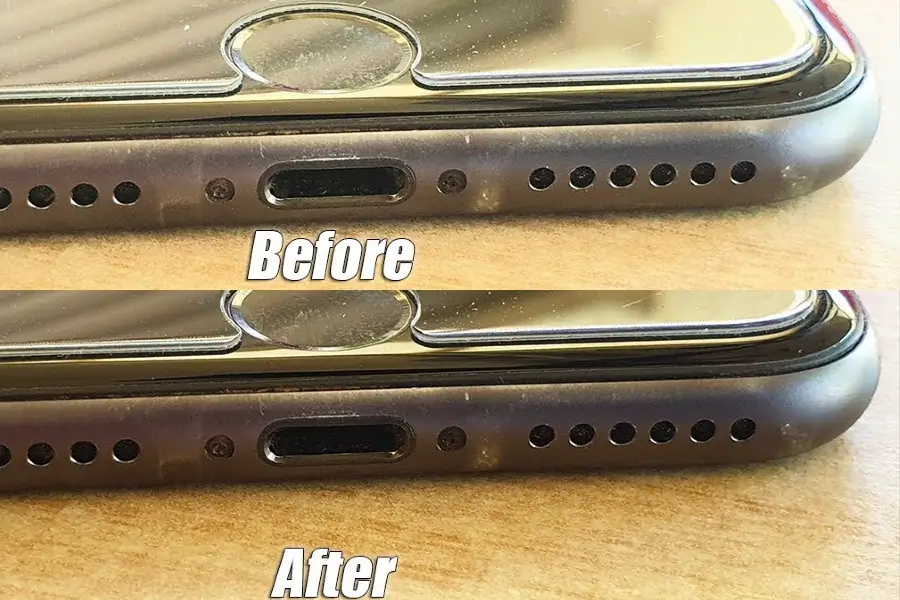 3. Cleaning the iPhone Speaker Slot Using a Toothpick
that may use a toothpick to remove any obstinate substance that has been lodged within the speaker hole of your iPhone. You must, however, use extreme caution. Do not push or move the toothpick more than is necessary. This is because your negligence may cause harm to your iPhone speaker.
Insert the toothpick into the speaker slot on the speaker assembly. Slowly drag it to the opposite end of the room. It will move the dirt to the side of the road. Turn the phone so that the speaker holes face the ground. Now, touch and shake the phone to remove any remaining dirt.
4. Cleaning the iPhone Speaker Slot Using a Cotton Swab
In addition to cotton swabs, you may use them to clean the speaker hole on your iPhone. Make a circular motion with the cotton swab on the speaker grill. Circular movements with the swab are achieved by applying slight pressure—Move-in both directions, to the right and the left. Keep in mind to be nice. When the cotton swab becomes filthy, replace it with a clean one.
5. Cleaning the iPhone Speaker Slot Using Compressed Air
that may clean your iPhone's speaker slot by using a can of pressurized air to remove it. However, do not immediately project the air at this point. A buildup of air pressure might be detrimental to your equipment. Select a compressed air can with a straw for your project. It is available for purchase at most office supply and electrical retailers.
Connect the straw to the spray can's nozzle with a nut driver. By pushing the nozzle, you can determine the air pressure. The air should be able to escape from the straw. Having finished with the dirt, it's time to move on.
Maintain a half an inch space between the straw and the speaker hole. Hold the spray can result in your dominant hand and the straw in your non-dominant hand to complete the task. It will assist you in maintaining a consistent flow.
Release the air into the speaker grill at this point. Two or three blasts will be sufficient to remove all of the trapped dirt. Please make certain that you keep a safe space between the speaker grill and the straw while using it.
6. Cleaning the iPhone Speaker Slot Using Type Cleaner
A piece of Modeling clay is an excellent tool for cleaning the iPhone's speaker slot. Cleaning the mechanical typewriters is what this product is for. However, you may also use it to clean the speaker on your iPhone.
Please take a little portion of the modeling clay and mold it into a small ball. I kneaded it to make it a little more forgiving. Now, carefully push the clay on the speaker hole while moving it around. All of the dirt will adhere to the clay surface. You'll need to go through the procedure 5 to 6 more times. If it becomes soiled, replace it with a fresh one.
Final Words
We provided you with various practical suggestions for cleaning your iPhone's speaker slot. You may experiment with any of them alone or in combination. Use these techniques to clean the charging port on your iPhone and any other slots on the device. It is vital to clean the slots on your iPhone.
Because the dirt is interfering with the speaker's ability to communicate, it also impacts the overall efficiency of your gadget. It's important to clean your iPhone if you find it has accumulated dust and debris.
Best Seller List of iPhone Cleaner:
Bestseller No. 1
Vingtank 3Pcs Touchscreen Mist Cleaner Spray,3 in 1Screen Cleaner Kit,Fingerprint Cleansing,Screen...
【Screen Cleaner】: phone screen cleaner spray, wipe dirty screen without using multiple cleaning tools. It's not just a cleaner, it's a rag to keep your screen clean at all times!
【3-in-1 Screen Cleaner】Anti-fingerprint screen cleaner is a protective case with flat surface and built-in bottle, including protective case+cleaning case+inner bottle. Use the touch screen defogger 2-in-1 mobile phone screen cleaning spray, no longer have to wipe the dirty screen and use a variety of cleaning tools.
【Anti-Static】: Our screen cleaner cleans without leaving streaks, residues, lint or static. We've increased the surface area of ​​the microfiber cloth; the screen and glasses are brushed soft, safe to use on any screen, and washable and reusable.
【Easy to use】Just spray the screen and clean it with a mini duster. Its nifty microfiber removes dead skin cells and fingerprints from screens and devices. The swipe cleaning bottle is portable and lightweight, allowing you to take it with you wherever you go.
【Wide Application】: Screen cleaner can quickly clean fingerprints, sweat, water and other dirt on glasses, car glass, mobile phone, computer, TV, tablet screen.
Bestseller No. 2
Super Cleaner for Kindle Fire Tablets and Phones: All In One
Extremely Powerful Tool
Junk Cleaner
Colorful & Friendly User Interface
Battery Saver
Easy to Use
Bestseller No. 3
Screen Cleaner Touchscreen Mist Spray,Secwell 3-in-1 Electronic Cleaner Sprays & Microfiber Cloth,...
Bestseller No. 4
VR Headset Cleaning Kit, VR Lens Cleaner, Lens Pen Cleaner Kit for Oculus Quest 2/Hololens...
【 𝗙𝗨𝗟𝗟𝗬 𝗘𝗤𝗨𝗜𝗣𝗣𝗘𝗗 】1 * Screen Cleaner + 1 * VR Lens cleaning pen + 2 * Microfiber Screen Cleaner Cloth + 1 * Air Blower + 2 * gap cleaning stick + 25 * Clean Thin Tip + 2 * Clean brush + 8 * Clean wipes + 1 * Storage Box.
【 𝗠𝗔𝗜𝗡𝗟𝗬 𝗨𝗦𝗘𝗗 】 This VR Cleaning kit is mainly used for Oculus Quest 2/Xbox One/Xbox 360/PS3/PS4/PS4pro/PS5/PS5pro/Switch/Wii/WiiU Controller/VR glasses/Speaker/Radio/Gamepad/Game controller/Charging port/ Eye massager/Neck massager/Smart bracelet/kindle/Drone/Remote controller/Vive Pro2/VR Headset/Virtual Reality AR cleaning, and more details like VR lens, VR Sensors, and also used for the VR surface cleaning.
【 𝗗𝗘𝗘𝗣 𝗖𝗟𝗘𝗔𝗡𝗜𝗡𝗚 】Remove the fingerprints, dust, or grease on Electronics Controller and Screen, this kit wouldn't get your device injured, gap clean stick and clean wipes can deep clean the VR gaps and joints.
【 𝗠𝗨𝗟𝗧𝗜-𝗣𝗨𝗥𝗣𝗢𝗦𝗘 】This kit is lighted and easy to storage, with our storage bags, you can carry this at any time and anywhere for your goods cleaning, high-quality screen cleaning cloth, headset cleaner and gap cleaning stick,it's easier to clean your electronic device.
【 𝗛𝗢𝗪 𝗧𝗢 𝗚𝗘𝗧 𝗚𝗨𝗔𝗥𝗔𝗡𝗧𝗘𝗘 】 Just e-mail us at any time you like, we are pleased to solve your consultation and make a guarantee to provide full refunds & returns service.
Sale
Bestseller No. 5
AVG Ultimate 2022 | Antivirus+Cleaner+VPN | 5 Devices, 2 Years [PC/Mac/Mobile Download]
AVG ULTIMATE: Your all-in-one antivirus, VPN, and tuneup combo.
OUR BEST SECURITY: Enjoy our advanced, real-time security for your computers, tablets, and phones.
OUR BEST PRIVACY: Secure your privacy with powerful encryption so no one can see what you do online.
OUR BEST PERFORMANCE: Improve the performance of all your devices with our specialized tools.
OUR BEST TRACKER BLOCKER: Stop websites and advertisers from following you online.
Sale
Bestseller No. 6
4Pcs Macaron Mobile Phone Screen Cleaning,Macaron Mobile Phone Screen Wipe,Mobile Phone Screen Wipe...
Multi-function ---- screen cleaner,Which is not only a cleaner but also a decoration. The bracelet hook design can be used as an ornament to hang on mobile phone, key ring, backpack etc. Dust plug design, protect the phone hole, play the role of dust protection.
RepeatedlyUse ---- Mobile Phone Screen Cleaning is suitable for cleaning mobile phone screen, eyeglasses, sunglasses, camera lens etc. Both sides can be used, the cleaning cloth can be washed, reusable and longer service life.
Mobile Phone Screen Wipe---- No need to have a dirty screen, this macaron style screen cleaner, can be attached to backpacks, handbags, car keys, house keys or just on its own as a key chain. You never have to scramble around to look for it!
Effectively Clean ---- Mobile phone screen and glasses lens are easy to adhere to dust and fingerprints and need to be cleaned frequently. This Screen cleaning brush can quickly and effectively clean the dust and fingerprints, the screen and lens are clean and bright after brushing.
Small & Portable with case---- This mobile screen cleaner is small and portable, and can be carried around, which is convenient for you to use anytime and anywhere.Cute design, and can be hang on your phone or key ring as a decoration, or put into your pocket, very easy to carry.
Bestseller No. 7
7-in-1 Electronic Cleaner Kit - Portable Cleaning for Airpods Laptop, Keyboard, with Cleaning Pen...
【Multi-Purpose Cleaning Kit】2022 Newest Cleaning Supplies Kit with 7 different functions, allows you to clean grease and grime from your computer screen, remove dust and debris from your laptop keyboard, and remove dust and debris from headphones, earphones or camera lenses fingerprints.
【7-in-1 Value Pack】All-in-1 Laptop and Earbuds Cleaning Tool, Including Airpod Cleaning Pen with Silicone Clip, Plastic Clip, Flocking Sponge and Brush, Screen Cleaning Solution Spray, High Density Retractable Keyboard Brush with Ultra Microfiber cloth, keychain and soft plush eyeglass cleaning cloth.
【Innovative Foldable Cleaning Pen】It is very convenient and quick to clean sticky and tough dirt hidden between cracks and holes in earphones, smartphones, tablets, laptops, keyboards, etc. with plastic clips when using silicone cleaning pens, plus cleaning solution Spray, the cleaning effect is better!
【Retractable Brush and Key Remover】Equipped with keycaps for cleaning the keyboard, allowing you to clean the bottom of the keyboard effortlessly by using a simple key puller. The high-density brush is large and sturdy enough to easily clean keyboard crevices, desk tops, and more.
【Please note before purchasing】our products may be damaged individually due to the cold weather recently. If you encounter any problems after purchasing, you can contact us in time to solve them. We will try our best to serve every customer. Thank you for your understanding and support!
Sale
Bestseller No. 8
NUOBESTY 12 Pcs Phone Screen Cleaner Macaron Smartphone Cleaning Wipes Decorative Pendant Cellphone...
😃【Screen Cleaner】: Each side has a microfiber cloth that is great to clean fingerprints, , and oil from touch screens of tablets, smartphones, laptops, computer screens and even camera lenses.
😃【Easy to Use】: Microfiber side of the screen cleaner removes stubborn marks. Use the terry cloth side to remove, fingerprints and smudges.
😃【Decorative Pendant】: Proper size for convenient and easy to carry and use. It is a good decoration when you put on the phone or bag.
😃【Widely Used】: For touchscreen Devices and PC monitors, even your Spectacles! No chemicals needed.
😃【Great Gift】: Includes 12 pcs screen cleaning decorations, enough for you to use and share with your friends.
Sale
Bestseller No. 9
Ecasp iPhone Cleaning Kit, Multi-Tool AirPod Cleaner Kit, Cell Phone Cleaning Repair and Recovery...
【CLEAN & REPAIR CHARGING PORT】This multi-functional iPhone cleaning kit tool, won't get stuck inside, is sturdy and flexible, and easy to plug and use.Use port hook, U-shaped brushes and port brushes clean the dirt out of your iPhone, iPad, and Type-c port, remove lint, hair, lint, dust, oil, and other contaminants from the charging port, and leave your phone looking brand new. Extend and protect the life of your beloved Apple products. (Compatible with Type-c charging port)
【RESTORING UNRELIABLE CABLE CONNECTORS】Use the cleaning kit back of the port brush to recover 2 types of cables, use the Detergent carried to clean and repair damaged ports and charging cables, and repair intermittent charging, slow charging, and oxidation damage on connectors. Unreliable connections can be eliminated. Our phone cleaning kit will extend and protect the life of your device. (Compatible with Type-c data cable)
【CLEAN SPEAKERS HEADPHONE & SWITCHES】Our versatile Airpods cleaning kit cleans dirt and lint from Bluetooth headset housings, speakers, switches, tiny gaps, and the front surface of the headset. Using long bristle brush cleans dirt from inside the charging case of the headphones, and the metal nib and high-density velvet soft brush are for cleaning dirt from the sound outlet hole of the headphones and other areas. Restore your favorite devices to new conditions with improved hygiene.
【LIGHTWEIGHT & PORTABLE DESIGN & MATERIALS】Our phone cleaning kit toolbox is made of premium packaging and high-quality sturdy ABS plastic, which is not easy to deform and fall off. The easy storage design is lightweight and portable, you can take it with you. The package includes 6 x tool cleaning brushes, 1 x SIM card pin, 1 x Detergent, 1 x cloth, and 1 x user manual. Recover from charging troubles, relieve stress, and enjoy the fun of cleaning!
【CONSIDERATE AFTER SALE SERCIVE】We provides considerate service for this iPhone cleaning kit. Any issues, please contact us. We will offer you a solution within 12 hours. The iPhone cleaning kit thoughtful gift for family, friends, loved ones, colleagues, and teachers on all holidays and anniversaries, and programmers.
Sale
Bestseller No. 10
Cleaner Kit for Airpod,Supfine Airpods Pro Cleaning Pen,Multi-Function Cleaner Kit Soft Brush for...
【Pen-shaped design】The metal tip of the cleaner pen can clean the small parts and holes of the airpods for deep cleaning of crevices and stubborn dirt. Then use microfiber brush to remove dust.The last step is to use the fluff brush to clean the charging case.
【Spiral brush and blower ball】The spiral brush in the cleaner kit can clean the 3.5mm interface on the mobile phone, suitable for Android devices such as Samsung and iPhone series models. The dust ball can blow away particles such as floating dust. In short, it will give you a clean experience.
【Lightweight and Portable】Cleaning kit is lightweight and easy to carry. It can be used anytime and anywhere. You don't need to worry about the cleaner kit being your burden, it can easily be taken anywhere by you.
【Wide Application】The phone cleaning kits can clean the airpod, and the airpod case,headphones,3.5mm headphone jack,phones, keyboards, laptops, hearing aid watch cleaning tools. Each cleaning kit to keep your electronics products much neater.
【What you will get】A bluetooth earbud cleaning pen consists of a metal tip, a high-density brush and a flocking sponge cleaner pen, 2 spiral cleaning brushes, 1 dust cleaning bulb blower.
Last update on 2023-01-16