In my home, Apple TV serves as the hub for all of my entertainment. HomeKit Secure Video lets me see who is at my door while watching TV on my iPhone. Now, my HomeKit Smart Home would be incomplete without it. There have been better and worse eras.
A number of problems have come up with the Apple TV throughout the years, such as a blank home screen and no sound. In fact, I relocated across the country and brought my Apple TV with me. When I got settled into my new apartment, I first sat down to watch a few programs, only to discover that I was missing the Apple TV remote.
I suppose I misplaced it when I relocated. I could have done without it, but I had to configure the Apple TV to use the new Wi-Fi network after moving. Because of this, I needed to learn how to use the Internet without the Remote to connect my Apple TV to the Internet.
Swipe down from the top-right corner to bring up the Control Center and tap on the remote icon to get the Apple TV Remote. Enable the feature in Settings if you don't see the icon. You can now go to Settings > General > Remotes > Learn Remote to teach Apple TV a standard TV remote.
Go to Settings > General > Network > Wi-Fi to establish a wireless connection. Use a Bluetooth keyboard or even the one on your MacBook to enter your login information.
Sale
2021 Apple TV 4K (32GB)
Dolby Atmos for immersive, room-filling sound
A12 Bionic chip gives a big boost to audio, video, and graphics, for even better game and app experiences
4K High Frame Rate HDR with Dolby Vision for fluid, crisp video
Apple Original shows and movies from Apple TV+
The latest hits from Disney+, Amazon Prime Video, HBO Max, and more
2021 Apple TV HD (32GB, 5th Generation)
1080p HD high-quality video
Dolby Digital Plus 7.1 surround sound
A8 chip for great gameplay and app experiences
Apple Original shows and movies from Apple TV+
The latest hits from Disney+, Amazon Prime Video, HBO Max, and more
If you don't have the Apple TV Remote, connecting the Apple TV to a new Wi-Fi network may be a bit difficult since you won't be able to input the Wi-Fi credentials because you won't have the remote to do so. If you have iOS 9.0 or a more recent version, you may transfer the SSID and password of your Wi-Fi network, as well as your Apple ID credentials, to your Apple TV.
Make sure that both Bluetooth and Wi-Fi are switched on on your iOS device before proceeding. Connect your iOS device to the Apple TV box and follow the on-screen instructions on both devices after turning on the Apple TV box. Your AppleTV may now connect to the newly installed Wi-Fi network.
Use a standard TV remote to Control the Apple TV
You may manage your Apple TV using a normal TV remote by following the instructions shown below:
Locate a normal television remote control with directional buttons on it.
Connect the Ethernet wire to the Apple TV and turn it on.
The Remote Feature in the Control Center of your iPhone allows you to access Apple TV's settings by going to Settings > General > Remotes.
Choose Learn Remote and follow the on-screen instructions to teach Apple TV how to use your normal TV remote.
Next, unplug the ethernet connection from your Apple TV and activate Wi-Fi for it by going to General -> Network and then Configure Wi-Fi on your TV's remote control (if you have one).
As soon as the Apple TV has been linked to the new Wi-Fi network, you may continue to operate the Apple TV and explore its interface using the normal TV remote that came with it.
Use iPhone as a Remote
The Apple TV can be controlled with an iPhone via the Control Center's Remote Feature, so you aren't restricted to simply utilizing AirPlay to mirror your screen on another device.
The Apple TV controls are automatically enabled for iOS 12 and later devices and iPadOS 13 and later models when the operating system recognizes that the connections have been made.
For iOS devices, if you don't see a Remote icon in the Control Center, you'll need to manually add Apple TV controls to the Control Center by heading to Settings > Control Center and selecting "Add Apple TV Controls."
To enable the Apple TV controls in the Control Center, choose to Customize Control from the drop-down menu and then click the Plus button next to the Apple TV.
Once the Apple TV Remote has been installed, you can access it by swiping up from the bottom of the screen or by clicking on the remote icon.
Launch Apple TV and connect it to the Internet through an Ethernet cable by connecting it to the computer.
By navigating to Settings > Network > Wi-Fi and choosing your Wi-Fi network from the drop-down menu, you can now set up your Wi-Fi network.
Follow the on-screen steps to finish the setup on your iPhone or iPad, and then input the four-digit PIN into your device to complete the procedure.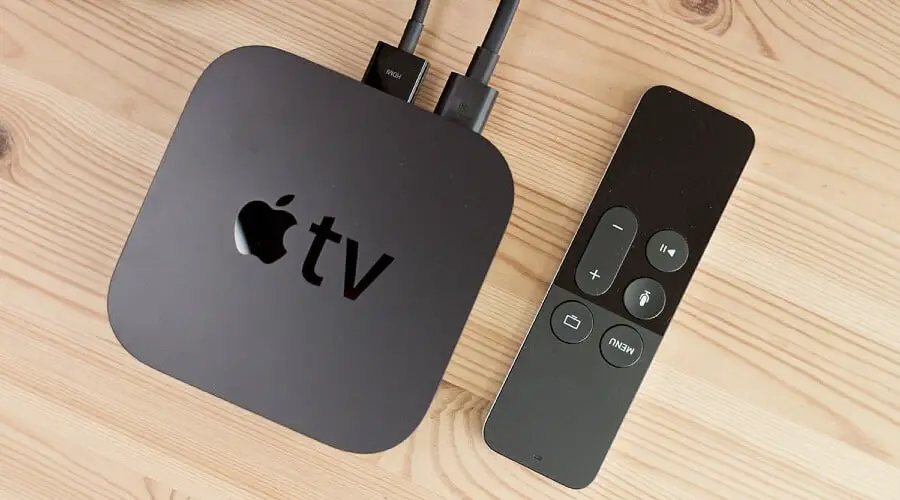 Apple TV Remote Interface
It features a big Touch Area, which allows you to browse and choose among the applications, contents, and menus on Apple TV by swiping left, right, up, or down.
The volume buttons on the smartphone may be used to adjust the overall volume of the gadget.
Using your finger to press and hold the Menu button will allow you to return to the home screen.
To activate Siri, press and hold the microphone button.
The Search button on Apple TV is used to initiate the search process.
If you have a Wi-Fi password that is too lengthy or complex, you may enter it in using a Bluetooth keyboard or even a MacBook keyboard to make it easier to remember.
Using a Bluetooth Keyboard
If you happen to have a Bluetooth Keyboard in your possession, you may use it to set up your Apple TV device. Maintain close proximity to your iPhone to help with Apple ID and Wi-Fi setup.
After turning on your Apple TV, make sure your Bluetooth keyboard is right next to it, and then switch on pairing mode on your keyboard.
When a code displays on your television screen, press the corresponding key on your keyboard.
During the setup process, you may move around the screen by using the Arrow keys on your keyboard and the Return key on your keyboard.
Using the Macbook as a Bluetooth Keyboard
Connect your iPhone to your Mac after turning off the Wi-Fi and Cellular Data on the device.
Connect your Apple TV to the HDMI port on your television and to your Mac using an Ethernet cable and a USB-C dongle to complete the connection. Startup your Apple TV by pressing the power button.
Go to Preferences on your Mac and choose 'Sharing' from the drop-down menu. When asked where you want to share your connection, choose "Wi-Fi." When asked what machines you want to share your connection with, check just the boxes that say "Thunderbolt Ethernet" and "iPhone USB."
Additionally, choose the "Internet Sharing" option from the Services drop-down menu to enable sharing.
Open the AppleTV Remote app on your iPhone by selecting it from the Control Center. Check to see that your AppleTV is recognized in the app, then click it to connect and enter the pin that appears on your television.
You'll need a Bluetooth Keyboard to complete this task, but don't worry if you already have one. Typeeto is a free application that allows you to attach a Bluetooth keyboard to your Mac. This enables your Mac device to be discovered via Bluetooth.
Now, utilizing your iPhone's Remote function, you can control your AppleTV and connect your Mac as a Bluetooth device, all without leaving the comfort of your home! Settings > General > Bluetooth and Devices (Choose this option in the Settings menu).
Remove the Ethernet wire from the AppleTV since you will no longer be using it in this situation. Use your Mac's Virtual Bluetooth Keyboard to control the AppleTV and configure the Wi-Fi connection (Typeeto).
While you may navigate using the arrow keys on your keyboard, you can also enter and leave choices using the ESCAPE and ENTER buttons on the same keypad.
The iPhone may be connected to Wi-Fi as soon as the Wi-Fi has been set up and set up. Check to verify that your Apple TV and your Mac device are linked to the same Wi-Fi network before continuing.
Conclusion
For a brief moment, I was concerned that I'd have to buy a new Apple TV Remote simply to connect my Apple TV to the Wi-Fi network, but it turns out that there are other methods of connecting Apple TV to Wi-Fi without the need of the Remote. When my Apple TV wouldn't connect to the network, it was a lot more difficult to deal with than this.
As soon as you've successfully connected your Apple TV to Wi-Fi without the need for a remote, you can start watching programs on one of the many streaming platforms accessible on the Apple TV, such as Amazon Prime Video, Netflix, or Disney+.
Also available on Apple TV+ are episodes of the Apple Original Series. Surfing the web is yet another amazing feature available on most Smart TVs. You could even connect your Apple TV to HomeKit and designate it as your home hub, allowing you to manage your whole Smart Home from the convenience of your Apple television.
-our editorial board has reviewed this article and has been approved for publication according to our editorial policy.
Best Seller List of Smart Home Devices:
Sale
Bestseller No. 1
Mini Smart Plug, Wi-Fi Outlet Socket Works with Alexa and Google Home, Remote Control with Timer...
SAFE DESIGNED&QUICK CONNECTION: Simply plugin and keep the smart outlet connected to your stable 2.4GHz network, the improved WiFi technology let you quick connection and stay stable.
HAND-FREE VOICE CONTROL: Smart plugs that work with Alexa and Google Home Assistant. Just give a simple voice command to Alexa or Google Assistant to control your connected home devices.
APP REMOTE CONTROL FROM ANYWHERE: It is so easy to control and check your home appliances' status from anywhere anytime that helps you save energy and electric bills. Our smart outlets also compatible with Smart Life App and Tuya App
SCHEDULES&AUTO-OFF TIMER: Easy to set timers and add schedules to connected devices circularly or randomly, making them work as scheduled like auto-off and auto-on.
GROUPING CONTROL & SHARING: Set a group for all wifi smart plugs and control them with simply one tap. Share your wifi plug smart outlets with all family members in a minute.
Sale
Bestseller No. 2
Kasa Smart Plug HS103P4, Smart Home Wi-Fi Outlet Works with Alexa, Echo, Google Home & IFTTT, No Hub...
Voice control: Kasa smart plugs that work with Alexa and Google Home Assistant. Enjoy the hands free convenience of controlling any home electronic appliances with your voice via Amazon Alexa or Google Assistant
Smart Outlet Control from anywhere: Turn electronics on and off your smart home devices from anywhere with your smartphone using the Kasa app, whether you are at home, in the office or on vacation
Scheduling: Use timer or countdown schedules to set your wifi smart plug to automatically turn on and off any home electronic appliances such as lamps, fan, humidifier, Christmas lights etc.
Easy set up and use: 2.4GHz Wi-Fi connection required. Plug in, open the Kasa app, follow the simple instructions and enjoy
Trusted and reliable: Designed and developed in Silicon Valley, Kasa is trusted by over 5 Million users and being the reader's choice for PCMag 2020. UL certified for safety use.
Bestseller No. 3
Amazon Smart Thermostat – ENERGY STAR certified, DIY install, Works with Alexa – C-wire required
Smart upgrade - Amazon Smart Thermostat is an easy way to switch from a traditional thermostat and help reduce energy usage.
Save money - After purchase, Amazon will send you an email with details about rebates that may be available from energy providers in your area. Explore rebates above.
Save energy - According to EPA estimates, ENERGY STAR certified thermostats save an average of $50 on yearly energy bills.
Automatic comfort - Alexa can do the programming for you, updating the temperature to keep you comfortable.
On-the-go control - Let Alexa set the temperature, or set it yourself from anywhere with the Alexa app.
Sale
Bestseller No. 4
Amazon Smart Plug, for home automation, Works with Alexa - A Certified for Humans Device
Amazon Smart Plug works with Alexa to add voice control to any outlet.
Certified for Humans - Struggle-free, tinker-free, stress-free. No patience needed—it's actually simple.
Schedule lights, fans, and appliances to turn on and off automatically, or control them remotely when you're away.
Simple to set up and use—plug in, open the Alexa app, and get started in minutes.
Compact design keeps your second outlet free.
Sale
Bestseller No. 5
SAMSUNG SmartThings Smart Home Hub 2nd Generation
Your smart home needs a brain, so get started with a SmartThings Hub. It connects wirelessly with a wide range of smart devices and makes them work together
Add smart devices and put your home to work. Choose from a wide range of compatible devices, including lights, speakers, locks, thermostats, sensors, and more
Use the SmartThings app or Amazon Alexa to control your smart home. Teach your house new tricks by telling it what to do when you're asleep, awake, away, and back home
Power: In-wall power adapter with about 10 hours of backup power from 4 AA batteries (included) Communication. Protocol: ZigBee, Z-Wave, IP. Range: 50-130 feet Operating Temperature: 41 to 95°F. Compatible Brands: Honeywell, Philips Hue, Kwikset
Requires an internet-connected Wi-Fi router with an available Ethernet port, plus the free SmartThings app for Android (4.1 or later) or iPhone (iOS 9.0 or later)
Sale
Bestseller No. 6
Smart Light Bulbs,Color Changing Light Bulbs That Work with Alexa and Google Assistant,2.4GHz WiFi &...
【Voice Control】Easy voice control of all 4pack A19 E26 E27 Base Smart bulb via integration with Amazon Alexa Echo and Google Assistant this includes turn on/off, brightness/temperature and scenes. Ex, you can say, "Alexa set the bedroom to warm.No Hub/Bridge Required!
【APP & Remote Control】Keep connecting WiFi smart light bulb with your home network (only supports 2.4GHz Wifi), you can remotely control smart light bulb on your smartphone when you leave home or travel
【Timing & Group Control】 Never come home to a dark house - by using light schedules on the 'Smart Life' app and be greeted with warm light. The timer function enables smart led light bulb power on and off automatically, Time Setting for Sunset –sunrise,Group control function allows you to control more than one smart light bulb at the same time for scene setting
【RGBCW Multi-Color And Dimmable Brightness】 RGB+ Cool white + Warm white smart bulb Choose What Color You Want with 16 million colors and the brightness of every color is dimmable The light brightness can be fixed percentages from 1% - 100% output. No Droning-No Flashing
【90 Days Free Trial And 1000 days Tech Support】7W 600lm smart bulb A19 shape with E26 base, equivalent to 40-60W traditional incandescent bulbs. Saves up to 90% energy, Last longer and energy saver: Approximately 50,000 working hours.if you encounter any problem or need support, please feel free to contact us on Amazon directly.
Sale
Bestseller No. 7
Echo Dot (4th Gen, 2020 release) | Smart speaker with Alexa | Charcoal
Meet the Echo Dot - Our most popular smart speaker with Alexa. The sleek, compact design delivers crisp vocals and balanced bass for full sound.
Voice control your entertainment - Stream songs from Amazon Music, Apple Music, Spotify, SiriusXM, and others. Play music, audiobooks, and podcasts throughout your home with multi-room music.
Ready to help - Ask Alexa to tell a joke, play music, answer questions, play the news, check the weather, set alarms, and more.
Control your smart home - Use your voice to turn on lights, adjust thermostats, and lock doors with compatible devices.
Start Routines with your motion - Turn on compatible lights, play your Flash Briefing, or turn on the coffee maker when you walk into the room.
Sale
Bestseller No. 8
Smart Plug Amysen - Alexa, Echo & Google Home – Only WiFi 2.4G (4- Pack)
Smart remote control : the smart plug works with amazon alexa and google home which helps to manage your home devices through voice control. You can control home appliances remotely and smartly by your phone or tablet when you use Only Cloud Intelligence App .
Timer function : switch your home appliances on/off automatically and intelligently by setting a specific time with the smart plug. You can make a schedule for the air conditioner and pre-set your house lit before coming home .
Easy to install and use : this smart plug connects with internet through wi-fi network(only 2.4Ghz). no hub and subscription required, just plug it into an outlet, and connect a device to the smart plug, then wirelessly control home appliances whenever and wherever .
Easy to install and use : this smart plug connects with internet through wi-fi network(only 2.4Ghz). no hub and subscription required, just plug it into an outlet, and connect a device to the smart plug, then wirelessly control home appliances whenever and wherever .
Wide application : the smart socket can be used for any home appliances, such as lights, electric ovens, toasters, fans, air-conditioners and coffee mills, etc. Strong signal ensures the connection between the network and sockets .
Bestseller No. 9
Sengled Alexa Light Bulb, Smart Light Bulbs That Work with Alexa Only, Bluetooth Mesh Standard A19...
Get Started in Seconds: Ultra simple Plug-n-Play setup. Simply twist in the Sengled smart light bulbs and start enjoying with Alexa smart devices in seconds (automatic linking to Alexa account required). CERTIFIED FOR HUMANS meets strict Amazon guidelines for a struggle-free, tinker-free, and stress-free experience with smart lighting control.
Voice Control with Alexa: Use hands-free Voice Control to turn on, off, or adjust brightness of the alexa light bulb. You can also use voice via smart home devices to use advanced features like wake-up routine or away mode.
Remote Control with Alexa App: Turn the smart bulb on/off, dim, brighten, set up routines, schedules, and more using the Amazon Alexa App. Daylight LED 60W equivalent lighting to bring out vibrant colors with best-in-class CRI 90 rating — perfect for bathrooms, kitchens or anywhere a cool bright light color is desired.
Whole Home Smart Lighting: Bluetooth Low Energy (BLE) Mesh 5.0 wireless technology allows for a farther reach, enabling whole-home installations. Each A19 smart bulb serves as a signal repeater, so that even if a bluetooth light bulb is out of reach from the Alexa Echo device, it can still be controlled using the Mesh network.
Certified for Humans, struggle-free, tinker-free, stress-free. No patience needed – it's actually simple.
Sale
Bestseller No. 10
KMC Smart Plug Mini 4-Pack, Wi-Fi Outlets for Smart Home, Remote Control Lights and Devices from...
COMPATIBILITY: Works with Alexa & Google Assistant. No Hub Required. Requires a secured 2.4 GHz Wi-Fi network and a device running Android or iOS.
VOICE CONTROL: Control your Smart Plug Mini by saying "Alexa" or "Hey Google". Seamlessly integrates with your existing smart speakers and routines.
SCHEDULING & AUTOMATION: The KMC Smart app allows you to automate your connected devices based on conditions like time, sunrise/sunset, weather, device status and more.
EASY SETUP & SHARING: Simply download the KMC Smart app and follow the in-app instructions to get started. With a few taps you can also share control of your device with family or friends.
WARRANTY & SUPPORT: UL/ETL Certified. Lifetime Warranty. US-based Customer Support.
Last update on 2022-10-03