Is it always desirable to have 5.1 channels instead of 2.1 channels for surround sound? 2.1 channel soundbars are less expensive and provide the same quality sound for your media. As we examine the differences between 2.1 and 5.1 soundbars, we'll find out the answer to this and other questions.
Features Comparison: 2.1 VS 5.1 Soundbars
Image
Features
More compact, Easier setup and placement, Comes with an affordable price, Support HDMI, Bluetooth connection is common
True surround sound, Center channel for clear dialogue, Has rear satellite speakers, Built-in Bluetooth and WiFi, Multiple connectivity options
Image
Features
More compact, Easier setup and placement, Comes with an affordable price, Support HDMI, Bluetooth connection is common
Image
Features
True surround sound, Center channel for clear dialogue, Has rear satellite speakers, Built-in Bluetooth and WiFi, Multiple connectivity options
When it comes to soundbars, just how different can one be from the other? Take a closer look at the characteristics to better comprehend the difference.
Alternatively, you may read our evaluation of the model, particularly LG NB4543, with 4.1 channels and lies somewhere in the middle.
Design
Two channels are all that are included in a 2.1 channel soundbar, and they are on each side of the bar. The two side channels and the center channel of a 5.1 channel soundbar are supplemented with two speakers in the back of the device.
A soundbar becomes bigger as the number of channels increases. When upgrading from ordinary TV speakers, the 2.1 system is an excellent option for individuals who desire a visible improvement but don't necessarily want fully engulfing sound,
In addition, because of their smaller footprint, 2.1 soundbars are a better alternative for apartments and other tiny places. They're easier to place on the wall because of their reduced weight compared to the alternative. even soundbars with 2.1 subwoofers have thin subwoofers.
The 2.1 option's tiny size and light weight make it easier to put and move about.
A 5.1 soundbar, on the other hand, might have several components and hence need a greater surface area. 5.1 soundbars are more appropriate for rooms with bigger TVs and larger sound systems as a result. People who need a lot of sounds may find that 5.1 soundbars are a better choice.
Customization for a home theater system is not an impossible matter to achieve, to achieve that all that one would need is a 5.1 soundbar, followed by an external subwoofer. It would be also required to have a back satellite speaker. They may play about with the positioning to see what works best.
For improved reading of your input settings, In certain cases, the outer design of a soundbar includes an LCD display screen or control panel. Although it's not absolutely essential, we've found that it makes setup a lot faster and more straightforward.
Price
As you may imagine, a 5.1 soundbar costs significantly more than a 2.1 soundbar since it offers higher surround sound quality and clarity in conversation. There are soundbars worth a lot more than $1,000 that might be found on occasion.
If you're not an audiophile, the difference between a 5.1 system and a 2.1 system with modern audio technology may be negligible. It may also help you save money.
Sound Quality
It's possible that a single soundbar will not offer you the satisfying experience that you are looking for. However, with the extra subwoofer, several channels, and cutting-edge Tec, you might create your own personal theater in your house.
One soundbar may not be enough to meet your needs if your expectations are high. If you add a second subwoofer, a couple of more channels, and some cutting-edge Tec, you might turn your house into a home theater. The inclusion of a center channel for improved conversation clarity, as well as the two rear speakers, may result in a more immersive listening experience, whether or not extra technology is used.
If you have a 5.1 system with three exterior speakers (two satellites and a subwoofer), you can also add extra depth to the sound by playing with the location of the speakers in the room.
Sound perfection means one company in the industry which is Dolby Audio, we can call them the leader of the industry in the work of making sound to sound perfect. To find out the reason behind this success, we will see they are sustained with Dolby Atmos. Moreover, there are different versions of this technology. that are only available from one single manufacturer They also don't have to be excessively expensive, as seen by our selection of the finest Dolby Atmos soundbars available at the most affordable pricing.
In addition to changing the placement of the speakers in the room if you have a 5.1 system with three outside speakers (two satellites and a subwoofer), you can also add more depth to the sound by experimenting with the placement of the speakers in the room.
2.1 and 5.1 soundbars may both have sound modes, in addition to the hardware and software that they use. In a soundbar, these are pre-tuned settings that are designed to enhance certain materials. Movie, news, music, gaming, and sports sound modes are some of the more common types of sound modes you may discover.
Connectivity
Both 2.1 and 5.1 soundbars may include an HDMI connection to enable high-quality video and high-tech audio decoders. When compared to other connections, HDMI can carry more data and accommodate 4K video passthrough.
If your soundbar, like the Sony HTCT180, does not have HDMI input, your next alternative is a digital optical connection. Digital optical can also pass through 4K content. Soundbars are more likely to have this port than televisions are to have HDMI.
In order to connect your gadgets, make sure your TV and soundbars have the same kind of input and output connectors.
Bluetooth
All soundbars include at least one kind of Bluetooth wireless connectivity. It may also be found in high-end 2.1 wireless speakers and soundbars that perform very well. It doesn't matter if Bluetooth is turned on or off in a soundbar; users may stream material from mobile devices to hear frequencies they couldn't hear before.
Voice Assistant
There is no need to worry about the performance of your soundbar while using a voice assistant like Google Assistant or Amazon Alexa. The soundbar can be easily controlled hands-free, and you'll have quick access to things like weather and news headlines.
Control
Another important point to note is that the 2.1 and 5.1 remotes have been programmed to perform the role of universal remote control. It is possible to make minor modifications to the sound on soundbars that have a control panel integrated into the interface.
You may also use the TV remote to operate your soundbar.
Setup
Because they are plug-and-play, HDMI and digital optical cable connectors are simple to use. Additionally, the remote, cords, and user guide should all be included in the package. A wall mount kit may be included with the purchase of a soundbar.
Do you have an LG soundbar? If so, read on. Here's everything you need to know about setting up your LG soundbar.
Our Top Picks For 5.1 and 2.1 Soundbars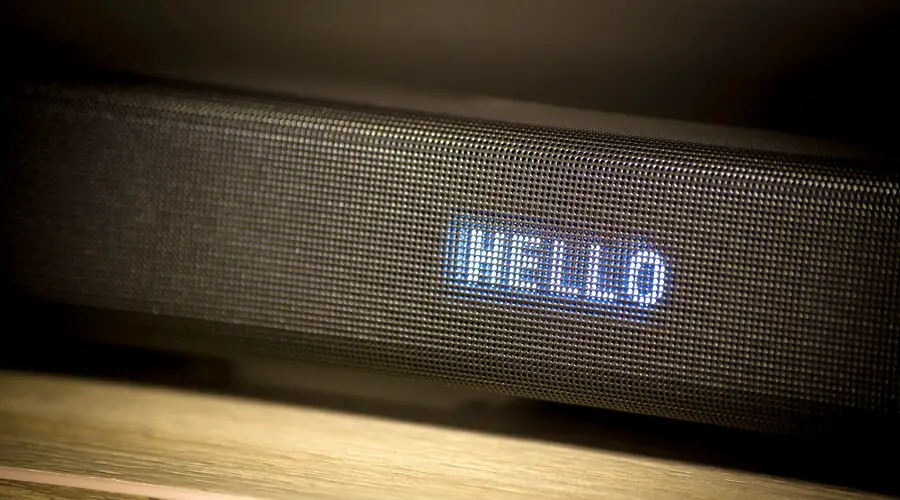 VIZIO 2.1 Sound Bar SB2821-D6 with Wireless Subwoofer
VIZIO Sound Bar for TV, 28" 2.1 Surround Sound System for TV with Wireless Subwoofer and...
2.1 Sound Bar System The 2.1 Sound Bar System features powerful speakers paired with a wireless subwoofer, delivering booming sound with crystal-clear audio quality. This combo brings an enticing home theater experience to the comforts of your home
Expansive Audio Upgrade to premium audio with VIZIO's 28" 2.1 Sound Bar. Best in class audio performance delivers up to 95 dB of room filling, crystal clear sound with less than 1% total harmonic distortion. (Sound Pressure Level measured using pink noise at 1 meter, C-weighted. Total Harmonic Distortion calculated as an electrical measurement of amplifier distortion.)
Wireless Subwoofer Rich, powerful bass transforms movies, music, and TV into an explosive experience. Wireless means your home stays free of clutter while you get great sound
Bluetooth Streaming Lose the wires and listen to your music with a tap of a finger from anywhere in the room. (Performance and compatibility among Bluetooth devices may vary.)
Dimensions
As shown by this 2.1 soundbar, using fewer channels and more audio technology to create a great device is precisely what we planned.
JBL Bar 5.1 4K Ultra HD 5.1-Channel Soundbar
Sale
The JBL Bar 5.1 is capable of enveloping viewers in high-definition sound since it supports 4K and Ultra HD content audio. All material played onscreen will come to life thanks to the use of Dolby Digital, Dolby Pro Logic II, and DTS technologies.
You may also pick between 3.1 and 5.1 sound systems with the JBL Bar, which has been pre-tuned to provide exceptional audio quality as standard.
-our editorial board has reviewed this article and has been approved for publication according to our editorial policy.
Last update on 2022-08-11