Here is all you need to know about connecting your Netgear Nighthawk to your Xfinity Internet service. Despite its widespread use in the US, the xFi modem-router (containing the phone modem) from Xfinity has failed to please many, including me.
The information in this tutorial is predicated on your having an Xfinity modem/router (xFi). As professional in-home networking, using your modem and router is always the best option. You'll save money on Comcast's modem rental this way.
It's a no-brainer since the rent you would have otherwise paid to Comcast will cover the cost of your modem. It's also possible to avoid issues like packet manipulation since you have greater control over your internet (if it happens). CM1000 is the greatest modem for Xfinity and Nighthawk, according to my opinion (on Amazon).
Sale
NETGEAR Cable Modem CM1000 - Compatible with All Cable Providers Including Xfinity by Comcast,...
Compatible with all major cable internet providers with internet speed up to 1Gbps. Currently certified with Spectrum and Cox (up to 1Gbps), Xfinity (up to 800Mbps). Not compatible with Verizon, AT&T, CenturyLink, DSL providers, DirecTV, DISH and any bundled voice service.
Save monthly rental fees: Model CM1000 replaces your cable modem saving you up to dollar 168/year in equipment rental fees.
Works with any Wi-Fi router: Connect any Wi-Fi router to this modem's Ethernet port to support all your wireless devices.
Ethernet connections: 1 Gigabit Ethernet port connects to your computer or separate Wi-Fi router.
Fortunately for me (and you, too), I was able to regain complete control of my internet connection after purchasing a Nighthawk router. If you have Xfinity, you'll be glad to learn that Netgear Nighthawk is compatible, and configuring it couldn't be easier.
Comcast's Xfinity service is compatible with the Netgear Nighthawk router. Enable bridge mode on the xFi by going to http://10.0.0.1 and connecting the xFi to the Netgear Nighthawk through an ethernet connection to set it up with Xfinity.
Does Netgear Nighthawk Work With Xfinity?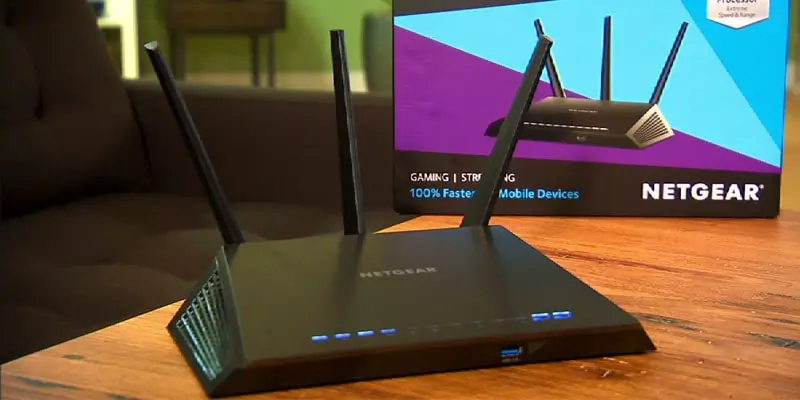 How to Setup Netgear Nighthawk with Xfinity Internet
Step 1: Sign in to the Xfinity gateway
Use an ethernet cable to connect your PC to your xFi Gateway. Then, go to http://10.0.0.1 and input your username and password to log in to your Gateway. You may use 'admin' as your username and 'password' if you can't remember your password and username.
Step 2: Go to 'Gateway at a Glance'
You may access the Gateway by clicking on the left-hand side of the screen and then selecting 'Gateway at a Glance.'
Step 3: Turn' Bridge Mode' on Your xFi
To use bridge mode, turn it on in the preferences. I recommend disabling the WiFi networks under Gateway> Connection > WiFi as the last step. The xFi Gateway would not interfere with the Nighthawk's WiFi network due to this. All modifications must be approved.
Step 4: Connect xFi to Netgear Nighthawk Router
An Ethernet cable may be used to connect your Xfinity xFi to the Nighthawk's internet port. Because Netgear Nighthawk is compatible with Xfinity, this should go without a hitch.
Step 5: Restart All Devices
"Power cycling" is a term for this procedure. Including the modem and router, everything must be restarted. Allow some time for the dust to settle.
Because the LAN ports on the Nighthawk are insufficient, I strongly advise you to get a gigabit ethernet switch (available on Amazon).
If you want to use the internet for business or play games, you'll need to have it set up properly before you begin.
Step 6: Install the Nighthawk App
Simply download the Nighthawk app from the Apple App Store or Google Play Store to get started. Once you've installed the app, it's time to get connected to your Nighthawk router's WiFi.
To access the router's default SSID and password, look at the sticker on the back of the router.
Step 7: Personalize your WiFi Network
The Nighthawk app will ask you to customize your WiFi after joining the new network.
If you pick a new network SSID and password, you'll have to join all of your devices to the new network manually. This step is critical.
Using the same SSID and password as your previous xFi WiFi network is the most simple method to achieve this.
What are the Advantages of Using Netgear Nighthawk Instead of Xfinity Modem-Router?
Upgrade to NETGEAR Nighthawk, and you'll get the best of both worlds. When it comes to routers, Netgear is among the best in the business. Upgrading to the Nighthawk has provided several advantages in my experience.
The Netgear router is the fastest for your Xfinity internet connection in terms of performance and WiFi speed. Download rates of up to 300 Mbps ensure that your internet speed remains unaffected no matter how many devices you connect.
If you have Xfinity service, you will pay $14/mo for your modem and router, which in rental fees for up to $168/year. However, for less than $120, Netgear's gadgets provide a lot.
Netgear's 1,500-square-foot WiFi range and MU-MIMO let many users connect simultaneously, allowing them to stream or play games simultaneously.
More Netgear supports WPA2 wireless security protocols and provides Guest WiFi access, DoS, Firewall, and VPN security features. In addition, Netgear offers its customers the best-in-class anti-virus, anti-malware, and data security solutions available on the internet today.
What are the Disadvantages of Using the Netgear Nighthawk Instead of the Xfinity Gateway?
If you have an internet issue and contact Xfinity customer service, they may blame your Netgear Router. There have been no issues so far with my setup.
As the number of gadgets rises, so will the number of outlets needed to power them.
Final Thoughts
Your Xfinity Nighthawk router should now be working as expected. Please use the contact form to reach out to me if you run into any issues with your setup. I would be happy to assist you.
Best Seller List of Netgear Routers:
Sale
Bestseller No. 1
NETGEAR Nighthawk Smart Wi-Fi Router, R6700 - AC1750 Wireless Speed Up to 1750 Mbps | Up to 1500 Sq...
Recommended for up to 25 devices: Reliably stream videos, play games, surf the internet, and connect smart home devices
Wired Ethernet ports: Plug in computers, game consoles, streaming players, and other nearby wired devices with 4 x 1 gigabit Ethernet ports
Loaded with advanced technology: Designed with a 1GHz dual core processor, 3 amplified antennas, Beamforming plus, Dynamic QoS, Smart Connect, and more
USB connections: Share a storage drive or printer with any connected device or create a personal cloud storage to access from anywhere, using the 1 x 3.0 USB port
Safe & secure: Supports WPA2 wireless security protocols. Includes Guest Wi-Fi access, DOS, Firewall, VPN, and more
Sale
Bestseller No. 2
NETGEAR Renewed C3700-100NAR C3700-NAR DOCSIS 3.0 WiFi Cable Modem Router with N600 8x4 Download...
Netgear Certified Refurbished product is manufacturer refurbished to work and look as new with 90 Day Warranty and email support. All accessories are included with limited documentation and additional information online. Netgear recommends to udpate the firmware for the device to be up to date.
DOCSIS 3.0 cable modem unleashes 8x faster download speeds up to 340 Mbps faster, smoother WiFi, and works with all major cable Internet providers (Not Compatible with Cable Bundled Voice Services).
Certified to work with Cable Internet Providers like XFINITY from Comcast, Time Warner Cable, Cox, Cablevision, Bright House Networks, & More (Not Compatible with Cable Bundled Voice Services).
8x4 channel bonding with Gigabit Ethernet Ports for fast wired, connections USB port to wirelessly share your hard drive.Double firewall protection (SPI and NAT firewall)
"Netgear Refurbished product may have a removed serial number. You will need to state the product is refurbished (state the full part number) if emailing customer support. See the attached (image) flyer to obtain the Serial Number and MAC Address information that maybe needed by your Cable provider before contacting them."
Sale
Bestseller No. 3
NETGEAR 4-Stream WiFi 6 Dual-Band Gigabit Router (WAX202) – AX1800 Wireless Speed (Up to 1.8 Gbps)...
Coverage up to 1,200 sq. ft. for 40 devices
Fast AX1800 Gigabit speed with WiFi 6 technology for uninterrupted streaming, HD video gaming, and web conferencing
Connects to your existing cable modem and replaces your WiFi router. Compatible with any internet service provider up to 1Gbps including cable, satellite, fiber, and DSL
Plug in computers, game consoles, streaming players, and more with 3 x 1G Ethernet ports
Sets up in minutes; easily manage WiFi settings, test internet speed, and monitor data usage
Sale
Bestseller No. 4
NETGEAR Nighthawk 6-Stream AX5400 WiFi 6 Router (RAX50) - AX5400 Dual Band Wireless Speed (Up to 5.4...
Coverage up to 2,500 sq. ft. for up to 25 devices
Fast AX5400 Gigabit speed with WiFi 6 technology for uninterrupted streaming, HD video gaming, and web conferencing
Connects to your existing cable modem and replaces your WiFi router. Compatible with any internet service provider up to 1Gbps including cable, satellite, fiber, and DSL
Plug in computers, game consoles, streaming players, and more with 4 x 1G Ethernet ports Share a storage drive with any connected device and create a personal cloud storage to access from anywhere using the 1 x 3.0 USB port
NETGEAR Armor protects your family's WiFi with an automatic shield of security across all your connected devices with a 30-day free trial
Bestseller No. 5
NETGEAR Nighthawk Smart WiFi Router (R7000P) - AC2300 Wireless Speed (up to 2300 Mbps) | Up to 2000...
input voltage:100 -240V
AC2300 WiFi—Up to 1625+600 Mbps wireless speed. Denial-of-service (DoS) attack prevention
Simultaneously stream to multiple devices with Multi-User MIMO (MU-MIMO). IEEE 802.11 b/g/n 2.4 GHz. IEEE 802.11 a/n/ac 5.0 GHz - 1024 QAM support
Better video streaming, lag-free gaming, surfing, and more with a powerful 1GHz Dual Core Processor
Prioritizes network traffic by application & device with Dynamic QoS
Last update on 2022-08-11