They are fantastic, and I recommend them to everyone! I'm excited about the prospect of being able to program a temperature plan for my house and not having to constantly fiddle with the thermostat. A sudden heatwave or chill in the air, on the other hand, might prompt a change in the thermostat for a short period of time.
This is when the Honeywell Thermostat's hold function comes into play. With the help of the user manual and a few articles on the internet, I was able to get a good understanding of how this hold feature works.
There are two types of hold settings available on Honeywell thermostats: temporary and permanent. It is vital to understand the differences between the two so that you can decide when to utilize each option.
You may manually set a temperature for an infinite amount of time by using the permanent hold option on your Honeywell thermostat, which allows you to override the schedule that has been established.
According to the thermostat model, to activate permanent hold on your Honeywell Thermostat, adjust the temperature to a higher setting and press hold or press and hold until a message shows on the screen. In this post, we'll go through both the temporary and permanent hold options, as well as when and how to utilize each of these settings.
What is A Temporary Hold & How To Activate It?
For a limited length of time, Honeywell programmable thermostats may be switched to Temporary Hold mode, which allows you to stray from your schedule and manually adjust the temperature of your home.
The majority of thermostats allow you to put a temporary hold for a maximum of 11 hours at a time. It's possible that your thermostat may not have this function. If this is the case, the temperature will be maintained until the next scheduled time is reached.
The temporary hold may be activated by simply pressing the +/- or up/down buttons, and the 'Hold Until' time can be specified if one is provided.
How to Deactivate A Temporary Hold?
Any time you like, you may turn off the temporary hold and resume the schedule that has been set for your thermostat.
Depending on the Honeywell thermostat type that you possess, you will need to choose one of the following options: Run, Cancel, Run Schedule, Use Schedule, Remove hold, or Cancel Hold.
Some versions may even have a button that allows you to cancel the hold.
If you are having difficulty figuring out how to accomplish this, you may turn to the user manual or guide that came with the Honeywell thermostat for more information.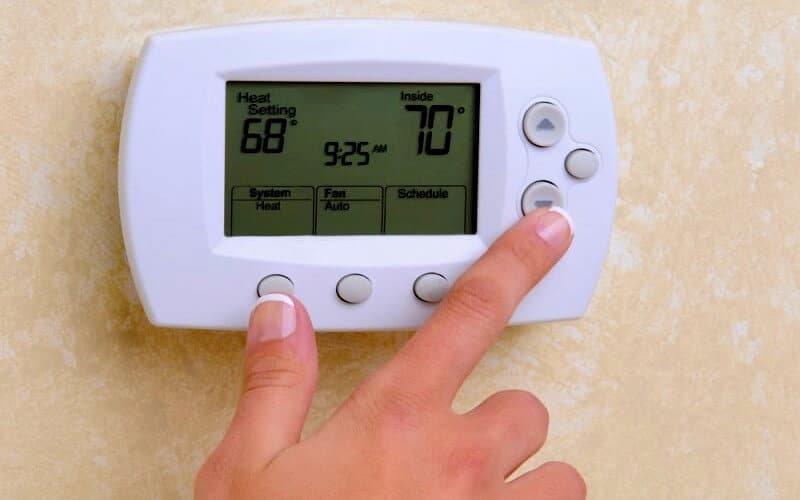 What is A Permanent Hold and How to Activate?
The permanent hold option on your Honeywell thermostat operates in a manner that is quite similar to the temporary hold feature on your thermostat.
On the other hand, with the permanent hold, you have the option of manually setting your temperature and holding it for an endless length of time rather than a specific period of time until you switch off the permanent hold.
Depending on the model that you possess, the methods to enable this function will be somewhat different. All you have to do is hit the hold button and then adjust the temperature to your preference for previous versions.
In a modern model, such as those with a touchscreen display or those that come with an app that allows you to customize your settings remotely, you may alter the temperature by pressing the +/- or the up/down buttons on the remote controller.
Afterward, you must either touch the hold button or press the hold button repeatedly until you see a message (Permanent Hold, Switch to Permanent Hold, Permanently or Permanent).
How to Deactivate A Permanent Hold?
The process of turning off the permanent hold on your Honeywell thermostat is the same as the process of turning off the temporary hold on the thermostat. It is possible that you may need to Unlock your Honeywell Thermostat before you can turn it off.
The method for some of the other models, such as the T4 Pro, is totally different. You will need to first hit the +/- or up/down keys and then press Cancel or Remove hold to complete the process.
In the case of a Lyric T5 Wi-Fi, you may disable the hold by hitting the Permanent Hold button twice, followed by the Run Schedule button. If you are still unable to figure things out, you can always turn to the official user guide/manual that came with your Honeywell thermostat for more assistance.
Advantages of The Hold Feature and When to Use It?
The hold option available on certain models is a great and convenient function provided by Honeywell thermostats that allows you to deviate from your planned temperature schedule.
The usage of it is appropriate in a wide variety of contexts. You may use this if there is a sudden heatwave or a cold in the air and you want to modify the temperature for a time until it passes, or if you have company around who like the room to be a bit warmer or cooler.
When you're away on vacation or a holiday, you may also utilize the hold option to block your thermostat from turning on.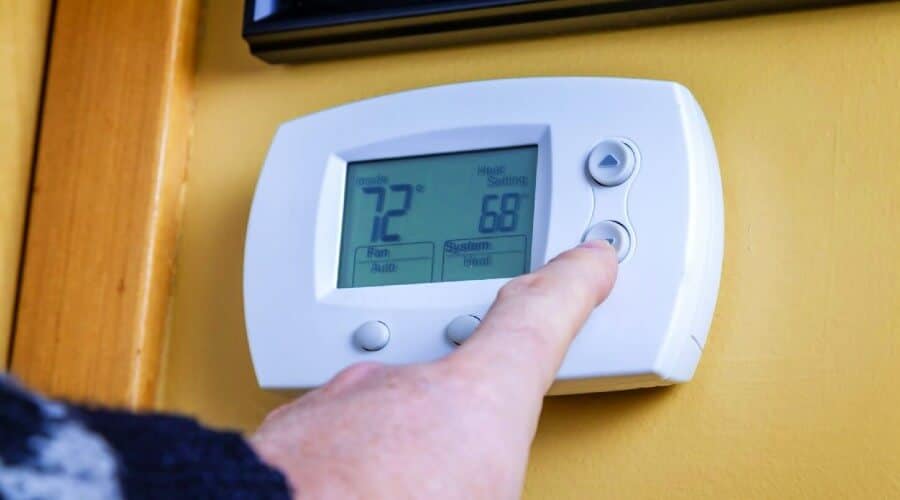 Conclusion
This function of Honeywell programmable thermostats is particularly helpful when you need to temporarily modify the temperature but don't want to disrupt your previously established time plan.
FAQs:
1. How do I override my Honeywell programmable thermostat?
Open the display's outer shell to reveal the function keys if you want to override the programmed Honeywell thermostat. While holding down the display button, hit the off button once more to turn the computer off.
When you're done, release all the buttons while keeping the display button pressed. The setting on your Honeywell thermostat has been changed from automatic to manual.
2. How do I reset my programmable thermostat?
Here are the steps to resetting your Honeywell programmable thermostat:
Go to the main menu on the display by pressing the main menu button on the remote control.
Reset your browser to its default settings by clicking the Reset button.
To do a complete factory reset, choose it and then the Factory option beneath it. Resetting Wi-Fi, the Schedule, and HomeKit are other choices.
You'll be prompted for confirmation after selecting an option. To finish the reset, choose yes from the confirmation menu.
Your Honeywell thermostat's display should include a cancel button. The bottom right corner of the screen is where you'll find it on the majority of devices.
It is possible to configure Honeywell thermostats to alter the temperature on an hourly basis according to a previously set schedule.
However, you may temporarily adjust the thermostat's temperature setting and utilize the temporary hold and permanent hold functions.
-our editorial board has reviewed this article and has been approved for publication according to our editorial policy.
Best Seller List of Honeywell Thermostats:
Sale
Bestseller No. 1
Honeywell Home RTH221B1039 1-Week Programmable Thermostat
One program runs for the entire week (4 periods per day)
Easy to use, basic operation makes programming easy
Precise +/- 1 degree Fahrenheit temperature control
Easy to install
Sale
Bestseller No. 2
Honeywell Home RTH9585WF Wi-Fi Smart Color Thermostat, 7 Day Programmable, Touch Screen, Energy...
COMFORT COMES IN YOUR COLOR. Personalize your Wi-Fi Smart Color Programmable Thermostat to fit your décor. The Honeywell Wi-Fi Smart Thermostat does have an auto changeover feature in which the thermostat automatically selects heating or cooling depending on the indoor temperature. Heat and cool settings must be at least 3 degrees apart. The thermostat will automatically adjust settings to maintain this 3-degree separation.
SAVE ENERGY AND GET REWARDED by checking with your energy provider about available rebates. Plus, eligible customers can enroll in their local Utility's "DEMAND RESPONSE PROGRAM" which can reward you for allowing the utility to slightly adjust your AC or furnace temperature settings when there is high energy demand.
YOUR SCHEDULE. YOUR WAY. Flexible programming options for your schedule or utility company's peak rate pricing.
EASY OPERATION AND INTUITIVE. Bright, easy-to-read touchscreen makes for simple operation.
COMPATIBLE WITH: Forced air (gas, oil or electric), hot water and steam, and heat pumps with electric backup. Does NOT work with electric baseboard heat (120-240V). C-Wire required.
Sale
Bestseller No. 3
Honeywell TH6110D1005/U FocusPRO 6000 Programmable Thermostat, White
Easy programming takes only minutes
Clear, large, easy to read backlit display with soft-touch button interface
Precise temperature control (+/- 1 degree F) with auto change from heat to cool
Allows separate weekday/weekend programming with 4 different programs per day
One-touch temperature control overrides program schedule at any time
Sale
Bestseller No. 4
Honeywell Home Wi-Fi 7-Day Programmable Thermostat (RTH6580WF), Requires C Wire, Works with Alexa
ENERGY STAR certified. Help save energy, track your heating and cooling with monthly energy reports and get personalized tips on reducing energy use.
SAVE ENERGY AND GET REWARDED by checking with your energy provider about available energy savings rebates to save on your purchase (rebate finder link above). Plus, eligible customers can enroll in their local Utility's "DEMAND RESPONSE PROGRAM" which can reward you for allowing the utility to slightly adjust your AC or furnace temperature settings when there is high energy demand.
C-WIRE POWER ADAPTER REQUIRED: Before purchasing, check to see if this thermostat is compatible with your home and to determine if your home needs a C-wire power adapter.
SMART HOME INTEGRATION. The Wi-Fi 7-Day is compatible with voice assistant devices like Amazon Alexa, Google Assistant, Microsoft Cortana, and more.
THERMOSTAT THAT FITS YOUR LIFE. 7-day, 4 periods per day, flexible programming lets you sync your comfort with your schedule.
Sale
Bestseller No. 5
Honeywell Home RTH7600D 7-Day Programmable Touchscreen Thermostat
Large touchscreen display makes it easy to set your preferred temperature or set a weekly schedule for automated adjustments.
Set home and away temperatures to help save energy when you're not home. Temporary and permanent hold settings are also available for extended absences from home.
7-Day menu-driven programming with 4 periods per day.
Backlit touchscreen display shows current room temperature and set point temperature simultaneously.
Simple and straight forward to install and use. The thermostat also has a real-time clock so it will automatically adjust for Daylight Savings Time.
Bestseller No. 6
Honeywell TH4110U2005/U T4 Pro Program Mable Thermostat, White
Country Of Origin: United States
Model Number: TH4110U2005/U
Item Package Dimension: 6.49999999337" L x 5.099999994798" W x 2.299999997654" H
Item Package Weight: 13.8 oz
Sale
Bestseller No. 7
Honeywell TH3110D1008 Pro Non-Programmable Digital Thermostat, 1 Pack, White
Pro 3000 1 heat/1 cool non-programmable digital thermostat white
Model - TH3110D1008
This is manufactured in United States
Non-programmable digital thermostat
Backlit digital display - both current and set temperatures are easy to read in various lighting conditions.Shows both current and set temperatures at the same time.Precise comfort control [ 1 F ( 0. 5 C)] - maintains consistent comfort to the highest level of accuracy.Basic operation - easy-to-use slide switches allow you to select the heat or cool mode, and operate the fan
Sale
Bestseller No. 8
Honeywell Home RTH2300B 5-2 Day Programmable Thermostat
The display panel is backlit with an intuitive interface for one-touch access to setpoint temperature.
Precise temperature control of +/- 1 degree Fahrenheit.
Separate programs for the weekdays and weekends with 4 program periods per day including wake, leave, arrive and sleep.
Easy to install yourself and works with many heating/cooling systems, plus heat pumps without auxiliary heat.
Built-in battery change and filter change reminders.
Bestseller No. 9
Honeywell TH1100DV1000/U Pro 1000 Vertical Non-Programmable Thermostat
4 11/16 in. High x 2 7/8 in. Wide x 1 1/8 in. Deep
Premier white color
Made in United States
Package Dimensions : 12.0 L x 6.0 H x 12.0 W (inches)
Bestseller No. 10
Honeywell Home CT410B Manual 4 Wire Premium Baseboard/Line Volt Thermostat CT410B1017
Mechanical operation, non-programmable thermostat
Bi-Metal Temperature Sensor
120 - 240 volt, 4 wire. Easy to install and use.Compatible with baseboards. Can control up to 5,280 Watts.
Positive off
Easy to install
Last update on 2023-01-12