Smart lights that might revolutionize the way people live were announced in 2012 by LIFX (pronounced Life – X). When they first emerged at the dawn of the smart home age,' LED lights were a fun and easy way to enhance your home's aesthetics and utility.
They competed with the first incarnation of Philips Hue, which was introduced in the same year, in terms of both quality and price. There are a variety of sizes and forms to choose from when it comes to LIFX bulbs for your home's interior and exterior lighting.
The LIFX Color A19 and Flame Color are two smart bulbs that can help you alter the atmosphere and give vivid color to any area in your house. Also available are LIFX Nightvision BR30 bulbs, which enhance the brightness of surveillance cameras you may have installed around your house.
LIFX's color gamut is unrivaled in its pricing range, leading many consumers to pick them over the competition. Nevertheless, what kind of WiFi do they have? In the following part, we'll go into more detail, but the essence is that.
LIFX lights are only compatible with 2.4 GHz networks; they do not support 5 GHz. However, as 2.4 GHz is generally more dependable, this may potentially be a positive thing. When 5 GHz is all that can be used, there are various solutions.
Sale
LIFX 1100-Lumen, 11W Dimmable A19 LED Light Bulb (LHA19E26UC10) Multi Colored - 75W - New
Works with Amazon Alexa to support dimming, shades of white, and color settings through voice control (Alexa device sold separately)
16 million colors and warm to cool whites. LED life-span - 22.8 years (based on 3hrs/day)
Easy to set up, built in wifi - no hub required
Bright - equivalent to 75W bulb. Beam Angle: 135 degrees.Voltage Range:AC 100-240V 50/60 Hz
Works with Alexa, Apple HomeKit and Google Assistant.Temperature:2500K to 9000K.Wi-Fi Router Requirement:802.11b,g,n standards compliant
How is LIFX Bulbs Controlled?
To interact with each other, LIFX lights utilize WiFi instead of Zigbee. Those who choose Wi-Fi-enabled smart lights over Zigbee-enabled smart bulbs frequently see this as a major selling advantage.
As these lights function via your internet router and can be connected and utilized with popular smart home hubs, such as Amazon Echo, Samsung SmartThings, and Google Home, WiFi simplifies the operation of the contemporary smart home. Finally, they've added support for Apple's HomeKit, making it compatible with iPhones.
The LIFX app may also be used to control LIFX smart lights. Using the app, you can switch the lights on and off, dim them, and change their color:
In addition, the LIFX switch is also available. This is an in-wall switch that can be used to control both smart and non-smart lights. Because this is an in-wall switch, it should only be installed by an electrician trained in this kind of installation.
LIFX switches allow you to control a variety of functions, including color-changing and dimming. With that in mind, how may LIFX items be connected?
Can LIFX Connect To 5 GHz WiFi?
LIFX lights do not support the 5 GHz spectrum of WiFi since they operate on the 2.4 GHz range. Because the 5 GHz spectrum is newer, it's not clear why this lack of compatibility exists.
Based on their website, it seems that they have no plans to add support for the 5 GHz band shortly (if ever). They even give specific instructions on making sure you're connecting to the 2.4 GHz band your WiFi router broadcasts. 
Error errors and troubleshooting are likely to greet your efforts to connect to the 5 GHz band for your WiFi projects, or the LIFX bulb won't be able to view the network.
However, if your smartphone is linked to the 5 GHz band for WiFi in your house, you should be able to control your lights through the app without any issues." Because your phone is just communicating with your home network and not your LIFX lights, utilizing a 5 GHz connectivity to administer applications is perfectly acceptable.
Since your phone may use 5 GHz to communicate with the LIFX app, the lights themselves can only communicate at 2.4 GHz.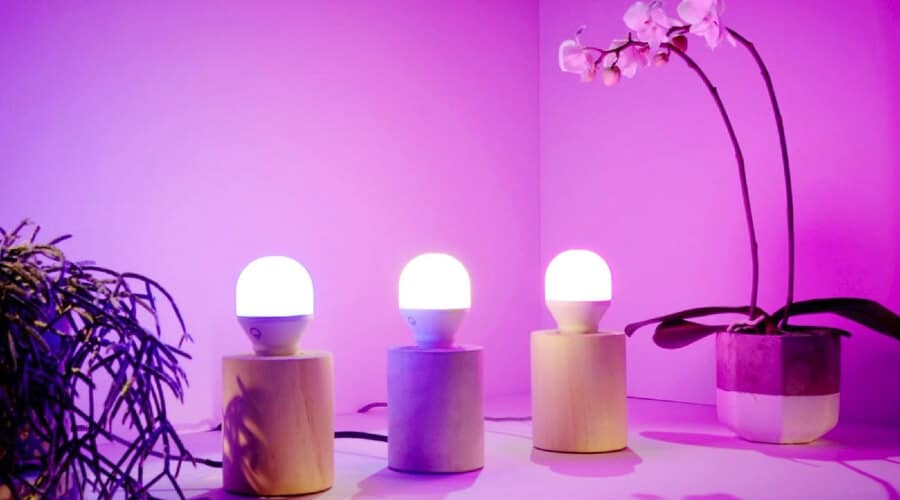 Would 5 GHz WiFi Help Smart Bulbs? Or is 2.4 GHz better?
What's the answer to that question? There's no certainty that 5 GHz WiFi will be beneficial, but it's possible.
To achieve quicker speeds, the 5 GHz WiFi band employs shorter radio waves, which is faster. There's a downside to all of this, though. It doesn't always have the best range. Only over short distances, and particularly near the router, can it provide information at rapid speed. When you need your signal to reach regions of your house that aren't near the router, this might be extremely challenging.
Signals can't penetrate walls and doors because of the reduced range. You'll probably want your lights to be able to communicate with other lights in other rooms. If you have smart lights in many rooms of your house, this is particularly true.
Voice commands may be used, for example, if you want to dim the lights on the first level of your house. Connection and functioning may be lost if walls, floors, and other impediments are between light fixtures.
In contrast, the WiFi band's regular 2.4 GHz frequency can manage such a challenge. There are no walls or other barriers that may stop the signal from reaching its intended destination.
Even while the 5 GHz is quicker in general, it's unlikely to make much difference since smart lights execute a very simple task: turn on, off, dim, and change color. If you don't need to upload or download video, a faster internet connection isn't going to make much of a difference, if at all.
With just minimal functions being performed by the lights, the range advantages of Wi-lower-speed Fi's 2.4-GHz band much exceed any speed disadvantages.
One of the only benefits of running LIFX or any other smart bulbs over the 5 GHz bandwidth would be to prevent congestion. With so many devices sharing the 2.4 GHz WiFi bandwidth, there is a potential for congestion on the network.
If you have a few smart bulbs, the additional network strain won't even be noticeable—unless you have 100 of them!
Is It Possible To Connect LIFX To 5Ghz WiFi?
Are LIFX items inaccessible if you can only connect to a 5 GHz WiFi network? You may be able to utilize LIFX on this 5 GHz network after all, but it'll be more difficult. The first option is to purchase a dual-band WiFi extender. These devices can connect to your 5 GHz network, and they then broadcast a new WiFi network – which will be both 2.4 GHz and 5 GHz.
To put it another way, your WiFi extender will generate its own Enabled devices signal, including with a network infrastructure name, after you've installed it. Then you'll be able to choose between 2.4 GHz and 5 GHz WiFi. The network's name will generally specify the different bands.
Your dual-band WiFi extender will most likely have two networks: "MySpace101 2GEXT" and "MySpace1015G 5GEXT," for example.
Even when the underlying WiFi network is only operating at 5 GHz, you should be capable of connecting your LIFX lights to the 2.4 GHz signal and utilizing your LIFX lighting from there.
This approach isn't perfect, but it may probably depend on your Yoo signal and the extension you use (for example, make sure you select a dual-band extender!).
Another option is to buy a mobile hotspot, which publishes a WiFi network in your house using a SIM card and connection data from your phone. In most cases, you may connect your LIFX lights to this WiFi network using 2.4 GHz.
Conclusion
More and more individuals would like to stay ahead of the better speeds claimed in the 5 GHz range. As well as operating their smart homes, they wish to utilize this for newer gadgets like smartphones.
Compared to the 2.4 GHz range, the 5 GHz spectrum is a relatively new technology. Most makers of Wi-Fi-enabled smart home lights don't bother to make their equipment 5 GHz-compliant since it's too expensive. LIFX is a good example of this kind of technology.
As a result, although LIFX smart lights may be connected over WiFi, they do not support the 5GHz frequency. However, if you use a WiFi extension, this problem may be avoided.
-our editorial board has reviewed this article and has been approved for publication according to our editorial policy.
Best Seller List of Smart Bulbs:
Last update on 2023-05-17