From the beginning of the invention of the computer, HDD has been an important part of a computer. As time goes by, advanced technologies become more popular, making the older and slower equipment less useful. SSD is a perfect example of that. As we know, HDD is a typical data storage device that uses magnetic storage to keep and get digital data applying one or more hard, rapidly rotating disks or platters covered with a magnetic substance.
Now, SSD does the same type of work in a quick time and using less power. If we want to describe SSD straightforwardly, we can say that it is also a storage device of a laptop or computer, which is non-volatile, flash-based memory that works faster than a traditional hard disk.
Computer or Laptop users now intend to use an SSD than an HDD because of their benefit. There are many well-known SSD providers like Samsung, Corsair, Adata, and many more in the market. Samsung has a variety of options in their SSD device and provides the best performance. That's why people choose them over other brands.
But they face problems in choosing the best one between the different variants of Samsung's SSD. Samsung offers three types of SSD, and they are QVO, EVO, and PRO. PRO variant is considered as the best of all and high rated. Most people go for a mid-range device, and they get confused between QVO and EVO.
The main difference between QVO and EVO is the capacity of NAND flash chips which determines the capability of storing data in the SSD. There are four cell types in an SSD known as SLC(Single-level), MLC(Multi-level), TLC(Triple-level), and QLC(Quad-level). EVO is considered better than QVO because of its four-bit QLC technology, while EVO uses three-bit TLC technology. It makes EVO faster and more long-lasting than QVO SSD's.
In this article, we will get to know more about these Samsung SSD variants and find out their differences. After reading this article, it will be easier for you to choose between the best one.
About Samsung QVO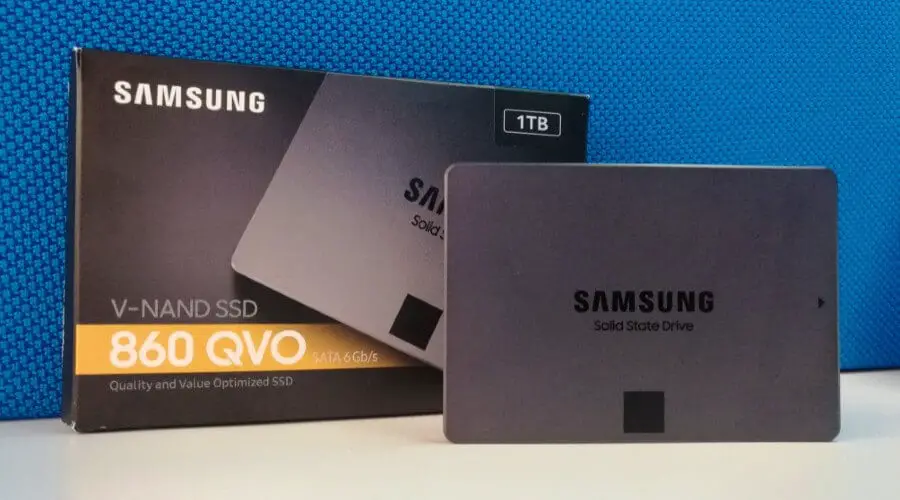 For Samsung, the QVO SSD is the first consumer-grade QLC NAND drive. Now, you can ask what consumer-grade is. Normally, SSD comes into the market in two categories that are enterprise-level and consumer-level. In consumer-level SSD, the focus is more on cost, capacity, performance, and data integrity.
The lower price is the good side of a QVO SSD compared to an EVO SSD. But as the price is low, you will get less speed, durability, dependability, and warranty. The QVO SSDs come with the same sequential write and read rate compared to the EVO. About 4KB random write and read speed is lower than EVO.
In Samsung QVO, there is the presence of Intelligent TurboWrite technology like other categories of Samsung SSD. This useful technology increases the writing speed during the data transfer period. But when the buffer raises to its limits, then it stops working, and the writing speed goes down to about 80MB/s.
Samsung offers a various range of capacity to their QVO segments, such as 1 TB, 2 TB, and 4 TB. The QVO SSDs have sixty percent less endurance than the EVO. Sequentially, its Dynamic Ram (DRAM) cache starts at 1GB, 2GB, and 4GB.
About Samsung EVO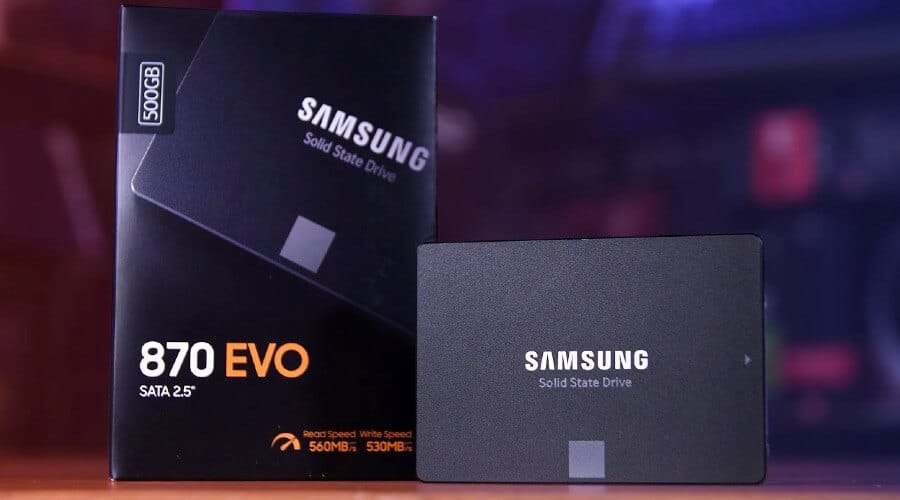 If you want to choose one of the top-rated SSD in the market, you have to consider the Samsung EVO. This Samsung EVO provides the best performance than the Samsung QVO series or any other SSD. You can compare it with the Samsung PRO segment.
According to Samsung's description, EVO series SSDs have the 65-layer V-NAND that reduces energy use up to thirty percent than the previous SSD that came with 48-layer. In these SSDs, the input voltage is also reduced to 2.5, and the previous SSDs need about 3.3 voltage. That's how the use of power is reduced. In this EVO series, Samsung also makes the SSD one and half times faster than its ancestor by cutting the program execution time to five hundred microseconds.
Another feature that EVO does better than QVO is that its Dynamic Ram (DRAM) cache memory setting per capacity is higher than that of the QVO. It has a writing speed of about 550 MB/s, and at the time of sequential writing, the speed remaining at about 520 MB/s. This EVO series SSDs has a TBW of 150 TB in the 250 GB capacity version, and for the 4TB version, the TBW is 2400 TB.
This EVO series of Samsung SSD is designed especially for conventional PCs and laptops. It provides a vast range of memory spaces and form factors. EVO series SSDs are based on TLC instead of QLC; that's why they are faster and long-lasting than the QVO series.
As we mention in the QVO section, this EVO series also has the TurboWrite technology, making the writing speed much faster during the time of data transfer.
If you are mindful about the warranty, then you have good news because this EVO series gives you five years of warranty while the QVO series gives only three years.
All of these unique specifications make EVO one of the top-rated SATA SSD series at this time. Samsung earns a lot of reputation by keeping this EVO series in the market for a long time. There is some country where it sells are double than other brands SSD. Samsung keeps producing more beneficial and faster series and keeps the price affordable to compete with the other brands.
Cost
In the beginning, you have the option to store only one single bit of data in a single memory cell. That's why to store big data; you need to have large storage, which costs a lot of money.
But today, technology advances at a great pace, and different storage devices are invented using the ability to store large amounts of data in a little device. Such as the technology of QLC, MLC, and TLC increases the capability of SSD to store data. That's why the cost is also reduced than previous times. The EVO series is more expensive than the QVO series because EVO has more data storing capacity.
Performance
In an SSD, the NAND flash does the job of writing and reading using the voltage at the data transfer time. But the cell level has an important impact on the performance of an SSD by increasing the storage capacity. As the EVO is based on the TLC technology, it performs better than a QVO SSD.
Durability
To find out the best one, you have to understand how SSD works. An SSD normally does the work of reading, writing, erasing the old data, and writing the new data. This procedure of SSD is known as the program/erase (P/E) cycle. An SSD performs well until the P/E cycle runs out of an SSD.
A TLC-based SSD supports 3000 P/E cycles, and a QLC based SSD has only 1000 P/E cycles. This info confirms that which is more long-lasting. That's why the Samsung EVO is far ahead of the QVO series because of its durability.
Conclusion
After comparing all sides of an SSD, we can conclude that the EVO series of Samsung is winning all the comparisons with the QVO series of the same brand. The EVO series has provided better performance, endurance, warranty, and they are long-lasting than the QVO series.
Though the EVO series SSDs price is comparatively higher than the QVO series. But there are a lot of reasons for that. If you want better performance and a better device, you have to pay a little more. The EVO charges more because of its better quality device and performance.
If we look at the QVO series SSDs, they are indeed falling behind the EVO series, but they are also good as an entry-level SSD. Their performance is fast enough to work properly in a conventional laptop or PC, and it is suitable for general customer use, especially for space duties. You won't find any difference from other less popular SATA SSD while using the QVO SSD.
If you are a performance-oriented enthusiast, then the QVO series is not for you. The EVO series will be the better one for you against QVO.
-our editorial board has reviewed this article and has been approved for publication according to our editorial policy.
Best Seller List of Internal Solid State Drives:

Sale
Bestseller No. 1
SAMSUNG 870 EVO SATA SSD 500GB 2.5" Internal Solid State Hard Drive, Upgrade PC or Laptop Memory...
THE SSD ALL-STAR: The latest 870 EVO has indisputable performance, reliability and compatibility built upon Samsung's pioneering technology
EXCELLENCE IN PERFORMANCE: Enjoy professional level SSD performance which maximizes the SATA interface limit to 560 530 MB/s sequential speeds,* accelerates write speeds and maintains long term high performance with a larger variable buffer
INDUSTRY-DEFINING RELIABILITY: Meet the demands of every task — from everyday computing to 8K video processing, with up to 600 TBW** under a 5-year limited warranty***
MORE COMPATIBLE THAN EVER: The 870 EVO has been compatibility tested**** for major host systems and applications, including chipsets, motherboards, NAS, and video recording devices
UPGRADE WITH EASE: Using the 870 EVO SSD is as simple as plugging it into the standard 2.5 inch SATA form factor on your desktop PC or laptop; The renewed migration software takes care of the rest
Sale
Bestseller No. 2
Western Digital 500GB WD Blue SA510 SATA Internal Solid State Drive SSD - SATA III 6 Gb/s, 2.5"/7mm,...
Upgrade your creativity with a performance boost that delivers read speeds up to 560MB/s(2) (500GB(1) and 1TB(1) models).
Give your PC new life with capacities of up to 1TB(1) and high endurance, plus low power draw for more laptop life between charges and reduced vibrations compared to HDDs.
Clone your computer's entire hard drive to your WD Blue SA510 drive with the included Acronis True Image for Western Digital transfer and backup software(3) featuring cyber protection.
The WD Blue SA510 SATA SSD comes in 2.5" and M.2 form factors for increased compatibility, fitting right into many current PC slots as well as those of many older machines.
(1) 1GB = 1 billion bytes and 1TB = 1 trillion bytes. Actual user capacity may be less depending on operating environment. | (2) Based on read speed. 1 MB/s = 1 million bytes per second. Based on internal testing; performance may vary depending upon host device, usage conditions, drive capacity, and other factors. | (3) Download and installation required. Includes 5-year license for your compatible drive. Redeem within 90 days of purchase. May not be combined with other offers. Limited time offer; see Western Digital website for more details. Offer subject to change.
Sale
Bestseller No. 3
SAMSUNG 870 QVO SATA III SSD 1TB 2.5" Internal Solid State Hard Drive, Upgrade Desktop PC or Laptop...
GO BIG, DO MORE: The 870 QVO is Samsung's latest 2nd gen QLC SSD and the largest of its kind that provides up to 8TB of storage,* offering an incredible upgrade for everyday PC users who want to ramp-up their desktop PC or laptop
ENHANCED IN EVERY WAY: With an expanded SATA interface limit of 560/530 MB/s sequential speeds, the 870 QVO improves random access speed and sustained performance; Intelligent TurboWrite accelerates write speeds and maintains long-term high performance with a larger variable buffer**
BOOST CAPACITY: The 870 QVO is now available in 1TB, 2TB, 4TB and 8TB; The 8TB model is by far the largest client SATA SSD; Upgrade to the latest in SATA SSD technology to thrive in today's digital world***
RELIABLE AND SUSTAINABLE: The groundbreaking capacity of the 870 QVO doubles its reliability from 1,440 TBW to up to 2,880 TBW, using a refined ECC (error-correcting code) algorithm for stable performance; Plus, it's backed by a limited 3 year warranty****
UPGRADE WITH EASE: Upgrading to 870 QVO is now easier than ever for anyone with a desktop PC or laptop that supports a standard 2.5-inch SATA form factor; Simply plug in the 870 QVO into a SATA slot and let the updated migration software take care of the rest
Sale
Bestseller No. 4
Samsung 970 EVO Plus SSD 2TB NVMe M.2 Internal Solid State Hard Drive w/ V-NAND Technology, Storage...
ALWAYS EVOLVING SSD: Faster than the 970 EVO, the 970 EVO Plus is powered by the latest V-NAND technology and firmware optimization; It maximizes the potential of NVMe bandwidth for unbeatable computing; Comes in capacities of up to 2TB, with reliability of up to 1,200 TBW.
LEVEL UP PERFORMANCE: The 970 EVO Plus reaches sequential read/write speeds up to 3,500/3,300 MB/s,* up to 53%** faster than the 970 EVO; Powered by the latest V-NAND technology—which brings greater NAND performance and higher power efficiency
DESIGN FLEXIBILITY: The 970 EVO Plus fits up to 2TB onto the compact M.2 (2280) form factor, greatly expanding storage capacity and saving space for other components; Samsung's innovative technology empowers you with the capacity to do more and accomplish more
EXCEPTIONAL ENDURANCE: Get up to 1,200 TBW*** with a 5-year limited warranty**** for lasting performance; The 970 EVO Plus provides exceptional endurance powered by the latest V-NAND technology and Samsung's reputation for quality
UNPARALLELED RELIABILITY: Samsung's advanced nickel-coated controller and heat spreader on the 970 EVO Plus enable superior heat dissipation; The Dynamic Thermal Guard automatically monitors and maintains optimal operating temperatures to minimize performance drops
Sale
Bestseller No. 5
Crucial MX500 1TB 3D NAND SATA 2.5 Inch Internal SSD, up to 560MB/s - CT1000MX500SSD1
Sequential reads/writes up to 560/510 MB/s and random reads/writes up to 95K/90K on all file types
Accelerated by Micron 3D NAND technology
Integrated Power Loss Immunity preserves all your saved work if the power unexpectedly gets cut
Aes 256-bit hardware-based encryption keeps data safe and secure from hackers and thieves
Crucial 5-year limited warranty
Sale
Bestseller No. 6
SP 512GB SSD 3D NAND A55 SLC Cache Performance Boost SATA III 2.5" 7mm (0.28") Internal Solid State...
3D NAND flash are applied to deliver high transfer speeds
Remarkable transfer speeds that enable faster bootup and improved overall system performance. The advanced SLC Cache Technology allows performance boost and longer lifespan
7mm slim design suitable for Ultrabooks and Ultra-slim notebooks.
Supports TRIM command, Garbage Collection technology, RAID, and ECC (Error Checking & Correction) to provide the optimized performance and enhanced reliability.
3-year limited warranty. (Please register your product via SP official website to get the complete manufacturer warranty services, product support and more.)
Sale
Bestseller No. 7
Bestseller No. 8
Fanxiang S101 512GB SSD SATA III 6Gb/s 2.5" Internal Solid State Drive, Read Speed up to 550MB/sec,...
【Speed Up Computer】: Replacing traditional mechanical hard drives, upgrade your laptop or desktop, and reduce the time it takes to boot the operating system and open applications
【Quick Response】: Fanxiang S101 SSD adopts SATA III 6Gb/s interface, the maximum read speed up to 550Mb/s, and the maximum write speed up to 450Mb/s
【High-Performance】: Solid state internal drive has the characteristics of shockproof and anti-drop, quiet and noiseless, low power consumption, high and low-temperature resistance, faster-booting speed, and program loading speed
【Improve Efficiency】: Solid-state drives can be used to speed up gaming and speed up efficiency for office, video, or graphic design work, 3 years of service.
【Wide Compatible】: Internal SSD compatible windows 10 / 8.1/8 /7, mac os 10.4 or later, linux 2.6.33 or later, compatible with laptops, desktops, all-in-one computers
Bestseller No. 9
SanDisk SSD PLUS 1TB Internal SSD - SATA III 6 Gb/s, 2.5"/7mm, Up to 535 MB/s - SDSSDA-1T00-G26
Easy upgrade for faster boot up, shutdown, application load and response (As compared to 5400 RPM SATA 2.5" hard drive; Based on published specifications and internal benchmarking tests using PCMrark vantage scores)
Boosts burst write performance, making it ideal for typical PC workloads
The perfect balance of performance and reliability
Read/write speeds of up to 535MB/s/450MB/s (Based on internal testing; Performance may vary depending upon drive capacity, host device, OS and application.)
Shock resistant for proven durability: Even if you drop your computer (Shock resistant (up to 1500G) and vibration resistant (5gRMS, 10 2000 HZ/4.9 gRMS, 7 800 HZ), temperature (from 0 degrees Celsius to 70 degrees Celsius))
Bestseller No. 10
SP 256GB SSD 3D NAND A55 SLC Cache Performance Boost SATA III 2.5" 7mm (0.28") Internal Solid State...
3D NAND flash are applied to deliver high transfer speeds
Remarkable transfer speeds that enable faster bootup and improved overall system performance. The advanced SLC Cache Technology allows performance boost and longer lifespan
7mm slim design suitable for Ultrabooks and Ultra-slim notebooks.
Supports TRIM command, Garbage Collection technology, RAID, and ECC (Error Checking & Correction) to provide the optimized performance and enhanced reliability.
3-year limited warranty. (Please register your product via SP official website to get the complete manufacturer warranty services, product support and more.)
You May Also Like…
Last update on 2022-10-03