Essentially, the Google Chromecast is a simple, low-cost streaming solution provided by Google that transforms your television into a smart TV.
While some systems include remote control, the initial concept was to utilize your smartphone as a controller to cast information onto your television screen. Is an internet connection, on the other hand, required for this functionality? Let's have a look.
Does Chromecast Work Without WiFi?
You could theoretically broadcast offline material from your phone to the Chromecast if you do so. Even if you aren't, there are workarounds that can help you. If you have an internet connection, though, you shouldn't have a problem making the most out of your Chromecast experience.
Continuing our exploration of dongle-enabled smart TVs, we will discuss the main capabilities of the Google Chromecast (formerly known as Google TV) as well as the subtleties of whether or not it needs an internet connection. If that has piqued your curiosity, you will benefit from the information included in this article.
How to make the Chromecast Work Without WiFi?
It is possible to do this in many ways. One scenario is one in which the device to which you are connecting the Chromecast is not necessarily connected to the internet at the time of the connection.
Other situations include those in which neither the Chromecast nor the casting device is connected to the Internet. In all cases, Chromecast's built-in functionalities are straightforward and technically supported.
Solution 1: Guest Mode:
Chromecast's "Guest Mode" was introduced in 2014, allowing it to connect to any Google Cast-capable device that is not connected to WiFi. A host (hotspot, router, or ethernet) is still required for the Chromecast to function; however, there is an exception.
A specific WiFi and Bluetooth beacon are sent by the Chromecast when the Guest mode is engaged. Consider the following scenario: you are running a Chromecast-enabled app on a guest's smartphone.
The device will detect the existence of the specific WiFi or Bluetooth beacon and will show the Cast icon in the application when it detects it is there. You'll notice casting to a 'Nearby device' mentioned as a possible option when you click on this button.
After that, your Chromecast will produce a random 4-digit PIN that you will need in order to cast to it using Guest mode on your television. When a device in close proximity seeks to connect, the Chromecast immediately broadcasts the PIN using brief, inaudible ultrasonic audio tones to establish the connection.
If the audio tone pairing fails by accident, your friend may attempt to connect by manually entering the 4-digit PIN that can be found on your Chromecast Ambient Mode screen as well as in the Google Home app on his or her mobile device.
It is also possible for those running iOS 11.0 or above to do so, albeit there are a few limitations. This function enables you to preserve the privacy of your WiFi password while still enabling guests to use your Google Chromecast and cast entertainment to their television.
Solution 2: Wirelessly mirroring your casting device
While Google Chromecast is always required to function as a normal element of the Google Home ecosystem, it is not required to function as a host that has an internet connection by default.
Two devices are required to do this: one to serve as a WiFi Hotspot and another to configure the Chromecast.
In order to connect device B (e.g., PC, laptop) and the Google Chromecast to the hotspot, you must first activate a WiFi hotspot on device A (for example, a smartphone).
Disconnect device B once you've finished configuring the Google Chromecast.
When prompted by the Home app on your smartphone, choose the mirror option, disregarding any warnings about internet disconnection. With this feature, you will be able to see your Android phone on your television screen.
Casting and installing applications will not function properly with this approach; however, mirroring your smartphone screen will work. A bad connection may result in a Source Not Supported Error being shown.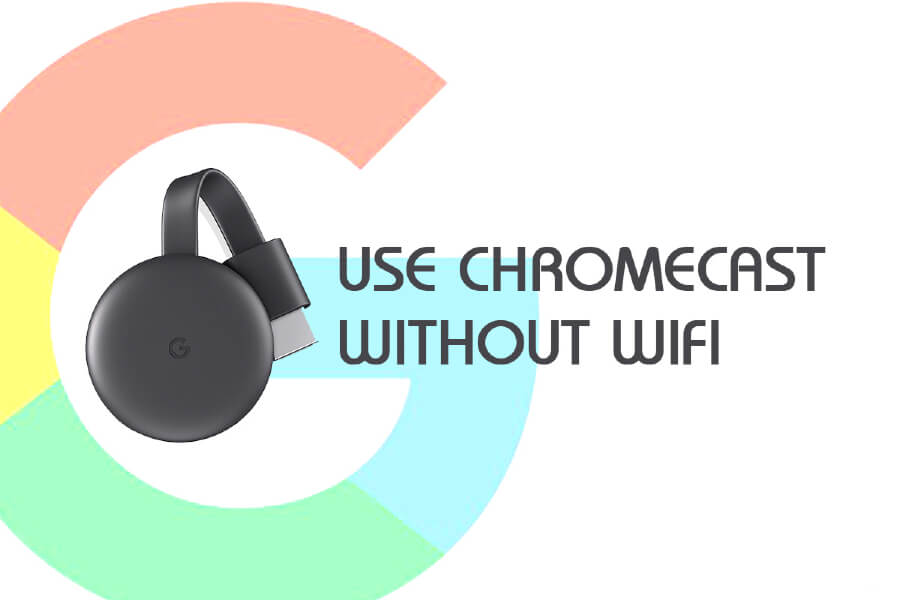 What is the Google Chromecast?
In a world where cumbersome set-top boxes or built-in internal components offer Smart TV capabilities, Google flipped the script with its elegant dongle-like solution in 2013, which in turn inspired comparable devices such as the Amazon FireStick.
The Chromecast was designed to allow you to use your smartphone as a remote control while streaming entertainment to your television. A minimalist interface was used to show your images, the clock, and the weather in addition to whatever streaming material you were watching on your TV.
With the Google Chromecast with Google TV (which will be introduced in 2020), you can now enjoy the elegant and more contemporary interface of Google TV, as well as the ability to manage the Chromecast with a remote (which is the updated version of Android TV, which is also set to replace the Play Movies app on Google Play Store in time)
A mini-computer running Google TV, the Google Chromecast connects to your television through HDMI, transforming it into a Smart TV and optimizing your multimedia streaming experience.
How does Google Chromecast work?
To connect and view video streamed to it from other connected devices, the Google Chromecast makes use of WiFi technology.
The URL of the content you are watching is sent to Google Chromecast by apps that support Google Chromecast, such as YouTube or Netflix, in order to conserve the battery life of the device from which you are casting; this is because wirelessly mirroring your phone's screen, for example, would rapidly deplete the battery of the device from which you were casting.
Final Thoughts on Using Google Chromecast Work Without Internet
Returning to the original question, does Chromecast function well while not connected to the Internet? If you don't have access to the internet, you can still utilize it.
Your mirroring options are restricted to your smartphone alone; you cannot cast material from internet streaming services or utilize any of the applications that are already loaded on your phone.
However, although this seems to restrict the Google Chromecast's wide capability and capabilities, in a pinch, you may wirelessly mirror a smartphone to create a larger workspace or a more comfortable viewing experience of offline video content.
FAQs:
1. How do I reset my Chromecast WiFi?
Make sure that your mobile device and Chromecast are both connected to the same WiFi network as your computer.
Select your device from the Google Home app by tapping it.
When you are in WiFi Settings, choose to Forget this network. To return to the home screen, use the back button.
Follow the on-screen instructions to connect your device to Chromecast.
Right below the micro-USB connector, there is a little black button to the right. While it is connected to your TV, press and hold this button for 25 seconds.
3. Why does my Chromecast keep crashing?
Depending on the power source, this may occur. To avoid this, use a power source with a current rating of 1 Amp or above.
4. How long does Chromecast setup take?
Setup for the Chromecast takes no more than 30 minutes.
-our editorial board has reviewed this article and has been approved for publication according to our editorial policy.