As a fan of Amazon Alexa and a smart home enthusiast, I like testing the limitations of Alexa devices. I even tried using the Oled Screen as a surveillance camera to test whether it worked.
Due to the current popularity of "Multi-Room Music," I sought a solution that would allow me to Play The music on all of my Amazon echo Devices simultaneously.
When I first acquired my Alexa Devices, I learned how to use them to play music. I did everything from building speaker groups to assigning various songs to different speaker groups. All your Alexa devices can effortlessly play different music by collecting together in the Alexa App and selecting the music you want to play on them while on the same wireless network.
Can You Play Music on all Your Alexa Devices?
You can use all of your Alexa devices at the same time to listen to music. Best of all, you need one account to connect and use all of your devices. You may play interesting sounds on each gadget or group of devices by synchronizing them all together.
Alexa Multi-Room Music
When you use Multi-Room Music to group particular Alexa Devices connected to the network, you may pick the group and have most of the equipment in that group play music simultaneously.
Make sure your Kindle devices are rechargeable or attached to a power source before you begin setting anything up. Otherwise, you risk not getting a response. Alexa devices should be grouped with the following:
Log in to your Amazon store and register all of your Alexa devices.
Set your smartphone's Bluetooth and Wi-Fi to "ON." Also, please make certain that all of your Alexa devices are switched on and linked to the same wireless network before using them.
Launch the Alexa app when it has been updated on your phone.
In the lower corner of the screen, click the 'Devices' icon.
In the upper right-hand corner of your screen, tap the Add (+) symbol.
Select "Multi-Room Music" from the drop-down option that appears. Press "Continue" to proceed.
If you don't see a name you like in the drop-down menu, enter a custom name in the "Customized Name" section and press "Next" to continue.
To create a group of Alexa devices, choose the devices you wish to include. Devices that aren't currently in use will have their icons hidden. After that, click "Save."
You've just established your very own Custom Group. Using voice commands like "Alexa, play [song as well as playlist] on [Group Name]" will be possible once the feature is enabled.
Playing Different Music On Each Separate Alexa Device
With the new feature, you're no longer restricted to playing the same music on all of your Alexa-enabled devices at once. Follow these instructions to play a piece of different music on each device:
Using your smartphone, open the Alexa app.
Disable the multi-room music feature.
Open your App on every device that is linked to it.
Select the music you want to listen to from the list in the Music Playback Settings section by scrolling down.
Connect all of your Alexa-enabled devices to your phone and play music from your phone's music library.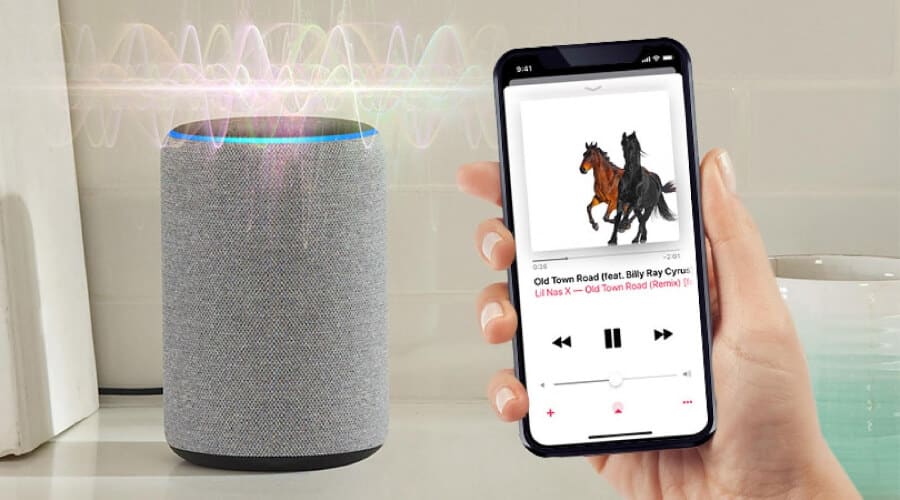 Alexa Devices That Support Multi-Room Music
In 2017, the Multi-Room Music service was introduced. Aside from the Echo and Echo Dot, Amazon has tried to include this capability into every new device they've released in recent years, including the Amazon Fire TV Stick. It's a function that's missing from Amazon Tap.
Music Streaming Services That Support Multi-Room Music
Music streaming services such as Spotify, Apple Music, and Pandora may use Mega Music to play music on several speakers simultaneously. SiriusXM and iHeartRadio can also use Multi-Room Music.
The use of Bluetooth speakers while this function does not support streaming. If you want to use an external speaker, though, you'll need to use a connected connection.
Spotify on Multiple Speakers
The music on a single Alexa device can be played using Spotify. However, Spotify does not support playing separate music on several Alexa devices at the same time. Construct an Amazon Household with many Amazon accounts tied to it as a workaround. Then, add the groupings of devices to those accounts.
It is possible to arrange various tracks to play on different Amazon Accounts to each grouping of Alexa devices by utilizing Spotify Connect.
How Long Will Alexa Play Music Before Turning Off
The usual timeout duration for Amazon Alexa devices is 4-6 hours. Unless another instruction is made before the timeout point, the device will finally have to get into sleep mode even if you want to listen to music for something like a long period.
One way to get around this is to program routines to do one of two things: rerun the playlist and sometimes start a new one entirely when the current one has finished.
Other Audio Services That Support Multi-Room Music
In addition to playing music, Multi-Room Music may also be used to play two distinct Audiobooks in two separate rooms. In this way, you may tell various bedtime tales to your children in different rooms.
Use Multi-Room Music to Play your Music on All your Alexa Devices
While Alexa's built-in speakers are excellent, I want true audiophilia. I discovered that you could use Multi-Room Music to connect to your Sonos speakers by installing the Soundcloud Skill to someone's Alexa App and discovering your Sonos speakers.
Both the Alexa and Sonos apps should include all of the music providers you want to utilize. Even though I'm an independent music fanatic and an audiophile, I've tried using Alexa to play SoundCloud tracks on my phone.
The Drop-In Feature of Alexa allows you to contact another Electrical appliance in a different home and utilize it as a virtual phone line.
FAQs:
1. How do I tell Alexa to stop playing music?
A simple voice command like "Alexa, stop" might be used to end the music. Another option is to say, "Alexa, quit playing the soundtrack from [a band's name]."
2. How do you keep Alexa playing music all night?
Amazon gadgets don't allow you to listen to music nonstop. After 4-6 hours, the gadget would expire.
For this reason, if you use the Alexa app and establish extra routines to reload the playlist every four hours or so, you may find yourself listening to music only those nights long.
3. Does use Multi-Room Music disconnect Bluetooth?
Alexa will instantly deactivate all Bluetooth connections when utilizing Multi-Room Music, but the music will stay synchronized across all devices.
-our editorial board has reviewed this article and has been approved for publication according to our editorial policy.