The constant recording has long been a typical component of traditional CCTV cameras which we can see in our home and surroundings, the purpose of this is usages is mainly for security. It wouldn't have been mentioned in the product description at all. However, these systems often depended on locally stored recordings on tapes or hard drives, which constituted a vulnerability in the system's overall security.
This is why smart cameras have become so popular: they provide quick, which is also secure cloud-based access to recorded footage that is recorded for a long time. Sending video clips to 'the cloud' 24 hours a day, seven days a week wasn't always viable owing to bandwidth and storage expenses.
So yet, just a handful of smart cameras are available that can record continuously for 24 hours or more. It's great that some of them do, however, which is why I set out to research which smart gadgets really accomplish this.
There are a few smart cameras on the market that can record continuously for 24 hours a day, seven days a week. These include the cameras made by Google Nest, Arlo, Eufy, Wyze, and Kasa.
How Smart Cameras Tend to Work
There are some Smart cameras that provide the added benefit of notifying you of movements around your home. This can be very important because nobody wants their home to be insecure. Any burglar or any kind of threat can be detected easily before any harm can happen. So with on-board pixel-detection algorithms or PIR (passive infrared sensors) for changing heat signatures, a smart camera may, for example, notice when someone (or anything else) is moving about.
When motion is detected, the camera will begin recording and send you an alert. Overall, this works effectively and reduces the need for continuous recording since you'll still be able to watch all the important video snippets.
For battery-powered cameras, in particular, this might be a problem because of the many power-saving procedures that must be used in order to preserve the battery life of the camera.
There are motion occurrences that are missed by even my hard-wired Ring Doorbell Pro. Since Ring promised 24/7 recording in 2018, I've longed for it. But it's never materialized.
Which smart cameras offer continuous recording, therefore, in light of the fact that it would be a valuable feature?
Which Smart Cameras Support 24/7 Footage
The brand's Nest, Arlo, Eufy, Wyze Cam, and Kasa Spot are a few examples of smart cameras that can record continuously 24 hours a day, seven days a week. Continuous recording is not supported by any of the Ring or Blink cameras.
Even if most Eufy cameras don't support it, this doesn't reveal the whole picture. Because it only offers "scheduled recording," the Wyze Cam Outdoor doesn't record continuously around the clock as a traditional security camera would. Finally, the only company that gives a flexible option is Google Nest only. They offer the option to pay a monthly fee to the company. Which is basically a very handy option that you will get at this market. No other company is providing this option.
Since simply "these firms supply 24/7 footage" isn't enough, so I will try to elaborate more in detail as to how each of these brands offers the service 27/7.
1. Google Nest 24/7 Video Support
Sale
Google Nest Cam Outdoor - 1st Generation - Weatherproof Outdoor Camera - Surveillance Camera with...
24/7 live video: 130 Degree view shows your home in 1080P HD day and night
Weatherproof: Camera cable and adapter are all weatherproof
Clear as day even at night: Night vision evenly illuminates the whole scene. See who's at the door and talk back to get their attention
Alerts on your phone: Get activity alerts so you know if anything happens while you're away
Install it yourself: Install yourself and point it anywhere with the unique magnetic mount. No hub required.
If you want to use a camera from Google's Nest, you may subscribe to Nest Aware for as little as $6 a month (or $60 a year) or as much as $12 a month (or $120 a year) for the types called Nest Indoors. Additionally that, you also have to pay for Nest Outdoor cameras and the Hub Max.
Nest Aware Plus is the most costly plan, and it's the only one that gives you access to your Nest cameras around the clock. As the matter of fact, you will not receive the continuous recordings if it is only paid as $6/month for Nest Aware's most basic subscription. You'll receive a continuous recording for all your Nest cameras if you have the Nest Aware Plus subscription since you may have five Nest devices.
As long as Google's cloud servers are up and running, you'll have access to your 24/7 recording clips for the next 10 days.
2. Eufy Cam Constant Recordings
Sale
eufy Security eufyCam 2 Wireless Home Security Camera System, 365-Day Battery Life, HomeKit...
1080p Full HD Live-stream and record footage in crystal clear 1080p HD, so you see exactly what is happening in and around your home.
A Year's Security from 1 Charge Avoid frequent trips to charge the battery and enjoy 365-day battery life from just one charge.
Zero Hidden Costs Designed to protect your home as well as your wallet, eufyCam 2 is a one-time purchase that combines security with convenience.
Advanced Night Vision The state-of-the-art Sony sensor allows for detailed recordings and streaming in low-light scenarios.
Ready for Any Weather With an IP67 weatherproof-rating, eufyCam 2 is built to withstand the elements.
When it comes to continuous video feeds, only the Eufy interior camera can achieve it. This is despite my previous mention of Eufy Cam's whole line and their 24-hour support. Eufy's indoor cam pan model affected and also tilt model is affected by this as well, however, this clarifies that the model of the doorbell and the 2/2C/E does not give the privilege to have continuous recording capabilities.
Because 24/7 recordings need more storage space, interior Eufy cameras normally record at a 2K resolution (2560 x 1920). However, there is a surprise that all-day record mode is in HD (1920 x 1080).
Instead, you may save the recordings to an SD card or NAS device, or you can pay Eufy $3/month for cloud storage. With the Eufy cam, you have total control over where your recordings are saved. You may choose to keep them locally at your house or on the Eufy cloud.
3. Arlo Continuous Recordings Support
Arlo VMS4230P-100NAS Pro 2 - Wireless Home Security Camera System with Siren, Rechargeable, Night...
100 percent wire free: Free of power cords and wiring hassles
1080p HD high quality video with sharper and brighter details
Flexible powering options use wire free, plugged in. Rechargeable battery
Weatherproof Pro cameras are weatherproof so you can place them anywhere indoors and out
7 days of free cloud recordings pro comes with recurring 7 days free cloud recordings. Live stream or view recorded video and audio for up to 7 days
Even though Arlo's subscription plans have changed over the years, it's important to note that if you want 24/7 recording support, you'll need to upgrade to the company's 'CVR plan,' which costs $10/month for 14 days of video storage ($100 per year) per camera, or $20/month for 30 days of video storage ($200 per year).
The obvious drawback is the price, which isn't exactly inexpensive. If you own five Arlo cameras, the cost of 14 days of storage per camera is at least $500 per year. Sadly, it isn't the only drawback. You cannot download any CVR videos either. You can only look at them from afar.
As a result, Arlo's 24/7 assistance is both expensive and rather restricted. Thanks to the plan, a wide variety of their items may be purchased: the Ultra Arlo Pro 2, Astounding Astounding, Arlo.
4. Wyze Cam 24/7 Support
Wyze Cam 1080p HD Indoor WiFi Smart Home Camera with Night Vision, 2-Way Audio, Works with Alexa &...
1080P Full HD live stream direct to your smartphone day or night with night vision (up to 30 feet away). works with 2. 4GHz Wi-Fi networks (does not support 5GHz Wi-Fi)
Motion tagging technology detects and outlines motion in both live stream and playback video modes
Wyze Cam automatically records a 12-second Event Video when it detects motion or sounds. Videos are securely uploaded to the AWS cloud via end-to-end encryption and are accessible for 14 days — no subscription or monthly fees required.
Continuous recording with local storage - Wyze Cam supports local storage of recordings to a microSD card (sold separately). Play back videos with your Wyze app to solve life's mysteries. Local Storage - Supports 8GB, 16GB and 32GB microSD cards in FAT32 format
Magnetic base, 6-foot power cable and included adhesive metal plate let you mount your Wyze Cam anywhere - no screws required.Field of View:110° lens
Indoor and outdoor cameras make up the majority of the Wyze Cam product line. The outdoor Wyze Cam, as previously stated, does not allow for continuous recording 24 hours a day. Instead, "planned recordings" are allowed, with the camera recording constantly for up to 10 hours each day.
The cameras indoors have the capability to record to the full size of the SD cards. SD card can be in different variants of sizes but 32GB is the general in use by all company
As a result of Wyze's limited support for cards larger than 32GB in practice, HD recordings will quickly exhaust the card's storage capacity (even in the continuous recording mode). Once the older recordings have been erased, new ones begin to appear.
For $3.99/month, there are some variants that offer all-day recording ability, providing 7-day access to cloud storage of the footage for every camera.
5. TP-Link Kasa Spot Continuous Recording
Kasa Smart (KC100) Spot Indoor Camera by TP-Link, 1080p HD Smart Home Security Camera with Night...
Crystal clear video: Sharp and clear 1080p Full HD provides high quality video right in the palm of your hand
Wide angle field of view: 130 degree, wide angle field of view makes sure nothing is out of view; Set it up in a corner and get a full view of your living room or place it on top of a shelf to get a great view of your kitchen
Instant activity alerts: No need to check your Kasa spot throughout the day; Get automatic alerts when it detects motion or sound
Night vision: Even in the dark, the Kasa spot has night vision up to 20 Feet; Never miss a thing at night and still get the same high quality video you're used to
Two way audio: Use crisp two way audio to communicate with nosy roommates, family or even mischievous pets
Only TP- Link's version of smart cameras allows 24/7 recording in the Kasa smart home line from the company's parent company, TP-Link.
To watch the recordings, use the Kasa Smart app, which records to a local SD card that must be purchased separately. While specifics are currently sparse due to the fact that this is a brand-new device, I think the maximum SD card capacity is 128 GB, which is enough for a week's worth of 24/7 full HD video recording.
Downsides of 24/7 Recording
A smart camera that records continually has many advantages, but it also has certain drawbacks.
The bandwidth consumption in your residences will be much greater as a result (with cloud plans). If your camera isn't capable of storing locally, all of your videos will be sent to the cloud. If your internet coverage does not provide unlimited usage, you may be subject to overage costs, which may add up rapidly.
The gadget will have to work harder, which means it will use more electricity. Even though you have to have the camera plugged in all the time to utilize 24/7 recording, you'll spend extra on electricity if you keep the camera running all the time.
A lot more effort is being put in by your gadget at this time than normal as well. While it's designed to record continuously, there's no way to know for sure whether it won't affect the life of your device (even by 1-2 years).
Local storage, such as an SD card or a NAS, is often used to keep continuous recordings. These recordings will be erased if your camera is lost or stolen. Some smart cameras, but not all, enable you to save 24/7 recordings on the cloud. It's a security weakness since a criminal can merely take the camera off the wall if it's set low enough.
An additional charge will be incurred. Continuous recording on a smart camera requires additional payment, whether it's for an SD card, a network-attached storage device (NAS), or a month-long registration offer. Lastly, one thing to remember is that whoever is looking to take an SD card or cloud plan, I would like to share the fact that in 24/7 mode that price is way high than it should be in the real world.
Alternatives to Constant Smart Camera Recordings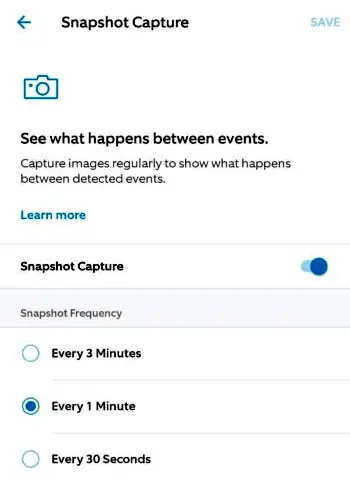 I wish my Ring cameras had 24/7 video clips, but most smart cameras give an acceptable substitute in the form of snapshot grabs (also known as timeline previews):
Regularly taking still images with your smart camera gives you a good overview of what's been going on in and around your home all day. A good example is having many smart cameras all configured to capture photos every 30 seconds. This way, you'll almost surely be able to catch any suspicious behavior.
As a last resort, you might purchase a CCTV or DVR camera that isn't smart to utilize in addition to your smart cameras. However, they perform well and provide you with 24-hour recordings for additional peace of mind, recording to a local hard drive or even a VHS tape (if you get an ultra-secondhand one!). Because these recordings will be kept on your computer, you'll want to make sure the hard drive is locked up tight while you're not around.
-our editorial board has reviewed this article and has been approved for publication according to our editorial policy.
Best Seller List of Security Cameras:
Sale
Bestseller No. 1
Blink Mini – Compact indoor plug-in smart security camera, 1080p HD video, night vision, motion...
Monitor the inside of your home day and night with our 1080P HD indoor plug-in smart security camera with motion detection and two-way audio.
See, hear, and speak to people and pets in your home from your smartphone with Blink Mini's live view and two-way audio.
Get alerts on your smartphone whenever motion is detected or customize motion detection zones so you can see what matters most.
Use Mini as an indoor plug-in chime for Blink Video Doorbell. Hear a real-time alert from Mini when someone presses your Video Doorbell.
Choose to save and share clips with a free 30-day trial of the Blink Subscription Plan or locally with the Sync Module 2 (sold separately).
Sale
Bestseller No. 2
Blink Outdoor - wireless, weather-resistant HD security camera, two-year battery life, motion...
Blink Outdoor is a wireless battery-powered HD security camera that helps you monitor your home day or night with infrared night vision.
With long-lasting battery life, Outdoor runs for up to two years on two AA lithium batteries (included).
Store video clips and photos in the cloud with the Blink Subscription Plan and save events locally to the Blink Sync Module 2 via a USB flash drive (sold separately).
Outdoor is built to withstand the elements to help you protect your home inside or out, come rain or shine.
Designed so you can set up yourself in minutes. No wiring, no professional installation required.
Sale
Bestseller No. 3
2Pcs Light Bulb Camera 2.4GHz & 5G WiFi Outdoor, 1080P E27 Light Bulb Camera Security Camera, Indoor...
【2.4Ghz and 5G Double-band WiFi】This wireless WiFi bulb camera supports 2.4GHz and 5G dual -band networks, which can provide you with more wireless WIFI options and can control the camera more smoothly.It can be installed using a normal E27 bulb base(110V~240V),Then use the mobile phone to download the APP, and use the APP to help the bulb camera connect to the WIFI. No other operations are required. Note that it takes about 40s to connect the bulb camera for the first time.
【1080P and Intelligent Night Vision】Light Bulb Camera Outdoor Wifi 1080P HD Bulb Camera Can provide a clear picture even at night,Intelligent Night Vision provides ordinary night vision and color night vision, you can easily choose according to your own needs
【Remote Viewing and PTZ】Our camera can control the viewing angle through APP, you can remotely view it anytime and anywhere through for iPhone/for Android for phone/for Ipad.This bulb camera can be accessed remotely via apply to iPhone/Android phone. The WiFi camera can provide you with a clear view at any time. You can control the camera's viewing angle through the APP to achieve 360-degree viewing without blind spots.
【Motion Detection and Real-time Alerts】The Light Bulb Camera Outdoor 360° degree camera bulb camera system adopts a highly sensitive motion sensort,Connect The camera to WIFI,When a moving object is detected,it will record the moving picture and notify you through the APP.
【Two-Way Audio and High Quality Service】Light Bulb Camera Outdoor Wifi Built-in microphone and speaker, the bulb security camera can have a conversation between you and your visitor,If you have any question, please contact us.We provide lifetime technical support and services.
Bestseller No. 4
Arlo - Wireless Home Security Camera System | Night vision, Indoor/Outdoor, HD Video, Wall Mount |...
Works with Alexa for voice control (Alexa device sold separately); Audio not supported
Patented 100 percent Wire Free design for easy placement anywhere and field of view 110 degree
Night vision cameras work even in the dark
Motion activated cameras and real time email or app notifications
Records and alerts only when motion is detected so no battery power ever goes wasted Battery:Four Lithium CR123 Photo
Bestseller No. 5
Wyze Cam v3 with Color Night Vision, 1080p HD Indoor/Outdoor Video Camera, 2-Way Audio, Compatible...
Color Night Vision: Record night time video in full, vivid color in environments up to 25x darker than traditional cameras.
Indoor/Outdoor (IP65): The Wyze Cam v3 is a wired water-resistant, video camera that you can confidently install outside in the rain or inside in the kids' room.
Motion & Sound detection: The Wyze Cam v3 records video when motion & sound are detected and sends an alert to your phone. Motion Detection Zones let you adjust the sensitivity of detection.
Two-way audio: Greet and speak with visitors with loud two-way audio. The Wyze Cam v3 also has a siren button you can press to scare off unwanted guests.
24/7 Continuous Recording: Continuous video recording with a 32GB MicroSD card (sold separately). Just insert the MicroSD into the base of the Wyze Cam and you're all set.
Sale
Bestseller No. 6
Kasa Indoor Pan/Tilt Smart Security Camera, 1080p HD Dog Camera 2.4GHz with Night Vision, Motion...
Live Steam from Anywhere with Pan/Tilt: Sharp and clear 1080p Full HD provides high quality video right in the palm of your hand. Swipe up, down, left and right on your phone to rotate and set your camera's point of view in real-time.
Real-Time Motion/Sound Detection: Get alerts on your smart phone whenever motion or sound is detected even at night (30ft). Enable patrol mode on your home security camera system, to make most use of cameras for home security as pet camera or nanny cam
Secure Your Videos Locally or with AWS Cloud: EC70 mini camera continuously records and stores footage or video clips on a local MicroSD card up to 64 GB. You can view up to 30 days of video history and enjoy more advanced features when you subscribe Kasa Care Plan
Smart Actions: As one of the most user-friendly security cameras, EC70 provides you a way to set your lights to turn on when your camera detects motion with Smart Actions, which allow you to create interactions between your camera and other Kasa devices
Voice Control: For additional ease of use, pair the Kasa wifi camera with Alexa echo or Google assistant. Use a simple voice command to ask Alexa or Google Assistant to view your live camera feed on compatible Alexa or Google devices
Bestseller No. 7
2K Security Camera Outdoor/Home, DEKCO WiFi Outdoor Security Cameras Pan-Tilt 360° View, 3MP Dome...
Smart Motion Tracking --- Motion tracking allows DEKCO outdoor security camera to detect object in motion. Once enabled, the security camera will start to automatically record and track object in motion. Once motion is detected, you will receive alerts directly from the app on your IOS/Android device.
Bright Floodlights and Full-Color Night Vision -- DEKCO dome surveillance cameras built-in bright floodlight function, which can display super clear images even in extremely dark environments. The floodlight camera supports infrared/full-color/auto (smart) night vision mode. Moreover, you can zoom in the picture up to 4X, and all corners are in your control. All features allow you to customize your best night vision experience.
350°Viewing Angle and Remote Monitoring -- DEKCO WIFI security camera wireless outdoor is designed with the rotation of a vertical 90 degrees and a horizontal 350 degrees; You can remote the security camera to monitor all-round without blind spots. It's a great choice to protect the safety of your property and family. PTZ camera supports live viewing on your mobile phone through downloading free App "CloudEdge".(The camera is corded electric camera, and not a battery camera. )
Two-Way Audio & IP66 Weatherproof Certification -- DEKCO home security cameras with built-in microphone and speaker can establish a real time conversation between you and your visitors. If you finding any unwelcome person, you can speak on App to let him leave, and live a relaxed life. PTZ waterproof cameras can withstand bad weather and have good outdoor working performance.
2.4GHz WiFi and Storage -- DEKCO outdoor WiFi security camera system supports 2.4GHz WiFi (not support 5GHz WiFi). The camera built-in SD card slot supports micro SD card (not included) up to 128G. DEKCO security cameras also support encrypted secure cloud storage. Feel free to contact "DekcoCare" Online Support Team if you have any question, we offer lifetime support for DECKO brand products.
Sale
Bestseller No. 8
Light Bulb Security Camera,360 Degree Pan/120 Degree Tilt WiFi Panoramic Camera,1080P Smart Home Cam...
CALKARSA 【Real-time Alerts】When you are away, real-time alerts and two-way talk alerts will be sent to your device, keeping you informed of all potential dangers in your home. The built-in speaker allows you to work safely indoors via Bulb Camera WiFi and stay connected with your family and pets anytime, anywhere.
【FHD & NIGHT VISION】1080P Full HD security camera provides clear video and recording. Advanced infrared LEDs and sensors extend the night vision to 33 feet, automatically turning on the lights upon arrival, making it clearly visible in the dark.
【Privacy Guarantee】Videos and accounts use proprietary encryption technology and are stored on a micro SD card (sold separately) or in the cloud. Even if the camera bulb or SD card is stolen, SD card video files can only be accessed within your account. Keep your home safe and your data and privacy safe.
【360°Tracking】Automatically detects and tracks indoor / outdoor 360°motion. Security cameras have a wide field of view-360°pan and 120°tilt. Easily pan / tilt / zoom / light / call / play using the app.
【Installation & Setup】Installing a light bulb camera is as easy as replacing a light bulb, and the setup is completed within 1 minute from the QR code. The controls are simple and easy to maintain. Compatible with 2.4GHz WiFi networks. 5GHz is not supported. Download the "YiloT" app from the App Store or Google Play. If you have any questions, please contact us by email.
Sale
Bestseller No. 9
XVIM 3MP Home Security Camera, 2.4Ghz WiFi Bullet Camera, Indoor Security Camera, Night Vision and...
[Wireless Connection] - Home light bulb camera is as easy to install as a light bulb. Security camera bulbs have multiple modes to help you out of the hassle of scanning QR codes. The "HoMeYe Pro" APP helps you quickly connect to the WiFi light bulb camera. XVIM light bulb security camera supports 2.4Ghz Wi-Fi (5Ghz WiFi is not supported). 2.4Ghz WiFi is more stable and the distance of connection is longer than 5Ghz WiFi.
[2-Way Audio & Remote Control] - Bulb cameras have built-in speakers, so you can stay connected with your family anytime, anywhere. Download the HOMEYE APP from the App Store or Google Play and add the bulb camera after connecting the camera to your 2.4Ghz WiFi, then you can remotely control the wireless bulb camera.
[Pan/Tilt Capacity & Clear Night Vision] - XVIM wireless bulb camera rotates 355° horizontally and flips 90° vertically, allowing you to control the viewing angle of the camera via the APP to realize 360° observation. 3MP Ultra HD images, premium infrared lights and sensors extend the night vision range up to 33 feet, allowing you to see clear images even in the dark.
[Real-time Alarm & Motion Detection] - Please keep the light bulb camera connected to power and network, add a light bulb camera to HOMEYE APP and turn on the alarm push. When bulb camera detects motion , it will be recorded in the cloud event and sent to your device, providing you with real-time dynamics.
[Intelligence Storage & Technical Support] - The home security light bulb camera supports cloud storage and micro SD card storage (not included), and the micro SD card supports up to 128G. You can play back, download and save surveillance video anytime, awhere. Video files in SD card can only be accessed in your own account, keeping your data safe. If you have any questions, please contact us by email.
Sale
Bestseller No. 10
Upgraded Mini Wireless Spy Camera WiFi Hidden Camera 1080P HD Mini Camera with Night Vision and...
【Mini Security Camera】Small and portable, with built-in magnets and flexible brackets, the mini security camera is easy to hide and can be installed in corners without being discovered. Installable micro SD card up to 32G (not included).
【Protect your home and personal property】Mini WiFi camera can support multiple users, one app can support multiple cameras at the same time. Just download the free app on your phone (Android, IOS) and configure it using router WIFI (2.4GHz only). This wifi spy camera features recording while charging, allowing you to stay close to your family and pets without worrying about missing something important.
【24/7 Loop Write】This WiFi spy camera has a hotspot, so it can also write without WiFi. Mini Hidden Camera automatically writes HD screen files to the sd card and overwrites the oldest SD card files to keep working when full. This security camera can record 24/7 via USB charging.
【Motion Detection Reminder】1080p HD image and infrared night vision function make the video clearly visible. Once a moving object is detected, the mini nanny camera will record it and the phone will receive a push notification. Immediately check all activities triggered in the app "Alerts". Its recording time can be adjusted according to your needs.
【All-in-one Wireless Camera】The extremely compact design makes it easy to carry. You can place this wireless spy camera in the corner of your home, office, car, or even in a backpack. This camera is small but has all the useful features you need for a surveillance camera: 150° wide angle, built-in magnet, play/write/snapshot, iOS and Android compatibility, live screen, support for multiple cameras or users.
You May Also Like…
Last update on 2022-10-03