If you have as many smart home gadgets installed in your home as I have, you will quickly find yourself spending a significant amount of time ensuring that they all function correctly.
Despite the fact that it may be difficult at times, I like problem-solving and look forward to the challenge of finding basic and straightforward answers to complicated situations.
I've been using the Honeywell Thermostat without a C-Wire for quite some time now, and it works wonderfully with my existing décor. Honeywell is also compatible with SmartThings, albeit I sometimes get connectivity troubles with the Wi-Fi.
Honeywell releases software updates on a regular basis to address such small errors, but the inconvenience may be quite inconvenient. My thermostat disconnected again, so I took some time to sit down and conduct some research on alternative remedies to attempt, so I wouldn't have to fumble about when it did reconnect again.
There is a wealth of useful information available on the internet. Still, it is difficult to discover, which is why I put up this thorough guide to resolving your Honeywell Wi-Fi Thermostat Connection Problems once and for all.
If you're having trouble connecting to your Honeywell Wi-Fi Thermostat, first make sure you're using the correct app and that it hasn't been updated recently. Check to verify that your smartphone and thermostat are both linked to the same Wi-Fi network on your home network.
Additionally, check that your Wi-Fi network is operating on the 2.4GHz band and that interference from other devices is kept to a minimum.
Check if You're Using the Right Honeywell App
Honeywell offers two different mobile applications: Honeywell Home and Total Connect Comfort. Honeywell Home is mainly focused on Honeywell devices, while Total Connect Comfort is designed for single-zone thermostats and is compatible with accessories from Evohome, Prestige, and Econnect, among others.
The applications are not intended to be used in conjunction with one another. If you have a Honeywell Thermostat that is more recent, you should consider Honeywell Home. In the "Add device" section of the app's home page or by pressing on the + symbol on the app's home page, you may connect your thermostat to the app.
Update the Honeywell App
An additional straightforward troubleshooting approach is to just verify that your program is up to date. You may do this by going to the Google Play Store on Android devices or the Apple App Store on iOS devices and looking for the name of your app, which is "Honeywell Home."
If an update is available for the app, you will be prompted to download it from the Play Store or the App Store. For the sake of safety, I'd suggest turning on "auto-updates while connected to Wi-Fi" in the Play Store and/or App Store.
Honeywell releases software updates approximately every two weeks, so you must maintain your software system up to date in order to keep it running at peak performance. By making sure your app is up to current at all times, you can eliminate around 80% of all connectivity difficulties that might arise with your thermostat.
Internet Connectivity Issue on Your Honeywell Thermostat
Sometimes, rather than the thermostat itself, connection problems might occur as a result of a tiny error in your router's software. If you're having difficulties with your Wi-Fi network, it's a good idea to rule it out as a possible source before diving farther down the rabbit hole.
The quickest and most accurate approach to determine if your Wi-Fi network is malfunctioning is to test it with a variety of devices. If none of the devices you've attempted to connect to your Wi-Fi router can connect to the internet, you've identified the source of the problem.
To troubleshoot, restart your modem or router, verify that your modem or router connections are correct, try changing the ethernet cables since they are known to wear out with time, and in the worst-case situation, consider upgrading your computer system. You might also try contacting the Technical Support department of your network provider.
Connection Interference with Honeywell Thermostats
Wi-Fi connection problems may also develop as a result of interference from other devices on the same shared network. A very high level of interference created by other gadgets in my house was one of the primary internet connection problems I had when using my thermostat earlier this month.
I had a large number of devices connected to the 2.4GHz band of my Wi-Fi router, including gadgets that were designed to operate on the 5GHz band.
When I discovered that my Honeywell thermostat did not operate on the 5GHz band, I converted all of the other devices that I use to operate on the 5GHz band. Since then, my thermostat and smart gadgets have functioned together wonderfully in terms of connectivity problems.
One further approach you may take to lessen interference on your network band is to allow your router to utilize a different Wi-Fi channel than the one that is currently in use. In today's world, however, most routers are capable of searching for a channel with little interference before connecting to it.
Interferences with wireless networks may be caused by anything from environmental factors to physical barriers in severe circumstances. Consequently, be certain that there isn't an excessive quantity of material, particularly metal, concrete, or other similar materials, between your thermostat and router. Also, make certain that your thermostat is within the range of your router.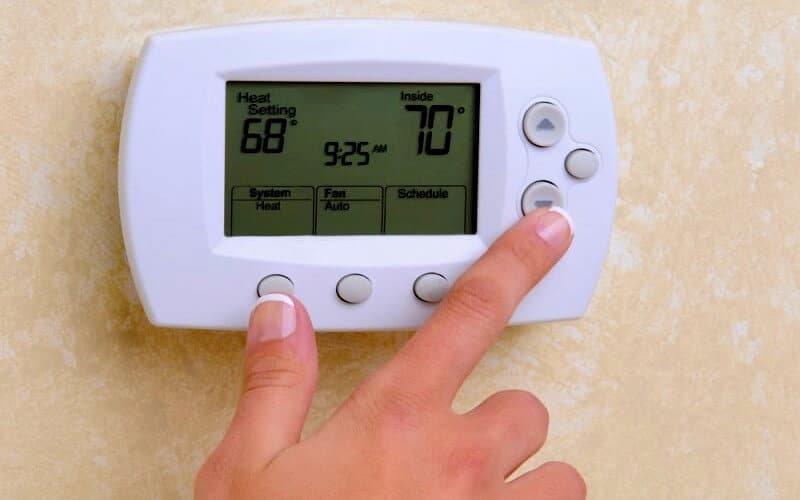 Thermostat is Connected to the 2.4 GHz Band
The Honeywell smart thermostat system is only compatible with Wi-Fi routers that operate on the 2.4GHz frequency range.
Nowadays, the majority of Wi-Fi routers feature two bands (5GHz and 2.4GHz). So be careful to connect your thermostat and mobile device to the same 2.4GHz frequency range as your computer.
If you connect your mobile device to the 5GHz band, you may have connection problems since the app is only compatible with the thermostat device while connected to the 2.4GHz band.
Honeywell Thermostat is Robust Thermostat Barring These Hitches
The Honeywell Wi-Fi Thermostat now has a stronger connection, thanks to the fact that you can methodically identify and repair the issue quickly and effectively.
You may take advantage of the many amazing features that the Honeywell Wi-Fi Thermostat has to offer, such as Energy Saving via a power use report, monitoring humidity, changing the background color of your touchscreen, and locking the screen for more security.
Best Seller list of Honeywell Thermostat:
Sale
Bestseller No. 1
Honeywell Home RTH7600D 7-Day Programmable Touchscreen Thermostat
Large touchscreen display makes it easy to set your preferred temperature or set a weekly schedule for automated adjustments.
Set home and away temperatures to help save energy when you're not home. Temporary and permanent hold settings are also available for extended absences from home.
7-Day menu-driven programming with 4 periods per day.
Backlit touchscreen display shows current room temperature and set point temperature simultaneously.
Simple and straight forward to install and use. The thermostat also has a real-time clock so it will automatically adjust for Daylight Savings Time.
Sale
Bestseller No. 2
Honeywell Home RTH9585WF Wi-Fi Smart Color Thermostat, 7 Day Programmable, Touch Screen, Energy...
COMFORT COMES IN YOUR COLOR. Personalize your Wi-Fi Smart Color Programmable Thermostat to fit your décor. The Honeywell Wi-Fi Smart Thermostat does have an auto changeover feature in which the thermostat automatically selects heating or cooling depending on the indoor temperature. Heat and cool settings must be at least 3 degrees apart. The thermostat will automatically adjust settings to maintain this 3-degree separation.
SAVE ENERGY AND GET REWARDED by checking with your energy provider about available rebates. Plus, eligible customers can enroll in their local Utility's "DEMAND RESPONSE PROGRAM" which can reward you for allowing the utility to slightly adjust your AC or furnace temperature settings when there is high energy demand.
YOUR SCHEDULE. YOUR WAY. Flexible programming options for your schedule or utility company's peak rate pricing.
EASY OPERATION AND INTUITIVE. Bright, easy-to-read touchscreen makes for simple operation.
COMPATIBLE WITH: Forced air (gas, oil or electric), hot water and steam, and heat pumps with electric backup. Does NOT work with electric baseboard heat (120-240V). C-Wire required.
Sale
Bestseller No. 3
Honeywell Home RTH221B1039 1-Week Programmable Thermostat
ONE WEEK PROGRAMMING: Set one identical program for the entire week with four program periods per day including wake, leave, arrive and sleep.
PRECISE TEMPERATURE CONTROL: Precise temperature control of +/- 1 degree Fahrenheit
DIGITAL DISPLAY: Easy-to-read digital display with an intuitive interface for one-touch access to setpoint temperature
EASY INSTALLATION: Easy to install yourself and basic operation keeps programming simple
REMINDERS: Built-in battery change reminders (2 AAA batteries are required for operation)
Sale
Bestseller No. 4
Honeywell TH3110D1008 Pro Non-Programmable Digital Thermostat, 1 Pack, White
Pro 3000 1 heat/1 cool non-programmable digital thermostat white
Model - TH3110D1008
This is manufactured in United States
Non-programmable digital thermostat
Backlit digital display - both current and set temperatures are easy to read in various lighting conditions.Shows both current and set temperatures at the same time.Precise comfort control [ 1 F ( 0. 5 C)] - maintains consistent comfort to the highest level of accuracy.Basic operation - easy-to-use slide switches allow you to select the heat or cool mode, and operate the fan
Bestseller No. 5
Sale
Bestseller No. 6
Bestseller No. 7
Sale
Bestseller No. 8
Honeywell Home RENEWRTH6580WF 7-Day Wi-Fi Programmable Thermostat (Renewed)
ENERGY STAR CERTIFIED. Honeywell Home Wi-Fi thermostats are energy-efficient without sacrificing performance.
SMART HOME INTEGRATION. The Wi-Fi 7-Day is compatible with voice assistant devices like Amazon Alexa, Google Assistant, Microsoft Cortana, and more.
THERMOSTAT THAT FITS YOUR LIFE. 7-day, 4 periods per day, flexible programming lets you sync your comfort with your schedule.
C-WIRE POWER ADAPTER REQUIRED: Before purchasing, check to see if this thermostat is compatible with your home and to determine if your home needs a C-wire power adapter.
SIMPLE INSTALL FOR A DIY PROJECT. The Wi-Fi 7-Day Programmable Thermostat is easy to configure and install yourself.
Sale
Bestseller No. 9
Honeywell Home RTH2300B 5-2 Day Programmable Thermostat
5-2 DAY PROGRAMMING: Separate programs for the weekdays and weekends with 4 program periods per day including wake, leave, arrive and sleep
PRECISE TEMPERATURE CONTROL: Precise temperature control of +/- 1 degree Fahrenheit. Temperature range limits allow you to set minimum cooling and maximum heating temperatures
DIGITAL DISPLAY: The display panel is backlit with an intuitive interface for one-touch access to setpoint temperature
EASY INSTALLATION: Easy to install yourself and works with many heating/cooling systems, plus heat pumps without auxiliary heat
REMINDERS: Built-in battery change and filter change reminders
Sale
Bestseller No. 10
FAQs:
By selecting "Reset" from the menu bar and using the arrow buttons provided below the screen, the Honeywell Wi-Fi Thermostat may be brought back to its factory default settings.
Select the option by pressing the "select" button, which is located right underneath the LCD screen. If you wish to restore your Honeywell Thermostat to its factory settings, choose "Factory."
When you turn on the thermostat, it will prompt you to confirm your selection. "Yes" should be selected. After that, it takes around 30 seconds for the device to reset.
2. How do I turn off the schedule on my Honeywell thermostat?
Press "Cancel" twice before pressing "HOLD" for your Honeywell thermostat to switch off the scheduling feature. With this, you may disable the schedule and manually modify the temperature of your home's climate control system.
3. What is the recovery mode on the Honeywell thermostat?
4. How do I get Honeywell out of recovery mode?
The recovery mode may be turned off by going to "Settings" and selecting "Preferences." Make a note of the "Smart Response Technology" option in the box that displays and choose "OFF."
-our editorial board has reviewed this article and has been approved for publication according to our editorial policy.
Last update on 2023-05-16