The Smartthings TV and Streaming Services couldn't communicate. It was never a big deal to me since I seldom viewed movies on Prime Video. However, the acquisition of MGM by Amazon Prime Video revived my desire for Prime Video. I had no choice but to find a solution to the issue at hand.
So I spent a lot of time reading papers and watching videos to figure out how to repair the problem, and it's fair to say I was successful. As a result, I thought I'd share it with you to ensure that you don't miss any of your favorite movies or television shows.
If Prime Video isn't working on your Roku device, try these other options. Update Amazon Prime/Roku Firmware, Reset Modem/Router, and Factory Reset Roku are steps you should do after performing a power cycle on your Roku.
Roku Express HD Streaming Media Player with High Speed HDMI Cable and Simple Remote
Watch what you love: Start streaming with a massive selection of free, live, and premium TV, including Roku Originals and 275 plus live TV channels for free on The Roku Channel
Quick and easy setup: It's easy to get started with everything you need included in the box, including a High Speed HDMI Cable—just plug it into your TV and connect to the internet
Tons of power, tons of fun: Compact and power-packed, you'll stream your favorites with ease, including movies and series on HBO Max, Netflix, Disney plus, and Prime Video
Simple remote: Incredibly easy to use, this remote features shortcut buttons to popular streaming channels
The free Roku mobile app: Control your Roku device with a convenient second remote, search with your voice, enjoy private listening with wireless headphones, and more on your iOS or Android device
Power Cycle Roku
Restarting a computer or other electrical equipment is often the simplest way to resolve common problems. Errors and defects that are creating this problem are usually straightforward to find.
Unplugging the Roku Device and waiting a few moments before turning it back on and restarting the program will restart your Roku. Alternatively, you may access the Roku TV homepage by tapping the Home button on the Roku Remote.
After that, you may go to Settings > System > System Restart to restart your computer. Select Restart and wait for the device to reset before continuing fully.
Check Your Internet Connection
If power cycling does not resolve the problem, check to see if there is a problem with your internet connection. Any other application on your Roku TV or any online page on your phone linked to the same Wi-Fi network will suffice for checking.
Detach the Roku from the internet connection and reconnect it to see if it works. If you can connect to the internet using a phone but cannot run any applications with the Online Streaming service, disconnect the Roku from the internet connection and reconnect it to see if it works.
In certain cases, having a sluggish internet connection might make it difficult for the Roku device to function properly. If this occurs, do a speed test to see if you receive sufficient bandwidth to operate Amazon Prime on Roku.
The problem may be with your internet connection, in which case you should approach the broadband provider to find out what went happening regarding your internet connection.
Disable VPN Services if Any
You may download and install programs on your Roku TV from the Roku Application Store. Apps may also be downloaded from various third-party sites, although Roku does not often promote this method of installation.
Amazon does not support VPN because it hides your IP address and because Amazon Prime has geo-restricted content. To ensure that Amazon Prime works correctly, ensure that your Roku TV does not have a VPN enabled.
Update Amazon Prime Application
Because you're using an old version of Amazon Prime, it may have ceased functioning. Amazon has an auto-update function. Restart the Roku after manually updating to the newest version if it's not functioning.
Log out and Re-login to Your Amazon Prime Account
It's possible that logging out of your Amazon account and then signing back in can address the problem for you if the update does not function.
This may be accomplished by going to the settings menu on your Roku TV and selecting unregistered devices. After you've completed this, restart the device.
Launch your Prime Application and input your device's login credentials in the appropriate fields to complete the registration process. 
Uninstall and Reinstall Amazon Prime Channel
It didn't work anymore, did it? Don't panic; reinstalling Prime Video may be your sole option for fixing certain difficulties. Prime Video may be uninstalled by pressing the home button on the remote and choosing the Prime Video Channel.
Select 'Remove Channel' from the 'Options' menu on the remote. Now, as previously said, restart your Roku TV by following the on-screen instructions. You'll be sent to the Home Screen, where you may search for streaming channels.
Select 'Add Channel' after finding Prime Video on the search results page. Performing a factory reset will erase the device's cache and install the most recent Firmware, which will fix any issues.
Update Roku Firmware
Your Roku TV may be using an out-of-date version of its Firmware. All applications on your smartphone will be updated automatically when you do a firmware upgrade. Updates also fix errors and provide new functionality for your benefit.
Updating the Firmware on your Roku is known to help you repair your Roku if your Roku is constantly rebooting. It is suggested that the Roku platform have an auto-update option. If you don't have access to one, you can always update it yourself.
Then, using your remote, browse to 'Settings > System > System Update' by pressing the Home button twice. To check for updates, click on 'Check Now.' If any are available, wait for the update to be installed before rebooting your computer.
Check Your Amazon Prime Account
If you've tried everything above and still Amazon Prime Video isn't working, there may be a problem with your account as a whole. Before you do anything further, check to make sure that the subscription is still active. You may have neglected to renew your membership.
Additionally, double-check that the login credentials you supplied are accurate. Incorrect login credentials may cause it to cease operating. Occasionally, the Amazon Prime Server may be unavailable, resulting in the app being forced to close. If this is the case, close the application and reopen it after a short period.
Reset Modem/Router
Resetting your Modem/Router may help if you're still having problems with the connection. Depending on the problem, you may do a soft or hard reset on your Modem/Router. If you're having trouble connecting to the internet, try doing a soft reset.
It's as simple as disconnecting the cable from your modem and Router, waiting a few minutes, then reconnecting it. The second option is to do a hard reset. It is capable of resetting your Router/Modem back to its factory defaults.
It is possible to do this if you cannot connect your Router with a Roku Device or if your modem begins to slow down and negatively affect your internet connection. Make sure the device is turned on when doing the hard reset.
To reset your modem or Router, locate the reset button on the back of the device and push it for 10-15 seconds with a pin or needle. Now, sit back and wait for it to do its reset, which might take up to 1-2 minutes.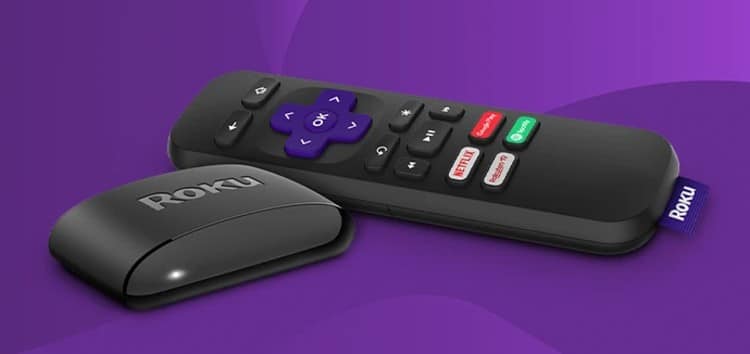 Factory Reset Roku
A factory reset will cure the majority of the problems you're now experiencing, just as it did with your modem. It's a simple process, but after you're done, all of your downloaded material and stored preferences will be gone.
As a result, only use this as a final resort if all other options have failed. If your remote stops working or you've misplaced it, you may still reset your Roku without a remote.
Go to 'Settings > System > Advanced System Settings' by pressing the 'Home Button' on the Roku remote. Select 'Factory Reset' and then confirm by selecting 'Factory reset everything.' Replacing your device's battery may require you to enter a code shown on the screen.
Contact Support
The best course of action is to contact Roku Customer Support if none of the troubleshooting steps listed above were successful. Then, on their Support Page, choose your issue from a list of problems that have been listed on the web page.
After selecting the problem, a list of assistance articles will emerge, which is rather extensive. Clicking on the 'Need more assistance' button will give you two alternatives if you're still experiencing problems. Then click on 'Email,' fill out the form, and then click 'Send.'
Get Prime Video to Work on Roku
It is recommended that you verify the internet speed on Roku TV when the signal strength is 'Excellent.' Additionally, the download speed for Prime Video Content should be at least 1 Mb/s.
When streaming standard-definition material, Amazon recommends that you have a download speed of at least 1 Mb/s and at least 5 Mb/s when streaming high-definition content. Before reinstalling Prime Video, make sure you've deleted all of your data from it.
Any preferences preventing you from accessing the app will be removed as a result of this operation. If someone with access to your account changes your password, all other users will not use the program. Double-check that you have entered the correct password when signing into your account if this is the case.
If a live chat with customer care is not feasible, you may contact the staff using your Twitter account. If none of the options listed above were successful, take your Roku device to the local service facility, which will almost certainly address the problem.
FAQs:
1. Can you update an old Roku?
Firmware upgrades, software updates, and new app releases are no longer available for Roku Players, released in 2010 or before.
2. How do I sign into Amazon Prime on Roku?
As soon as you have installed Amazon Prime on Roku, you will be prompted to enter your credentials the first time you launch the app, or you will be prompted to input a code that will allow you to register through another device.
3. How do I enter my Prime Video code?
When you choose 'Register on the Amazon Website,' you will be provided with a 5- to 6-character code. You will then need to login into your Amazon account and input the code you received.
4. How many devices can you have Amazon Prime on?
If you have Amazon Prime on many devices, there is no restriction to the number of users who may watch content concurrently from one account.
-our editorial board has reviewed this article and has been approved for publication according to our editorial policy.
Best Seller List of Amazon Smart Home:
Bestseller No. 1
Amazon Basics Smart A19 LED Light Bulb, Color Changing, 2.4 GHz Wi-Fi, 60W Equivalent 800LM, Works...
SMART UPGRADE: Control your Amazon Basics smart light bulbs using your voice or via the Alexa app, no more turning on/off each individual light switch. Create custom routines to schedule your lights automatically at sunset and sunrise OR change colors of your lights for a movie night with family, party with friends. Works Exclusively with Alexa. Not compatible with Google Assistant, Apple HomeKit, Smart Things.
SIMPLE TO SET UP WITH ALEXA: Screw in the light bulb, open the Alexa app, and get started in minutes as you get notified " First light bulb found". Otherwise, you can add the smart bulb directly from Alexa app. No hubs or 3rd party apps or skills required. For zero touch set up experience, check "Link device to your Amazon account to simplify setup" during checkout and get started with your smart bulb in no time. Note: Amazon Basics smart light bulbs work exclusively with Alexa to be set up with 2.4GHz Wi-Fi only.
TRANSFORM YOUR SPACE WITH BRILLIANT COLORS: Create your perfect mood by choosing from 16 preset color selections and brightness levels from 5% to 100%. Have best moments during holiday festivities or gaming with friends or movie nights with family with different colors. Just say "Alexa, set the hall lights to purple". Note, bulbs are dimmable via app/voice control but not dimmable via a mechanical switch
CONTROL FROM ANYWHERE: Control your smart lights with Alexa app even when you are not at home e.g. from your car, office, gym. Feel secure by making your house look occupied even when you are away by creating an Alexa routine to schedule lights to turn on and off automatically.
GROUP CONTROL: Create groups in the Alexa app to combine lights together, allowing you to control lights by each room, or all of your home lights with a single voice command or via app. When it's time to sleep, just say "Alexa, turn off the bedroom" OR use the Alexa app to turn off the bedroom lights at once.
Bestseller No. 2
Amazon Smart Thermostat – ENERGY STAR certified, DIY install, Works with Alexa – C-wire required
Smart upgrade - Amazon Smart Thermostat is an easy way to switch from a traditional thermostat and help reduce energy usage.
Save money - After purchase, Amazon will send you an email with details about rebates that may be available from energy providers in your area. Explore rebates above.
Save energy - According to EPA estimates, ENERGY STAR certified thermostats save an average of $50 on yearly energy bills.
Automatic comfort - Alexa can do the programming for you, updating the temperature to keep you comfortable.
On-the-go control - Let Alexa set the temperature, or set it yourself from anywhere with the Alexa app.
Bestseller No. 3
Amazon Smart Plug, for home automation, Works with Alexa - A Certified for Humans Device
Amazon Smart Plug works with Alexa to add voice control to any outlet.
Certified for Humans - Struggle-free, tinker-free, stress-free. No patience needed—it's actually simple.
Schedule lights, fans, and appliances to turn on and off automatically, or control them remotely when you're away.
Simple to set up and use—plug in, open the Alexa app, and get started in minutes.
Compact design keeps your second outlet free.
Sale
Bestseller No. 4
Echo Show 8 (2nd Gen, 2021 release) | HD smart display with Alexa and 13 MP camera | Charcoal
Alexa can show you even more - 8" HD touchscreen, adaptive color, and stereo speakers bring entertainment to life. Make video calls with a 13 MP camera that uses auto-framing to keep you centered.
Stay in frame - Make video calls with a new camera that frames and centers automatically. Simply ask Alexa to call your contacts.
Make life easier at home - Glance at your calendars and reminders. Get daily recipe ideas and cook along hands-free with step-by-step instructions. Use your voice to set timers, update lists, and see news or traffic updates.
Manage your smart home - Look in when you're away with the built-in camera. Control compatible devices like cameras, lights, and more using the interactive display, your voice, or your motion.
Be entertained - Enjoy TV shows and movies in HD and stereo with Prime Video, Netflix, and more. Or ask Alexa to stream Amazon Music, Apple Music, or Spotify.
Sale
Bestseller No. 5
Echo Show 10 (3rd Gen) | HD smart display with motion and Alexa | Glacier White
Alexa can show you even more - With a 10.1" HD screen that's designed to move with you, video calls, recipes, and shows are always in view. The speakers deliver premium, directional sound.
Stay in frame - Video call friends and family or take a picture while the 13 MP camera with auto-framing and motion keeps you front and center.
Smart home made simple - Set up compatible Zigbee and Matter devices without a separate hub. Ask Alexa to show you security cameras, control lights, and adjust thermostats.
Take a look around when you're away - Securely access the built-in camera to remotely monitor your home anytime with the Alexa app or other Echo Show devices.
So much entertainment - Ask Alexa to play your favorite shows, music, and podcasts from Prime Video, Netflix, Amazon Music, Spotify, and more.
Sale
Bestseller No. 6
Echo Show 5 (2nd Gen, 2021 release) | Smart display with Alexa and 2 MP camera | Charcoal
See your day clearly with Alexa at the ready - Set alarms and timers, check your calendar or the news, make video calls with the 2 MP camera, and stream music or shows - all with your voice.
Add Alexa to your nightstand - Ease into the day with a routine that turns compatible lights on gradually. Or wake up to your news update, the weather forecast, and your favorite music.
Manage your smart home - Look in when you're away with the built-in camera. Control compatible devices like cameras, lights, and more using the interactive display, your voice, or your motion.
Connect with video calling - Use the 2 MP camera to call friends and family who have the Alexa app or an Echo device with a screen. Make announcements to other compatible devices in your home.
Be entertained - Ask Alexa to play TV shows and movies via Prime Video, Netflix, and more on the 5.5" screen. Or stream favorites from Amazon Music, Apple Music, Spotify, and others. Subscriptions for some services required.
Bestseller No. 7
Amazon Basics Smart Plug Power Strip, Surge Protector with 3 Individually Controlled Outlets and 2...
SMART UPGRADE: Amazon Basics Smart Power Strip works with Alexa to add voice control to your home; an easy upgrade from your traditional power strip
CERTIFIED FOR HUMANS: Struggle-free, tinker-free, stress-free. Smart home made easy for non-experts
CONTROL FROM ANYWHERE: Schedule lights, fans, and appliances to turn on and off automatically, or control them remotely when you're away
SIMPLE TO SET UP AND USE: Plug in the power strip, open the Alexa app, and get started in minutes
INDIVIDUAL CONTROL OR GROUPING: Includes 3 independently controllable outlets plus 2 always-on USB ports. Control each outlet individually by voice or remotely; or create groups in the Alexa app to combine devices together
Bestseller No. 8
Echo Show 15 | Full HD 15.6" smart display with Alexa and Fire TV built in | Remote not included
EVERYTHING YOU NEED AT A GLANCE - With a 15.6" Full HD (1080p) smart display and Fire TV, family organization and entertainment will look brilliant.
YOUR NEW KITCHEN TV -With Fire TV, you can stream over 1 million movies and TV episodes. Watch favorites with subscriptions to Netflix, Hulu, Prime Video, Disney+, Paramount+, and more.
STAY ON TOP OF YOUR DAY - Use customizable widgets like shared calendars, personal sticky notes, and to-do lists to keep the family on track. Ask Alexa for daily meal inspiration tailored for you, including recipes, food delivery options, and more.
YOUR SMART HOME AT YOUR FINGERTIPS - Add your most-used smart devices to the home screen for quick access, and coming later this year, see a live view from multiple cameras on a single screen.
YOUR MEMORIES IN FULL-SCREEN - With the Photo Frame feature, you can use your Echo Show 15 to display artwork and your albums from Amazon Photos.
Bestseller No. 9
Amazon Basics Outdoor Smart Plug with 2 Individually Controlled Outlets, 2.4 GHz Wi-Fi, Works with...
SMART UPGRADE: Amazon Basics Smart Outdoor Plug works with Alexa to add remote and voice control to traditional outdoor lightings and devices
CONTROL FROM ANYWHERE: Schedule lights and outdoor electronic appliances to turn on and off automatically, or control them remotely when you're away
SIMPLE TO SET UP WITH ALEXA: Plug in the smart outdoor plug, open the Alexa app, and get started in minutes as you get notified "device found and connected". Otherwise, you can add your outdoot plug directly from Alexa app. No hubs or 3rd party apps or skills required. For zero touch set up experience, check "Link device to your Amazon account to simplify setup" during checkout and get started with your smart outdoor plug in no time. Note: Amazon Basics smart outdoor plug work exclusively with Alexa to be set up with 2.4GHz Wi-Fi only.
INDIVIDUAL CONTROL OR GROUPING: Includes 2 independently controllable outlets. Control each outlet individually by voice or remotely; or create groups in the Alexa app to combine devices together
NO SMART HOME HUB REQUIRED: Set up routines and schedules through the Alexa app; 2.4GHz Wi-Fi required; works exclusively with Alexa
Bestseller No. 10
Amazon Basics Single Pole Smart Switch, Neutral Wire Required, 2.4 Ghz WiFi, Works with Alexa
SMART UPGRADE: Works with Alexa to add voice control to your home; an easy upgrade from your traditional switch
SETUP REQUIREMENTS: Neutral wires required, 2.4 GHz Wi-Fi
GUIDED INSTALLATION: The installation video gives you step-by-step guidance to setup your switch; more support also provided in the in the user manual and troubleshooting guide
CONTROL FROM ANYWHERE: Schedule lights to turn on and off with Alexa routines and control them from anywhere using the Alexa app
NO SMART HOME HUB REQUIRED: No additional smart devices or apps needed; works exclusively with Alexa
Last update on 2023-01-18